England managed just two wickets by tea after being bowled out for 283 on the second morning of the third Test against India.
The tourists set out to prove to themselves and their supporters that their first innings was not badly under par in Mohali.
But there appeared to be a tension about their work with the new ball - and curiously none of the swing Mohammed Shami and Umesh Yadav had found for the hosts.
A much-needed improvement restricted India to a hard-earned yet already threatening 148 for two as Cheteshwar Pujara (51no) followed his three centuries in his last three Tests with a 100-ball 50 in his and Virat Kohli's unbroken stand of 75.
A bizarre early appeal for obstructing the field against Murali Vijay, who barely moved an inch when James Anderson threw the ball back towards the stumps with the batsman just out of his ground but obviously able to regain it if necessary, was never going to succeed but did betray a perceived deterioration of relations between these two teams.
Ben Stokes' reprimand for his spat with Kohli after being dismissed the previous afternoon cannot have helped.
If England felt any injustice over that, their mood did not lift either after stand-in opener Parthiv Patel rightly overturned a caught-behind decision against him when DRS demonstrated the ball from Chris Woakes hit only the left-hander's tummy.
A moment of inspiration almost came England's way when Jos Buttler dived to his right for what would have been a brilliant one-handed catch off Moeen Ali at midwicket.
Murali survived on 11 but had added only that single when Stokes struck in his first over - with a short and wide ball which the batsman chased, edged behind and gave himself out even as umpire Chris Gaffaney was deciding otherwise.
Adil Rashid's bold review for lbw paid off in early afternoon, with Parthiv well up the pitch when he missed a leg-break.
England then produced their most disciplined session of bowling since the drawn first Test in Rajkot, to make Pujara and Kohli work hard for their runs.
It was admirable, from Anderson and Woakes in particular, but it did not bring the breakthrough England craved against India's two heavyweights - Stokes coming closest when Jonny Bairstow just failed to hang on to a tough chance down the leg-side, with Pujara on 31.
England had earlier resumed on 268 for eight and added 15 more in under four overs - thanks largely to Anderson, who came out swinging after his king pair in last week's defeat at Vizag.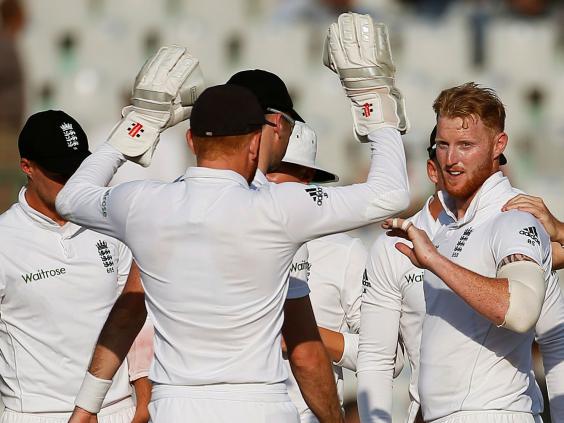 Rashid fell to his first ball of the day, caught-behind from a good one that left him off the pitch, and Shami (three for 63) doubled up by having Gareth Batty lbw on the back foot to close a patchy innings in which England had lost their last four wickets for 25 runs.
England opener Haseeb Hameed was off the field after being hit on the left little finger while batting on day one, for the second time in the series. He is expected to have an x-ray at the end of this Test.
India have released both uncapped all-rounder Hardik Pandya and opener KL Rahul from their squad, with respective shoulder and arm injuries. Rahul should be fit again in time for the fourth Test in Mumbai.
PA.
Reuse content