After England's encouraging display in the drawn first Test in Rajkot, the opening day of the second here offered Alastair Cook's side a harsh reminder of the realities of sub-continental cricket.
India, led by centuries from captain Virat Kohli and Cheteshwar Pujara, took full advantage of winning the toss in Visakhapatnam to reach stumps on a dominant 317 for four.
James Anderson, back here after three months out with a shoulder injury, took three wickets on his return. His team, though, are still facing a fight to stay afloat in this contest. All the frailties about England's bowling of spin that had been exposed on the recent tour of Bangladesh came back to the fore as the tourists toiled for 90 overs.
It's too early to say the match is out of their reach, however it's getting to that stage after India offered a reminder as to why they are ranked No1 in the world and have gone unbeaten at home in Tests for almost four years.
Kohli, too, offered a reminder as to his class as he compiled his 14th Test century, ending the day unbeaten on 151. The 28-year-old has suffered at the hands of Cook and his team in the past, passing 50 just once before this innings and averaging 13.40 during India's last series in England two years ago.
Indeed, Kohli has been tortured by Anderson in the past, England's record wicket-taker dismissing him five times in Tests – more than any other bowler. Anderson took the first of three wickets in just his third over as India were reduced to 22 for two in the morning.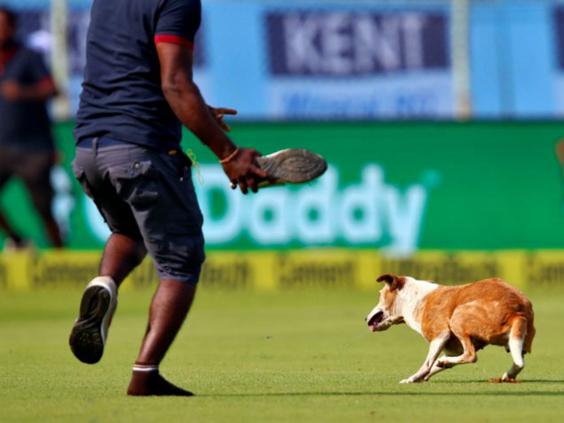 Kohli, though, gained his revenge as he pushed Anderson through point for the two runs that took him to three figures early in the final session. Stuart Broad, aggravated by a foot injury throughout the day, had also managed to dismiss opener Murali Vijay in the second over.
However, a 226-run stand between Kohli and Pujara not only stabilised India but put them in complete control. They were 248 for three when Anderson struck to remove Pujara for 119, India's No3 following up his century in the first Test with another innings of class.
Indeed, during an afternoon session that saw the home side's third-wicket pair plunder 108 unanswered runs, only a stray dog who invaded the field and brought a premature end to the session was able to stem the flow.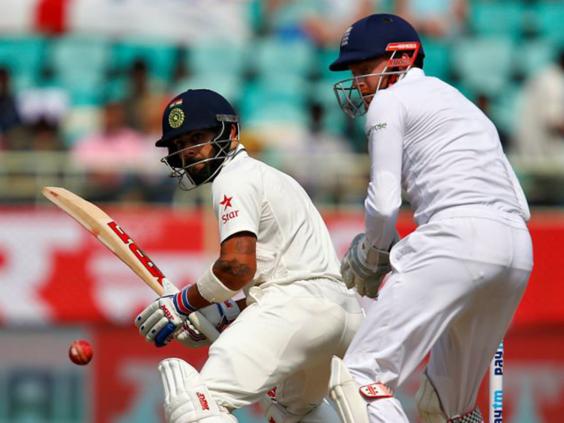 Pujara and Kohli were both in the 90s by then but converted those scores into hundreds within the first half-hour of the evening session. Pujara was first, seizing on a short delivery from Adil Rashid to club the Yorkshire leg-spinner high over deep midwicket for six. Gone was Rashid's control that had characterised perhaps his finest display of bowling in Tests at Rajkot. He also dropped Kohli at long leg on 57 when India's talisman hooked Ben Stokes.
It was one of only two false shots all day from Kohli, who reached his hundred three overs after Pujara with that push for two off Anderson. The leader of England's attack finally removed Pujara when he tempted him into playing at a wide delivery he could only edge behind. Yet the wicket was met more with relief than celebration, India were already so far ahead that Pujara's removal only seemed like a temporary inconvenience.
Anderson had not played since the final Test of the English summer against Pakistan at The Oval in August. However, he looked back to something close to his best as he finished the day with three for 43 from his 16 overs. Rashid, reaching stumps with 85 conceded from 26 wicketless overs had a day to forget. Moeen Ali and Zafar Ansari were equally toothless.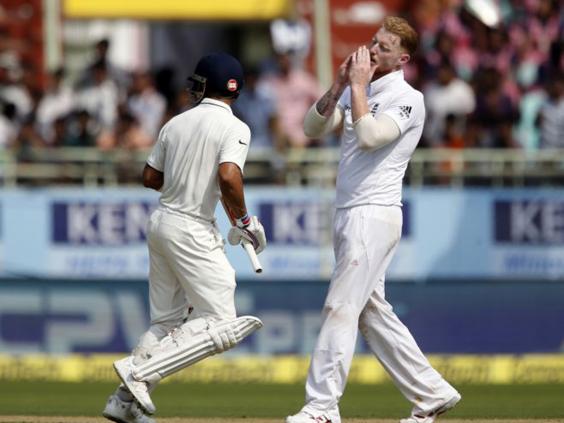 The crowd on this first day here was the biggest we have seen so far during this series, the free entry granted to locals helping swell the attendance. Those that did come will be glad they did after watching Kohli's batting masterclass. England, though, will approach the second day with some hope after Anderson found swing with the second new ball to have Ajinkya Rahane edging behind on 23 to end a 68-run stand with Kohli in the penultimate over of the day.
Whenever Cook's side do bat here they will have to do something remarkable to keep England in this game. With a pitch that is already breaking up and the world's No1 bowler in spinner Ravichandran Ashwin greeting them at some point tomorrow, they face a challenge that may well prove beyond them. We will find out if it is over the coming days.
Reuse content