Time is not meant to be an issue in Test matches, it is why they are scheduled over five days. But it has become one in Rajkot, where the first innings of both sides took up play until tea on the fourth day.
The maths dictates that unless England declare by lunch, unlikely given this is the first Test of a five match series, that 20 wickets need to fall over the final three sessions. Given it has taken 11 sessions to take the first 20 it is a big ask - big, but not impossible in India where miracles are said to happen on a daily basis.
For many England fans much of the frustration of this seeming stalemate will be directed towards the trio of spinners, Adil Rashid, Zafar Ansari and Moeen Ali, despite Rashid taking four for 114. Yet history would suggest that such criticism is unfair, despite the pitch offering enough purchase for substantial spin from day three on.
Their collective tally of eight wickets for 276 will seem decent enough, but it is the time taken to get those wickets, 85 overs, that has seen the advantage of England's huge first innings total of 537 gradually eroded. And yet this has been the lot of spinners touring India for the past 50 years.
It is a curious thing. Much is made, justifiably, of the threat India's spinners pose in their home conditions, but the same reputation cannot be handed to visiting spinners. If the benchmark for being a "match-winner" is taking at least five wickets in one of the two innings then, singly, it is a criterion that has not often been met.
Even Shane Warne and Muttiah Muralitharan, regarded as two of the finest spinners in history, never really dominated in India. Warne played nine Tests there but his 34 wickets cost 43.11 runs each (18 runs above his career average), which meant he had to bowl a lot of overs to get them.
Among that tally is just one five wicket haul, a number Muralitharan only just bettered by taking two in his 11 Tests there. Yet his total of 40 wickets were taken at even greater cost than Warne's, his average 45.45 being exactly double his career one of  22.72.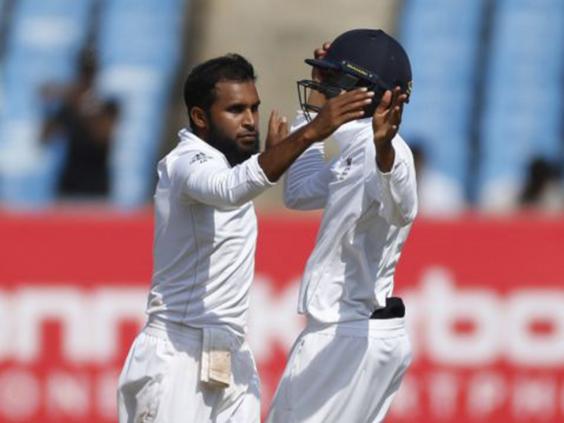 England's best spinner in India has been Derek Underwood who took 54 wickets from 16 Tests at the decent average of 26.5. Yet, in all those matches he only ever took one five wicket haul, which is probably why England only won five of them (four really, as he did not take a wicket in the last of those victories in 1980.)
What Underwood did give his captain though was control, a crucial element in the 1976/77 series which England won 3-1. Underwood kept runs down to two an over on that trip, an economy almost matched eight years later by Phil Edmonds and Pat Pocock, when England also managed to beat India over a five-match series on home soil.      
Underwood bowled at a brisk pace for a spinner, up to 15mph quicker than England's trio in Rajkot. Finding the right pace is key and too often India's batsmen were allowed to play off the back foot, which suggests length as well as pace were awry more often than they should have been.
Despite that, and against the usual conventions, several of India's batsmen were dismissed playing back, in error in the case of Ajinkya Rahane when he was bowled by Ansari, but unusually in the case of the others.
Virat Kohli was the collector's item, after he stepped on his stumps overbalancing in his bid to get on top of a long-hop from Rashid. That type of dismissal is rare but when it does occur it is usually fast bowlers who cause it.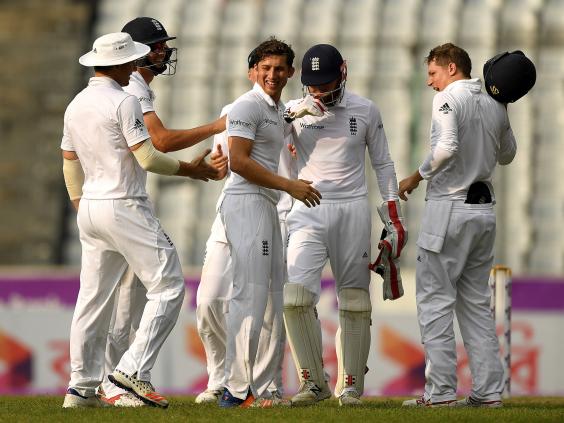 The extra bounce in this pitch (more than most pitches in India) and from Rashid with his overspin in particular, also accounted for Ravindra Jadeja. Usually batsmen can make late adjustments to their footwork or batting stroke when playing back, as it affords them that extra split second to make their decision. But the steep bounce Jadeja had to cope with left him no alternative except to poke the ball to short leg off the shoulder of the bat.
Wriddhiman Saha was caught by Johnny Bairstow off Moeen, off another short ball, albeit one whose width made it ill-deserving of a wicket. But Moeen also bowled a few beauties to Jadeja that did not bear fruit so he probably felt he deserved the good fortune.
Moeen wrapped up India's innings when he had Ravichandran Ashwin caught at cow corner for 70.
Ashwin's fine innings will have seen many Indian fans breathe easier after he whittled the deficit down to 49 runs. There is still scope for an upset. But if England are to precipitate it you sense their spinners will have to break the chains of history.
Reuse content