England had no answer to Virat Kohli and Cheteshwar Pujara on day one of the second Test as India's two banker batsmen moved to the verge of twin hundreds in an unbroken stand of 188.
Kohli (91 not out) joined Pujara (97no) after a new-ball wicket each for Stuart Broad and James Anderson briefly raised England's hopes in Vizag. From 22 for two, the powerhouse pair did not disappoint the home support.
By tea, the India total was already 210 for two - an ominous state of affairs for England.
There was unexpected early life in the pitch, allowing the tourists' two frontline seamers to surprise openers KL Rahul and Murali Vijay after Kohli won the toss.
But throughout, England's bowlers were often short of the wonderfully disciplined standards they set in the drawn first Test and Kohli and Pujara took over as Alastair Cook's tourists failed to stifle the run-rate as they had, even when the wickets were not coming, in Rajkot.
England's opportunity to consolidate on two early breakthroughs was fleeting, after Broad saw off Rahul and then Anderson - back after three months out with his shoulder injury - struck too.
There was good carry for Broad when he had Rahul poking an edge at a length ball to be well caught by Ben Stokes at third slip.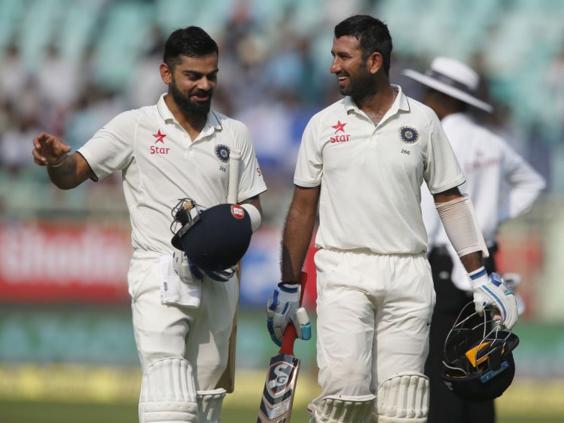 But that minor assistance from the pitch was nothing compared to the steepling bounce Anderson extracted to account for Vijay.
A centurion in Rajkot, Vijay began with a flurry of boundaries but was not ready for the Anderson bouncer and gloved an unmissable catch to Stokes again.
Kohli was therefore called into action sooner than he must have hoped, but he duly delivered alongside Pujara.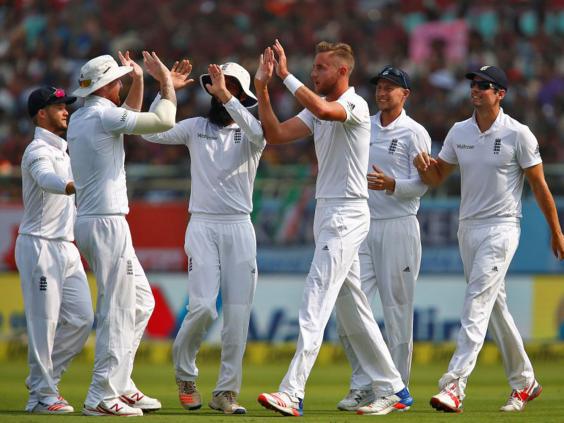 The nearest England came to a breakthrough was Stokes' attempt to bounce out the third-wicket pair, Kohli blinking in the battle on 56 with a mis-hook to fine leg where Adil Rashid failed to hold the chance tumbling forward.
Pujara had rightly survived an lbw appeal, and review, on 54 when he was hit outside the line by Moeen Ali. The off-spinner nonetheless demonstrated that sharp turn was already available, as was universally predicted for this venue's maiden Test.
Cook had held Moeen back until the 40th over, but the off-spinner soon appeared more likely to take a wicket than either Rashid or Zafar Ansari before him.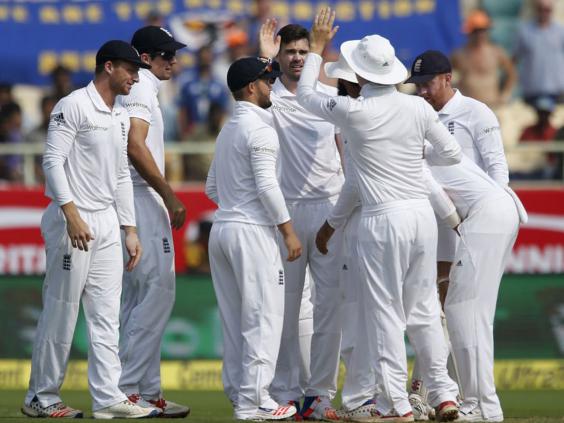 None, however, was forthcoming and after two sessions and more than 50 wicketless overs England had big problems.
Dog stops play
It was a case of 'dog stops play' on day one of Vizag's maiden Test between India and England.
Play had to be halted when groundstaff were unable to catch the dog shortly before tea. Umpires Rod Tucker and Kumar Dharmasena eventually called an early end to the session mid-over to prevent a further delay.
The incident happened exactly six months to the day since another dog - with slightly different colouring but perhaps similar breeding - did likewise at the same venue during an Indian Premier League match between the Rising Pune Supergiants and the Delhi Daredevils.
Attempts to catch the errant animal this time included aiming a shoe in its direction, but it simply added a new turn of speed and refused to be caught.
Thankfully, the proximity of tea spared further embarrassment in front of a clearly tickled crowd, and during the interval the canine was immortalised in true 21st century style with a Twitter account - VizagDog - set up in its honour.
The account's bio read: "Love cricket, hate Indian batsmen getting to 100 before Tea. Woof!"
The session ended with Virat Kohli on 91 not out and Cheteshwar Pujara unbeaten on 97.
PA
Reuse content