England's series hopes are in the balance after they threw away the advantage of winning the toss on the opening day of this third Test against India.
Not even a defiant 89 from Jonny Bairstow in his new role at No 5 could put a positive spin on a match situation that now appears dire for Alastair Cook's side after they reached stumps on a far-from commanding 268 for eight.
With Chris Woakes bowled for 25 by Umesh Yadav five minutes before stumps, England are relying on the ninth-wicket pair of Adil Rashid and Gareth Batty to dig them out of trouble after this horror day.
It appears a long shot, yet you feel the tourists somehow have to score close to 350 in their first innings to be in this game. That or the bowlers have to do something remarkable.
In truth, other than Bairstow, England didn't really turn up. This was Bairstow's highest Test score in Asia, beating the 53 he made during England's defeat in the last match in Visakhapatnam.
But a dereliction of duty from the rest of his team-mates – save for Haseeb Hameed – means India now hold the whip hand in this contest and the series, which remember they lead 1-0.
England were always behind after losing the toss in the last Test in Visakhapatnam.
But Cook's wishes of a favourable fall of the coin was at least granted here, England's captain unsurprisingly opting to bat first and hoping his side could stack up significant first-innings runs as they had done in the drawn opening Test in Rajkot.
This was then a great chance to get ahead in this game and apply the pressure on India Cook had talked about so animatedly after the 246-run defeat in the Second Test and again before the start of the Third here.
Pressure is a funny thing, though, and it was India who drew first blood in applying it as they gratefully received three gifts from England's batsmen during the morning session.
Of the wickets to fall, only the first of Hameed 44 minutes into the day could be counted as blameless, the 19-year-old opener caught on the glove and then at gully by a delivery from Umesh that misbehaved off the pitch.
At 32 for one, England's progress may have been checked but it was hardly a dire situation.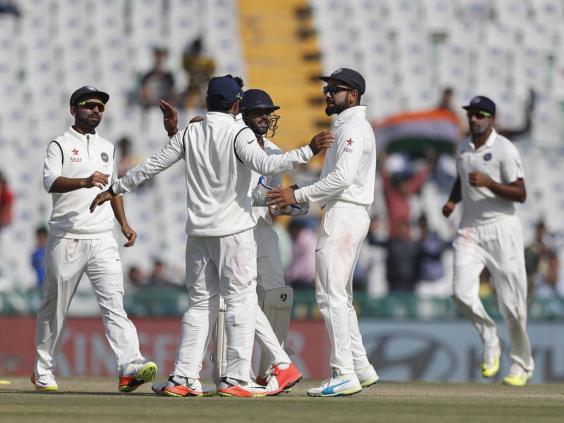 It was developing into one, though, by the time Cook's luck ran out in Ravichandran Ashwin's first over, the opener who had been dropped on three and 23, playing a risky cut outside off stump and edging behind to wicketkeeper Parthiv Patel.
Joe Root had been equally reckless the previous over when he was trapped lbw by the first ball after the mid-session drinks break from off-spinner Jayant Yadav. The Yorkshire batsman looked to be caught in two minds about playing a flick off his legs or a sweep. In the end he did neither and was caught stone dead in front.
England were now 51. Yet things got even worse when Moeen Ali, promoted to No4 from five to replace the dropped Ben Duckett, hooked Mohammed Shami straight to Murali Vijay at fine leg. England limped into lunch on 92 for four.
At least in Bairstow and Ben Stokes, they had a partnership they could rely on. The pair love batting together, and put on a stand of 57 either side of the interval to help rebuild the innings.
That came to an end when Stokes was the next batsman to have a brain fade, the Durham all-rounder stumped on 29 coming down the track to Ravindra Jadeja. Virat Kohli, India's captain who had been warned by the umpires for verbals in the morning, gave Stokes a send off that prompted him to delay his walk off and return fire.
Tempers were fraying on the field but England needed Jos Buttler to keep his cool in his first Test appearance in 13 months. One of the world's most destructive limited-overs batsmen, Buttler joined Bairstow at the crease after being selected as England's first specialist No7 batsman since Ian Ward in 2001.
The 26-year-old took 10 balls to get off the mark and 21 to score his first boundary, pushing Umesh down to third man.
By tea, though, with England on 205 for five, Buttler had settled well, reaching 38 from 58 balls during a partnership of 61 with Bairstow.
If that sixth-wicket partnership had made England's mood brighter, it was darkened again in the eighth over of the final session when Buttler fell for 43. The shot, like so many of those who had perished before him, was loose, driving to Kohli at mid-on.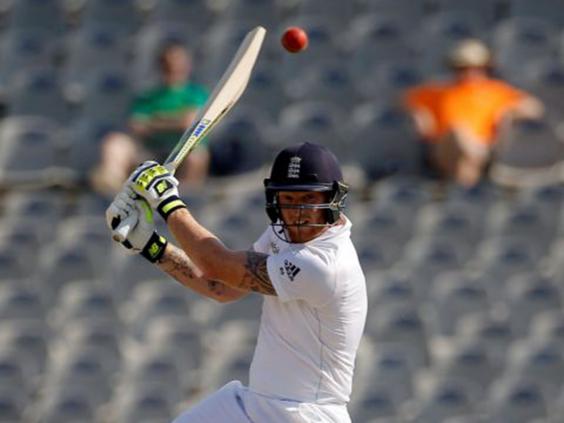 Buttler had been brought back in to offer the kind of counter-attacking innings he plays in one-day cricket.
Yet even though this was not it, the early signs were encouraging given the match situation.
His departure left England 213 for six but having hit 113 runs in the afternoon session, they were in danger of stalling as the runs dried up after tea.
Bairstow rode his luck on his way to his 10th 50-plus score of the year. Dropped by Parthiv on 54, he escaped again on 60 when Umesh reverse swung a beautiful delivery through the gap between bat and pad and saw the ball somehow miss leg stump.
Bairstow received another life on 89, dropped by Parthiv again off Jayant. But the off-spinner finally got his man the very next ball when he had him caught on the front pad lbw. There was a review from the Yorkshireman, but it was in vain as England slipped to 258 for seven.
Things got even worse for England with the loss of Woakes in the penultimate over of the day, Umesh making the second new ball sing.
Cook and his side will have to come back fighting hard with the ball tomorrow or risk the series slipping away.
Reuse content