For many, the resumption of Jos Buttler's Test cricket against India in Mohali will have seemed like the return of the prodigal son. It turned out a bit like that too, a promising innings ended by a moment of avoidable carelessness, though he was not alone in that as the majority of England's top order squandered the chance to cash in batting first on another dry, cracked pitch.
Buttler's last Test for England was just over a year ago, after which he lost his place as well as the wicket-keeping gloves to Jonny Bairstow, the man with whom he shared a 69-run partnership in this match. Since then, white ball matches have been his metier, this Test being only his second brush with a red ball this year.
Such an infrequent acquaintance, along with the different format and demands of Test cricket, can make a comeback feel doubly alien. Not that Buttler, who replaced the hapless Ben Duckett for this Test, looked that ring rusty, easily stroking his way to 43 before, just as easily, bringing about his downfall following a lapse in concentration. 
Like Duckett, Buttler is essentially a product of T20 with natural gifts - a superb eye, fast hands and a games player's facility to manufacture unusual shots - are well suited to that format. Factored into that is also the phlegmatic attitude that error and getting out are just part of the deal, whereas in Test cricket losing your wicket is the whole deal. Which is why some players, Buttler, being one of them, seem less at ease in the longer format as they do in the shorter ones.
As a result, Tests tend to sap some player's emotions more than others, something Buttler must learn to control if he is to continue a Test career that stalled despite him being, arguably, a better keeper than Bairstow.
Although this pitch has yet to misbehave in the manner of the previous two in the series, and with the ball not really turning yet, Buttler did look more secure in his defence than Duckett. But having looked assured in his technique and with a fluency not even matched by Bairstow, England's top scorer, a frustrating lapse in concentration brought all his good work to an abrupt end.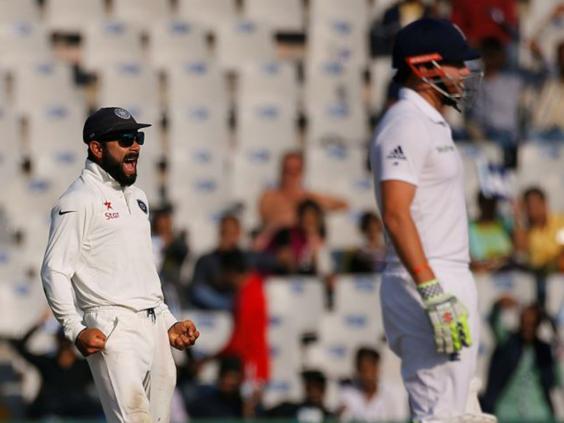 Whether it was the tea break that interrupted his flow, or his white ball instincts urging him to press the accelerator, as he would in those formats after making a decent start, his downfall suggests he does not yet think like a Test batsman. Whereas Bairstow managed to battle his way through the couple of periods when his innings became becalmed, Buttler seems to become more vulnerable when opponents dry up his scoring.
Having played a couple of superb cover drives earlier in his innings - centre of gravity low with bat and hands well through the ball - it is not easy to explain why Buttler should suddenly play another, on the walk and on the up, with all the risk that entails. But then, unforced errors, rather than exceptional balls, are what bring most dismissals in cricket so perhaps we should not be too surprised.
Buttler's dismissal was symptomatic of most that befell England who failed to make the most of batting first after winning the toss. So careless were some, that you wondered whether, after their travails of facing India's spinners in Visakhapatnam, England's batsmen had placed too much pressure on themselves to make their first innings count.
Of the top seven, only Bairstow and Haseeb Hameed could be said to have been dismissed by decent balls, everyone else having played large parts in their dismissals. Most surprising were the soft ways in which Alastair Cook and Joe Root departed, Cook edging a cut shot that was too full for the stroke and Root missing a pull to a ball that was also too full. Both were bad misjudgments of length and atypical of England's two best batsmen.
It could and should have been a lot worse for England. Had India not dropped four catches, two of them sitters, their innings would have taken on the sickly hue expected on days four and five of Tests in India, not the opening one.
Even England's much-vaunted long tail did not provide their customary rescue act, though at 87 for four a degree of repair work was achieved. It does not look enough though and there will be an uneasy feeling among the significant numbers of England supporters in Mohali that this was an opportunity missed.

Reuse content