Few things demoralise a team like a dogged rearguard from the opposition. But what England have been doing unto others over the past year was finally done to them by India in the third Test at Mohali, with telling consequences.
It may not have been entirely deserved but England, due mostly to sloppy cricket by the home side, had India 204 for six on day two. Three sessions later, after 74 overs of frustrating toil by Alastair Cook's bowlers, they eventually dismissed them for 417 - the home side's lead of 134 runs being unthinkable 24 hours previously.
Chief irritants for England were the two Ravis - Jadeja and Ashwin. The pair shared a 97-run partnership for the seventh wicket before Jadeja had one worth 81-runs with Jayant Yadav for the eighth - both daggers to the heart of England's ambitions for this match, which would have been raised high after they'd won the toss.
Before this uprising, it had been England's tail which had wagged best in 2016. The average runs per wicket achieved by numbers six to 11 had been an impressive 36.42. But on the back of their efforts in Mohali India's lower order have nosed ahead, if only by fractions. 
In a stark indication of how the makeup of the tail in modern cricket has changed, Jadeja (India's No 8) has made three triple hundreds in first-class cricket while Yadav, (no 9) has made a double. Mugs and rabbits they are not.
England can boast some impressive numbers down the order in this Test as well, with only James Anderson not having made a first-class hundred. Such depth of batting is not a recent thing though and every player in the England side which contested the 1992 World Cup final had scored a century for their counties.  
Despite those impressive scores in domestic cricket, Jadeja had never made a Test hundred. But with one seemingly on a plate for him, he tired of Cook's attempt to create a stalemate by packing one side of the ground with fielders. In the space of an over he went from cat and mouse to all-out attack, smashing Chris Woakes for four fours in as many balls to reach 90. But having broken the deadlock he tried to keep hitting with dire consequences, his attempt to plonk Adil Rashid for six ending in Woakes' hands at long-off.
A bashing by the tail can do strange things to those on the receiving end. Apart from England's gloom increasing with every run India edged ahead, there were errors by captain, bowlers and fielders.
With his mind inevitably turned to opening the batting in England's second innings, Cook put down a straightforward catch at slip off Ben Stokes. More curious, given there was little benefit to be gained for his team except for salving a bit of confidence for one or two of his bowlers, was Cook's decision to withdraw Rashid from the attack when he had four wickets to his name.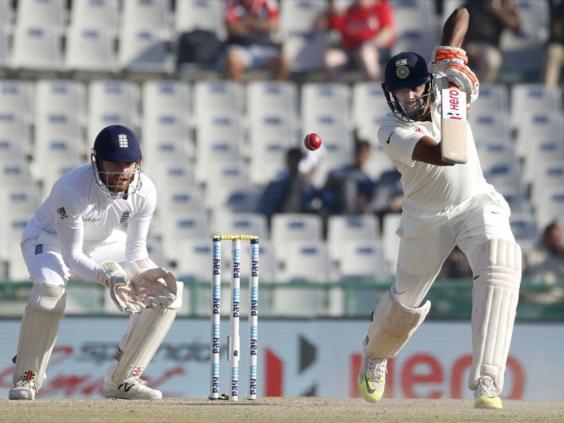 With Rashid's confidence said to be fragile, and with only one five-wicket haul to his name in Tests, it was a curious move given that the wrist-spinner was always likely to dismiss numbers 10 or 11. Although Cook did eventually bring Rashid back, it was Stokes, a man you sense has little self-doubt, who instead finished with five-wickets to his name.
Unsurprisingly, Cook took his muddled mind out with him to bat in England's second innings. With Joe Root replacing Haseeb Hameed as his opening partner, Hameed's damaged little finger keeping him from the fray, England's captain was already having to cope with unexpected change though not as much when India's spinners suddenly began to find turn where England's had not.
He survived two close shouts for lbw, one reviewed by India the other by England, but you sensed a screw being tightened. The only real surprise, when he was bowled playing all round a straight one from Ashwin for 12, was that he had missed it so comprehensively, but by then it was clear that here was a man with plenty on his mind.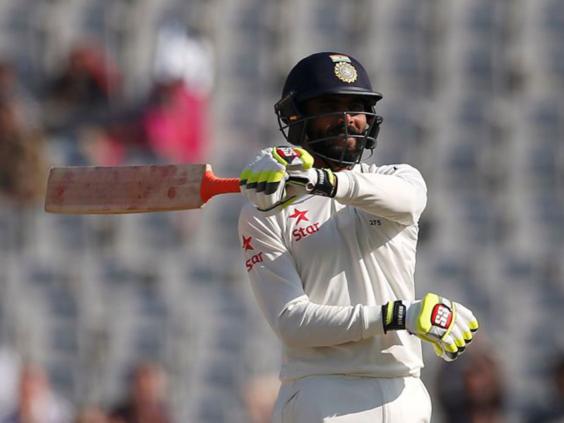 The defeatist nature of his dismissal and the one of Moeen Ali which followed, after Mooen was beaten in the flight by Ashwin, a deception that saw him stop his shot, revealed just how demoralised England were from India's tail-end retaliation.
You also wonder, though, whether the modern player's obsession with data, and the trust they put in it, feeds their despondency on such occasions. For instance, the statistics would have told England that they have only won two Tests in Asia after being behind on first innings, both of those occasions being in Pakistan.
Further prodding of the computer would also have revealed that no visiting team has ever won in India conceding more than 65 runs on first innings, a deficit half that faced by England in Mohali.
The other setback suffered by England from India's lower order renaissance, was the boost it gave India's three spin bowlers the principal architects of their fightback with 217 runs scored between them.
With England's tweakers wringing little from the surface their sudden sorcery seemed inspired - the power of vital runs transferring to their spinning finger with ominous effect, as all three ended the day among the wickets.
Reuse content