Paul Farbrace, England's assistant coach, has criticised his side's lack of fight after their collapse on the second evening pushed them to the brink of defeat in the second Test against India.
The run out of Haseeb Hameed sparked an implosion that saw England lose four wickets for 29 runs in 13.3 overs.
Captain Alastair Cook had already been bowled by Mohammed Shami before tea in the third over of England's reply to India's first-innings 455.
But the loss of Hameed, Ben Duckett, Joe Root and Moeen Ali saw the tourists collapse to 80 for five before a stand of 23 in 14.4 overs between Ben Stokes and Jonny Bairstow took that total to 103 without further loss by the close.
England, who are still 352 runs behind India, look condemned to an almost-certain defeat.
However, Farbrace has called for more character from his players for the remainder of this match.
"We're massively disappointed," he said. "We looked like we got a bit frenetic - we didn't cope very well. We didn't show enough fight. Those are times when we need to show a bit more resilience and get stuck in.
"That's the skill of the batsman - working out how you're going to play. International cricket finds you out quickly. There are times where you've got to adapt your game. If we are going to be successful as a team, we have to cope well in all conditions."
Root actually perished showing too much fight, coming down the track to hit spinner Ravichandran Ashwin straight to long off to ruin what had up until then been a fine innings to reach 53.
Ben Duckett was then dismissed for five, deceived by Ashwin's off-spin as he continued the disappointing start to his Test career that now sees him average 18.33 in four matches.
Farbrace added: "Ben is working incredibly hard - he has worked at the ball spinning away from him. "He's got to make those adjustments. The best players are those who make those changes.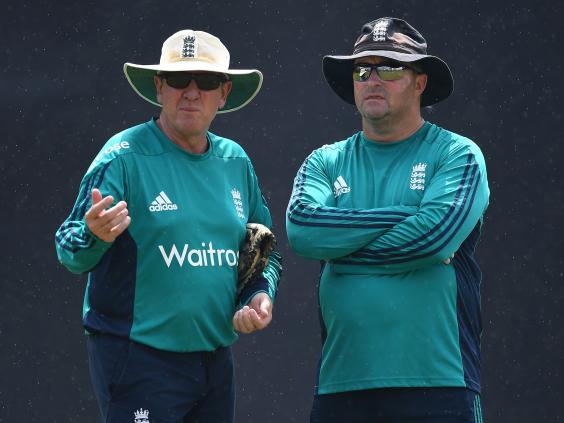 "In these conditions, against a quality bowler like Ashwin, it's not easy. We know India are a quality side. They've had the better of conditions here and they've made better use of them."
Reuse content