Stuart Broad believes the second Test against India can still be saved despite the late loss of Alastair Cook – as long as England's other batsmen follow the lead of their captain.
England will start the final day on 87 for two and needing to bat out a minimum of 90 more overs to deny India a victory that will give them a 1-0 series lead going into the final three Tests.
The dismissal of Cook to the last ball of the fourth day of this match, trapped lbw by Ravindra Jadeja after he batted for 188 balls for his 54, has hit hopes of a great escape despite a fine rearguard that has seen England already negotiate 60 overs for the loss of just two wickets.
But Broad is still confident the tourists can deny India's bowlers on a wearing final-day pitch to pull off a famous draw.
"We played with a lot of skill and a lot of fight," he said. "We are still in this Test match. It's always disappointing when you lose a wicket in the final over, especially someone as dogged and strong as Cooky. We batted 60 overs for two wickets, it gives us a lot of encouragement. The way he went about it. The calmness and courage he showed set that precedent – we've got to follow his lead.
"If we get two or three batsman tomorrow to get stuck in like the openers, we will save this Test match. We've certainly got the characters and the players and depth of batting.
"For us to be in this Test match going into day five is a huge credit. It's very easy to throw the towel in. But we put a lot of pressure on the Indians. There have been a lot of Tests saved with a team going into the final day two down.
"Everyone believes it can be done. We've only got another 90 overs to go. Break it down to small partnerships: 15 minutes, 15 balls, five runs. These things that slow the game down for you.
"We know India will come back refreshed and excited with men round the bat. If we can have a quiet hour and a half tomorrow morning, then the Indian bowlers will be under pressure to take wickets. The amount of time they have to bowl us out, they're under pressure to win the game."
Broad's seconds-innings figures of four for 33 were his best in India.
But he is likely to miss the Third Test with the injury to his right foot that saw him bowl through the pain barrier today.
The 30-year-old has revealed he will wear a moon boot in a bid to get fit for the fourth Test in Mumbai starting on December 9.
"The foot is sore but I have got to play a Test, haven't I?" said Broad. "As a fast bowler you have got to have niggles. It's all part of the job. I'll get a moon boot on it to offload the Test match for a few days. I believe everyone reacts differently.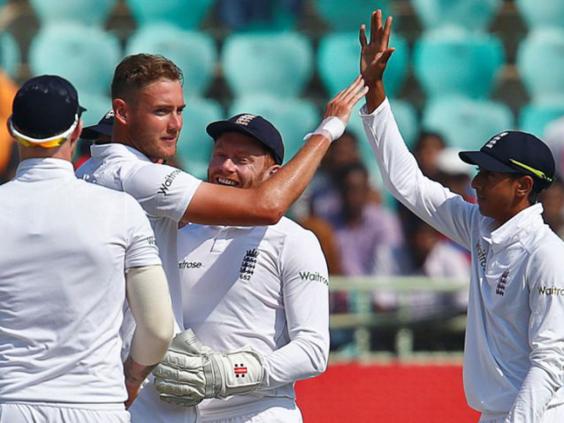 "I've got 17 days to Mumbai, which is quite a long time, slightly less for Mohali. I'll try to get fit for the next one, but I'll definitely be fit for Mumbai.
"It's annoying to miss any Test match. I don't know if I will miss that game yet. Mohali's one of the better places to bowl seam. It will be a pain in the foot to miss it."
Reuse content