Run famines have been the destiny for most visiting batsmen to India in recent times, but this England team has brought a veritable feast in that respect, with three hundreds in their first innings of the series at Rajkot.
Ben Stokes, Joe Root and Moeen Ali were the trio passing three figures, each innings as individual as their creators. Root, all placement and busy strokes was probably the pick, but Moeen's crafted caresses and Stokes's muscular plunder also helped to crush the spirit of a bewildered Indian bowling attack.
The last time England boasted such a triple was during the Cardiff Test against Sri Lanka in 2011, when Alastair Cook, Jonathan Trott and Ian Bell all scored hundreds. In Asia, though, you'd have to retreat to Nagpur in 1961, when Ted Dexter, Ken Barrington and Geoff Pullar made centuries.      
Before Rajkot, it was Michael Clarke, Australia's former captain, who was the last foreign batsman to make a Test hundred in India, something he did in Chennai three and half years ago. Since then, teams have been hit by the old oriental one-two – India's batsmen making hay while their spinners wreak havoc on pitches custom made for their chicanery.
It is a template that has seen them win 12 of their last 13 home Tests, the other one being a draw. Facilitating that incredible record has been India's ability to win the toss, which they did in eight of those matches, something that eluded Virat Kohli, India's captain, here. And boy did the shock of it show. Used to dominating opponents, it was surprising just how quickly Indian heads dropped and their captain started to curse his team and kick divots from the outfield. Passion in a cricketer is to be encouraged but captains must stay calm, and you could see Kohli's displeasure openly affect Amit Mishra, who did not have the best of days.
Dropping five catches, possibly six if you count Kohli's aborted effort to take a skier another fielder was better placed to catch, would not have helped his mood. When conditions are benign, fewer chances are generated, which would have made the profligacy even more painful.
Another part of Kohli's frustration would have been state of the pitch, which as far as England having a nice sighter in Indian conditions, suited Alastair Cook's side well – the strip possessing decent pace and bounce (unusual for India) but scant turn, at least for now.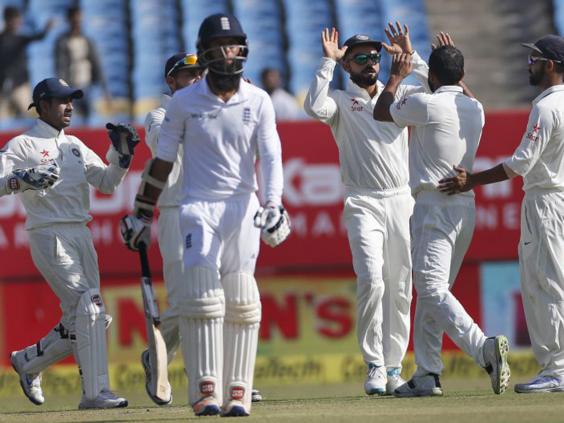 Home advantage has become such a powerful element in international cricket over the last decade that there has been talk of dispensing with the toss, as they have done in county cricket unless both teams want to bat first. That proviso could not apply for Tests though, especially in India, where teams routinely want to bat first anyway.
Handing choice to the visiting captain, apart from eroding yet more tradition, would surely hasten the return of those bland surfaces known as "the chief executives pitch," so-called on account of them wanting the match to last for five days in order to maximise revenues. Anyway, the unwritten law of the game has been for home groundsmen to favour their own team with pitch preparation, a convention that ensures variety as well as demanding adaptation from the visiting side.
Most will feel that by winning the toss Cook has given his team the best of conditions in which to bat and, that unlike the two Tests England played in Bangladesh, batting first has conferred a huge advantage upon them.
When a team makes 537 such an argument seems bullet-proof but had India taken all the chances presented to them by England's batsmen the visitors would probably have been dismissed for around 320, and that is an honours even kind of a score.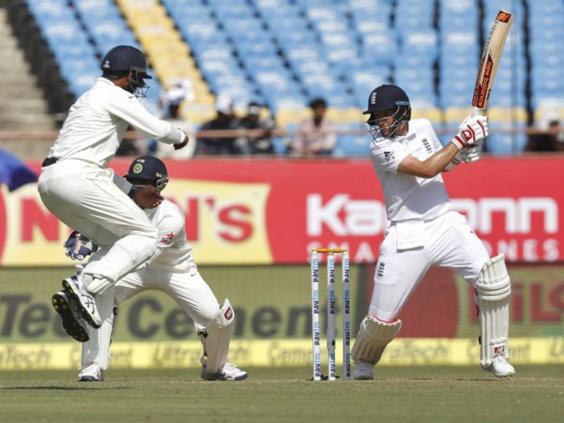 As you might expect, England's batsmen took advantage of India's largesse but they were also helped by the conditions they encountered in Bangladesh, which saw the ball spin from the first over of the match. Apart from producing intriguing cricket that demanded high skill from batsmen and bowlers alike, the experience galvanised England for the challenge ahead in India. So when they were confronted by the, so-far, gremlin-free pitch in Rajkot, the determination to make the most of it was writ large across the top-order.
That resolve to bat long kept India and their captain simmering in 35C degree heat for 157 overs, the kind of hard labour they have not served since England were last here four years ago.
That series provided the visitors with their first series win in India for 28 years and while there is some way to go before that result is matched this time, a win here would be a start. To achieve that, and India will go into day three 474 runs behind, the bowlers will have to be both patient and inventive with chances taken rather than squandered.
Then we might see India prepare pitches like those in Dhaka and Chittagong, where batting first was no advantage at all and the cricket provided a thrill a minute.
Reuse content