There are plenty of people who fear for the future of Test matches but one of the sport's most influential figures, Jacques Kallis, believes that it's 50-over cricket that will eventually pay the price for the rise and rise of the Twenty20 game.
The 2015 edition of cricket's World Cup will mark the 40th anniversary of an event first held on these shores in 1975. For most of those four decades it was the centre-piece of the cricket calendar but now the emergence of high-profile, super rich T20 tournaments such as the Indian Premier League and Australia's Big Bash – coupled with an ever more congested Test schedule – have served to place the four-yearly event under increasing scrutiny.
The convoluted nature of recent tournaments – the last World Cup in India in 2011 lasted five weeks –compared to its far more compact T20 equivalent has also called its future into question. But it's still a surprise when South Africa's recently retired talisman says he thinks the format's days are numbered.
Kallis played 328 one-day internationals in a career spanning 18 years at the top level. He made his debut against England in Cape Town in 1996 and played his final ODI against Sri Lanka in July.
The 38-year-old also played 424 one-day matches below international level, which makes him almost uniquely qualified to discuss cricket's 50-over future.
"Nothing changed cricket like the introduction of the Twenty20 game," he tells The Independent. "I think the 50-over game will disappear over time and there will end up being two main formats – Test cricket and T20 cricket."
That will be music to the ears of those who fear that dwindling interest in Test cricket in countries such as India, Sri Lanka, New Zealand and the West Indies will eventually see the five-day game marginalised.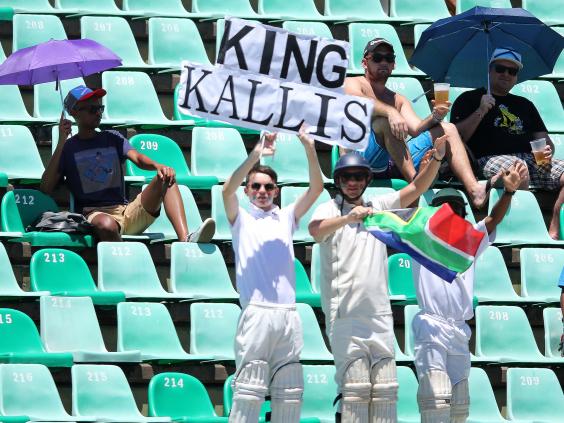 Test crowds in England and Australia remain strong but even in Kallis's home country South Africa, where Test matches have traditionally held a strong draw for the cricket-loving public, there has been a fall in attendances.
When Kallis made his final Test appearance in Durban last year, there were 14,000 spectators at Kingsmead on the first day of his farewell, which was Boxing Day.
But arguably the greatest all-rounder in the modern game eventually said goodbye to the Test stage in front of a ground barely a quarter full – despite tickets for South Africa's home Test matches being sold for a third less than sell-out ODIs and T20 internationals.
The South African cricket board said Kallis's last-minute decision to draw stumps on his involvement with the Test side had caught them on the hop but whether it would have made a real difference is a moot point.
That said, Kallis – who bowed out of his 166-Test career with a staggering batting average of 55 and a bowling average of 32 – is confident that the sport's traditional format will bounce back, partly as a result of the innovations encouraged by T20.
"Does Twenty20 cricket pose a threat to Test cricket? No, I think it poses a threat to 50-over cricket instead," he says. "I would be a big supporter of a Test World Championship because Test cricket has been more exciting in the last five years than 50-over cricket, there have been some great games."
He's not wrong. This summer, England were denied a victory over Sri Lanka off the penultimate ball at Lord's when an lbw decision was overturned on review, then Alastair Cook's men lost off the penultimate ball of the next Test at Headingley.
A Kallis-less South Africa were also on the wrong end of some late, late drama in the final decisive Test of their three-match series against Australia in Cape Town in March, losing their final wicket after some heroic resistance with just 28 balls of the match remaining.
That match signalled the end of Graeme Smith's extraordinary reign as South Africa captain and leaves the team with two significant holes to fill in the future. Unlike England in the aftermath of last winter's Ashes, however, they are rebuilding from a position of strength, having secured their place at the top of the world Test rankings.
"It's a great South African team and I think it deserves to be top of the pile," says Kallis. "As for England, all teams go through good times and bad. I can't give you a time frame but in time they'll also have their moment. They're a team that are in a building phase."
While England's regeneration gathers pace after the Test series win over India, the main danger is that their progress will be hampered by a schedule that looks set to test their squad to the limit over the next 18 months, with an almost continuous stretch from the World Cup to the end of the Ashes.
The robust Kallis was lucky with injuries despite the strain put on his frame. But given the grind of the relentless international schedule it wouldn't surprise him to see more cricketers tread the path taken by Kevin Pietersen.
"The schedules are tough, especially if you are playing in all the formats – and double if you're an all-rounder," he says. "Maybe eventually we'll see cricketers play for shorter periods or maybe we'll see more specialise in a format.
"We could see the rise of the freelance cricketer – the schedules need to be planned around tournaments like the IPL to prevent this."
Kallis says the thing he will miss most after calling time on his international career is beating England in England – something he did in both 2008 and 2012 – but he will still play in the IPL and the Big Bash until the end of 2015.
He can then sit back and watch England attempt to wrestle back the Basil D'Oliveira trophy in his absence next winter. Hopefully as part of a bumper crowd in the South African sun.
Reuse content