In the aftermath of glorious rebirth came some salutary advice. Since it was issued by the principal boulevardier it should be heeded. Rejoice, of course, in the deeds of Jos Buttler and his colleagues as England triumphantly shed the burdens of 20 years but remember that this is the beginning of something – you really ain't seen nothin' yet. What a summer this is proving to be.
"There's a huge potential," said Buttler, scorer of  England's fastest one-day hundred in their grandstanding total of 408 for 9, which brought victory against New Zealand by 210 runs in the first of five one-day internationals on Tuesday. "We don't want to get carried away at one performance and think like English ODI is fixed and we're going to win the World Cup.
"But I think just looking round – the two training days were really exciting, watching what some of these guys can do in the nets, the energy they have brought to the group just through being new to international cricket, how  exciting it is and how much fun it is. There's definitely been an extra buzz."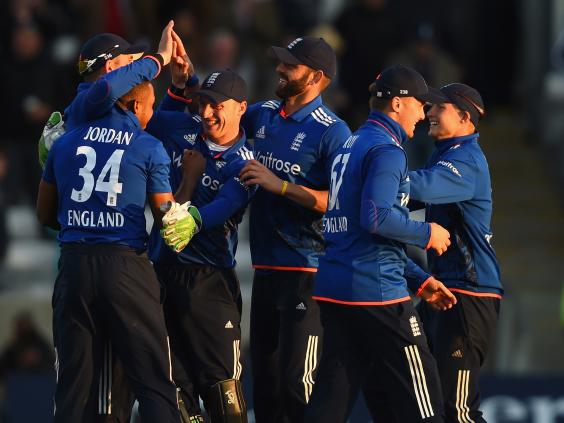 The fact that an English cricketer can use the word "fun" without fear of contradiction is itself a novelty. That was one of the key components that were overwhelmingly evident in their approach at Edgbaston.
The other was that they did not fear failure, they positively embraced the possibility at every turn. No longer were England cabined, cribbed, confined or bound in as they and their forebears in the one-day team have been for so long.
This came to a head in the World Cup earlier this year when the leading teams were playing as if in a different time zone. No more, England's players said, no more. Buttler conceded they had to be different after that.
 "A few things," he said. "It wasn't through lack of trying before, it's not as if we wanted to play like that. We weren't playing well enough.
"If we weren't going to go out and have a swing in this match when everybody in this room wanted it, English cricket, the paying public and everybody who watches this sport – we couldn't have had more of a licence to go and get bowled out for 150 in 20 overs.
"I think that is a big change – everyone has accepted that English cricket can do that and I think if we were bowled out for 200 in 30 overs, I don't think we would have been criticised that much, either. So we had a real lease of life to go and play that way. It was a great day."
This has been a magnificent season so far for a sport that has often seemed to be drifting perilously close to irrelevance in this country, or at least a place so low on the undercard as to make the print difficult to read without a magnifying glass. Two excellent Test matches against a New Zealand team that would not know how to be downbeat have been followed by England's most coruscating exhibition of batting in 646 ODIs. The thought of the Ashes to follow is salivating.
The Edgbaston game was the ninth occasion that two England batsmen have scored hundreds in the same innings. Joe Root made his fifth in 27 innings since March last year, the seventh quickest of the 124 that had been compiled for England when he was dismissed. His thunder was to be stolen by the 125th.
What a player Buttler is. There have not been faster hands since gunslinger Johnny Ringo, who was said to draw a six shooter quicker than a frog could catch a fly. Buttler's effervescent stroke play – his premeditated ramps, his instinctive gift for driving down the ground balls outside off stump – is seemingly at odds with his reserved, amiable but slightly cautious character. This merely makes his batting all the  more attractive.
His innings of 121 last year in a losing cause against Sri Lanka came off 74 balls, a scoring rate of 163.51. This contribution of 129 came from 77, a rate of 167.53, the 20th most rapid in the all-comers list. It was the more startling for the relatively measured fashion in which he set about rebuilding with Adil Rashid after England fell to 202 for 6. The seventh-wicket partnership of 177 beat by 47 the previous record for ODIs held by Andy Flower and Heath Streak.
"I think there was a little period of consolidation," said Buttler. "I tried to take low-risk options. I wanted to score at a run a ball, you always do, that's what my method is, but hitting the ball on the floor to start with."
From time to time, maybe more often, England will fall flat on their face with this invigorating but necessarily risk-laden approach. It may be that at first they will lose more than they will win. But there is the sense from what happened in Birmingham that things have changed for ever – and this is before the arrival of their new coach, Trevor Bayliss.
"I'm sure we'll have some challenges going forward as well, especially in this series against a top side who will come back and keep fighting like the way they do and playing very aggressive cricket," Buttler added. "So there are some big challenges ahead but it was a great day and one that we should really enjoy." What a ride Buttler and his mates now promise to take us on.
Reuse content