Keith Barker was just 17 when he played in a reserve team fixture for then Premier League Blackburn Rovers against Aston Villa. The ball landed at his feet in the penalty area but he fluffed the chance. Instead of getting an arm around the shoulder, he was given a cold hard dose of brutal reality.
"I was one-on-one with the keeper but the defender got back and my shot went out for a corner," he says. "The reserve team manager [Alan Murray] looked at me and told me that if I had scored that my career would have changed for ever. I was only 17. It was like, shit, I'm not going to get another chance."
As it turned out, he wasn't a million miles away from the truth. With Blackburn gradually re-establishing themselves in the top flight in the mid-2000s, manager Mark Hughes was remodelling the club, and for youngsters such as Barker, the writing was on the wall.  "The young guys realised that they didn't stand a chance," says Barker. "Mark Hughes wasn't really looking to spend time with players that he could develop. It was more a case of making sure that the club stayed up."
Barker had already turned down the opportunity of possibly going to Liverpool, reasoning that if it was hard to break into the first team at Ewood Park it would be almost  impossible at Anfield.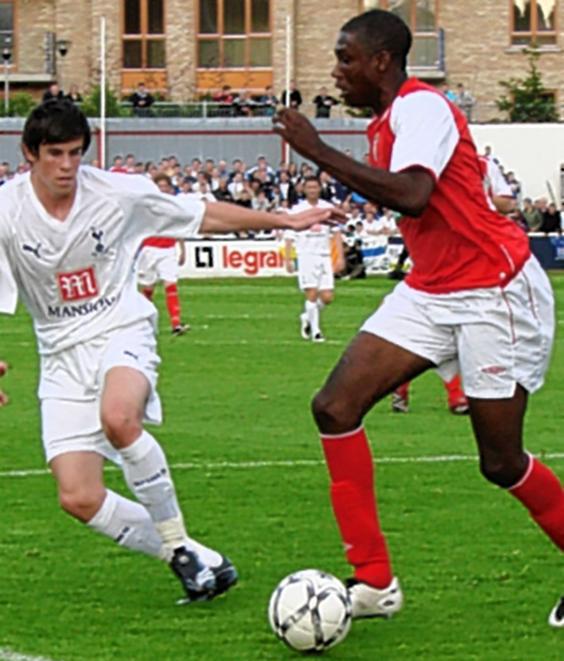 His next career move was to Irish club St Patrick's via a loan spell at Rochdale, where he had made his full Football League debut. "After leaving Ireland I had another trial at Bury but Chris Casper was sacked as manager and a new guy came in who told me that his main job was to work with the players he already had," says Barker. "That was another road to nowhere until Northwich Victoria offered me another  six-month contract.
"At the end of that season they told me that they couldn't really afford to pay me a pre-season salary but were prepared to offer me a fresh trial when the new one started." 
By that time Barker was feeling increasingly disillusioned with football. He tells the story of how he once travelled to Gretna to meet the club's manager shortly after the club had reached the Scottish Cup final. That manager had asked two others for a view on Barker. "One of them said that if he gave me a chance I would do really well; the other one told him that I was a waste of space.    
"In the end I finished with football before it finished me. After all that I just started looking for another job while just playing a little bit of cricket with my old mates."
That turned out to be the smartest move of Barker's sporting career. While playing for Enfield in the Lancashire League, Barker was spotted by the former England coach David Lloyd who in turn got in touch with Warwickshire second XI coach Keith Piper. Barker was 21 but wasted little time scoring a hundred on debut against Hampshire.
He made his bow for the first team in April 2009 in a one-day fixture against Somerset at Edgbaston. He hit 28 and then bowled 10 overs, picking up the wicket of James Hildreth in a heavy defeat. He made his  Championship debut against Nottinghamshire two months later, bagging a duck in his opening first-class innings and going wicketless in 14 expensive overs. Barker, though, was one of the sport's quick learners and soon proved himself a valuable member of a side used to challenging for major honours. 
"Playing top-level sport was nothing new but instead of playing in front of 6,000 people at Spotland for Rochdale I was bowling against international batsmen," he says. "And instead of having defenders trying to kick the crap out of me I was batting against bowlers who were trying to knock my head off."
Signed originally as a batsman by the Bears, the left-arm paceman has since developed into one of the game's most consistent all-rounders, taking more than 200 wickets at a cost of just 26 and scoring almost 2,000 runs at a shade under 30. He has enjoyed a great start to the season with Warwickshire, too, and will travel to Worcestershire today knowing that a win for the visitors will put them back in the First Division title hunt. Little wonder that Barker believes fate has worked in his favour: "I'm glad I came back to cricket because I think I've achieved more than I would have done in football." 
Of course, Professional cricket is no cake walk either, but a man who boasts Clive Lloyd as his godfather has made the giant leap from one sport to the other appear more like a merry skip across a well-manicured outfield.  
"I wouldn't say I really started understanding what I was trying to be until probably Graeme Welch came to Warwickshire as a coach," he points out. And football? "I'm might watch Match of the Day every now and then but I'm not that fussed about it." He laughs when I put to him that, at 28, he could be earning a Premier League footballer's salary. "I'd be lying if that thought hadn't crossed my mind," he says. "But I haven't got any regrets. Not one." 
That's one thing you just can't put a price on.
Reuse content