Kevin Pietersen's international career has been brought to a sensational end. In an exit almost as spectacular as some of his great innings, he was told he was no longer wanted by England after their ill-fated tour of Australia.
It was made clear, in a statement which did not remotely go to the heart of the issue, that the man who has scored more runs for England than any other cricketer will not play again either in Test matches, one-day internationals or the Twenty20 format. The severance had to take place now because England's squad for the World Twenty20 in Bangladesh is being announced on Thursday.
Pietersen was told that he would not feature in that, in the tour to the West Indies which precedes it or, indeed, in international cricket again. Tellingly, the decision to sack him – and that is what this is – was unanimous among the management and the selectors.
It demonstrates that Pietersen, who again became isolated from the rest of the dressing room this winter, had run out of allies. He met Paul Downton, the new managing director of England cricket, and was told that now was the time to start the rebuilding of the team after the disastrous tour of Australia.
Downton, who is in his first week in the job, said: "Clearly, this was a tough decision because Kevin has been such an outstanding player for England as the fact that he is the country's leading runscorer in international cricket demonstrates.
"However, everyone was aware that there was a need to begin the long-term planning after the Australia tour. Therefore we have decided the time is right to look to the future and start to rebuild not only the team but also team ethic and philosophy."
The last phrase of that part of the statement is the one that counts. England in general and the captain, Alastair Cook, in particular were simply not willing to put up with Pietersen's disruptive influence any longer.
Cook had saved Pietersen's career once when he insisted he should stay after the damaging conflict in the summer of 2012. Dropped from the team when his attitude became too much to manage, Pietersen was eventually restored and subject to a period of reintegration.
But without Cook's willingness to work with him it would not have happened and it is clear that the captain too was at a loss about what to do next. Pietersen was frequently distant on the tour of Australia and it was hinted that many of his former traits had returned.
He might have expected the worst after the rampant speculation of the last month. But he may have thought that his career would be saved by the commodity that counted more than any character defects, perceived or real – runs.
"Playing cricket for my country has been an honour," Pietersen said. "Every time I pulled on the England shirt was a moment of huge pride for me and that is something that will live with me for ever. Although I am obviously very sad the incredible journey has come to an end, I'm also hugely proud of what we, as a team, have achieved over the past nine years.
"I feel extremely fortunate to have played at a time of great success for England cricket alongside some of the best cricketers the country has ever produced. I want to thank everyone for their fantastic support and I wish the team the very best of success going forward. I believe I have a great deal still to give as a cricketer. I will continue to play but deeply regret that it won't be for England."
If he can muster the enthusiasm, Pietersen will now play for Surrey and in various well-paid jobs in Twenty20 leagues round the world, not least the Indian Premier League, which he professes to love. But he will be doing it only for the money, not the glory that he always craved as an outstandingly idiosyncratic batsman.
England are clearly still a better team with Pietersen than without him. But, with the player aged 33, it was much easier to make this decision now than it would have been only 12 months ago.
Kevin Pietersen in pictures
Kevin Pietersen in pictures
1/55

Pietersen scored a career-best 326 not out in Surrey's County Championship match against Leicestershire.

Getty

2/55

Kevin Pietersen hits a four during his innings for Surrey against Glamorgan

Reuters

3/55

Pietersen is the centre of attention despite sitting on the end of Surrey's team photo yesterday

Getty Images

4/55

Pietersen had an IPL deal said to be worth £200,000 with the Sunrisers Hyderabad before negotiating his release

Getty Images

5/55

Pietersen was part of the Melbourne Stars side that lost the Big Bash final earlier this year.

Getty Images

6/55

Kevin Pietersen walks during his final England appearance during the 2013/14 Ashes.

GETTY IMAGES

7/55

Pietersen in the latest Ashes series

Quinn Rooney/Getty Images

8/55

Andy Flower with KP

Tom Shaw/Getty Images

9/55

Kevin Pietersen with Andy Flower

GETTY IMAGES

10/55

Kevin Pietersen looks on as England crumble once against in the Fourth Ashes Test in Melbourne

GETTY IMAGES

11/55

Kevin Pietersen of England bats during day one of the Fourth Ashes Test Match between Australia and England at Melbourne Cricket Ground on 26 December 2013

Gareth Copley/Getty Images

12/55

Kevin Pietersen makes a gesture to the Gabba crowd

13/55

England batsman Kevin Pietersen walks off at the Waca after the fall of his wicket

GETTY IMAGES

14/55

Kevin Pietersen is all smiles at The Gabba ahead of the first Ashes Test

Getty

15/55

Kevin Pietersen: The local daily in Queensland carried the headline: 'He's so arrogant not even his own team likes him'

Getty Images

16/55

Kevin Pietersen will have a scan and treatment on a knee

Getty

17/55

Kevin Pietersen prepares for the ODI series against Australia

GETTY IMAGES

18/55

Kevin Pietersen bats in the nets at The Oval a

Getty images

19/55

Kevin Pietersen is honoured for becoming England's leading all-time run scorer

Getty Images

20/55

Kevin Pietersen

PA Wire

21/55

Kevin Pietersen of England celebrates with fans after England retained the Ashes

GETTY IMAGES

22/55

Kevin Pietersen's after his 23rd Test match hundred

Getty Images

23/55

Kevin Pietersen – 2
Lasted a grand total of 13 balls in the match, making 7 runs. Played a particularly stupid shot to get out in the second innings and then played no further part in the game due to a calf strain. Doubtful for the next Test, although on this performance he won't be greatly missed.

Getty Images

24/55

AP

25/55

Pietersen must wait until the opening Ashes Test next month to make his first appearance

Getty Images

26/55

Kevin Pietersen: The batsman was spoken to by the referee in the Mohali airport toilets

Getty Images

27/55

Pietersen doing charity work

AFP/Getty Images

28/55

Kevin Pietersen on a celebratory Twitter post

29/55

Alastair Cook and Kevin Pietersen

GETTY IMAGES

30/55

ECB chairman Giles Clarke listens to Kevin Pietersen speak at a news conference in Colombo

Reuters

31/55

Pietersen was one of the more enthusiastic participants in England's victory parade through London

Getty Images

32/55

Pietersen is left out of England's squad following the controversy over provocative text messages

Getty Images

33/55

England retain the Ashes in Australia, their first series win in the country since 1987. Pietersen ends the series with 360 runs at an average of 60.

Getty Images

34/55

Pietersen arrives with England for the one-day World Cup in India in high spirits, but the trip ends in disappointment for him, with injury eventually forcing him him out.

Getty Images

35/55

Pietersen is named in England's Test squad for the first Ashes Test at Lord's, taking the place of the hugely experienced Graham Thorpe.

Getty Images

36/55

Pietersen hits a swashbuckling maiden test century to rescue England in the final Ashes Test at The Oval. The draw means England reclaim the Ashes for the first time since 1987.

Getty Images

37/55

Going on to score further centuries in East London and Centurion, Pietersen ends up being Man of the Series, making 454 runs at an average of 151.33 and becoming the fastest man in history to reach 500 one-day international runs in the process.

Getty Images

38/55

Kevin Pietersen and the team after winning the World T20 in 2010

GETTY IMAGES

39/55

Main attraction: Kevin Pietersen celebrates his century against South Africa. He finished the day on 149 not out

AFP

40/55

Flintoff and Pietersen in 2005

PA

41/55

Kevin Pietersen enjoys a superb match-winning century for Delhi

AP

42/55

England beat Pakistan to take an unassailable 3-0 lead in the one-day series. Kevin Pietersen notched a century in the process.

GETTY IMAGES

43/55

Pietersen with the Ashes

PA

44/55

KP at Wimbledon

GETTY IMAGES

45/55

getty images

46/55

AP

47/55

Kevin Pietersen does the 'teapot' after England win the Ashes in Australia

Getty Images

48/55

Kevin Pietersen gives his verdict on the Lamborghini Gallardo

AFP/GETTY IMAGES

49/55

Pietersen in his early England day

GETTY IMAGES

50/55

GETTY

51/55

GETTY

52/55

GETTY IMAGES

53/55

PA

54/55

Kevin Pietersen (left) and Andrew Flintoff

GETTY IMAGES

55/55

KP in his first Ashes triumph

GETTY IMAGES
Although he was England's leading scorer in the Ashes series (still averaging under 30) he often conveyed the impression of being distracted. When the Ashes were lost, so too was his interest in affairs.
It may well have been a matter of balance. He is a player on the slide, who could be an unsettling influence in the dressing room, so rather than go through another year or more of hell with declining returns in the runs column it was easier to cut him loose now.
Downton, who is clearly unafraid to take tough decisions, said: " England cricket owes a debt of gratitude to Kevin, who has proved to be one of the most talented and exciting players to ever represent the country and his 13,797 runs are a testimony to his immense skill.
"This decision brings some clarity now for the future of the England teams and we all wish Kevin the very best in the rest of his career."
Timeline: Pietersen's England controversies
2005: Booed in homeland
Picked for England's one-day series against his native South Africa and scores centuries in Bloemfontein, East London and Centurion amid sustained abuse from the crowd, who labelled him a traitor.
2006: Fined for dissent
Loses part of his match fee for shaking his head following his dismissal in Test against India in Nagpur.
2007: Refuses to walk
After edging against Sri Lanka in second Test in Colombo, Pietersen stands his ground, having seen replays.

2008: Switch-hitting
Adopts controversial switch-hitting style in one-day match against New Zealand, leading for calls for the shot to be outlawed: "Absolutely stupid," Pietersen replies. After being made captain ahead of Test series in India, Pietersen was vocal over the need to stand up to terrorism following Mumbai attacks.
2009: Falling out with Moores
Resigns as England captain after making a disagreement with coach Peter Moores public. Pietersen called for the ECB to discuss Moores' role within the team. Moores lost his job as a result.
2010: Dropped from T20
Tweets dissatisfaction at being omitted from T20 series in Pakistan: "Done for summer!! Man of World Cup and dropped from T20 side. Its a f*** up!!". Leaves Hampshire, claiming he wanted to be closer to London.
2011: Nightclub visit
After being forced out of the World Cup through injury, courts controversy by being pictured in a nightclub.
May 2012: Digs out Knight
Fined by the ECB after slamming TV commentator Nick Knight on Twitter: "Can somebody please tell me how Knight has worked his way into the commentary box for Tests? Ridiculous."
August 2012: Textgate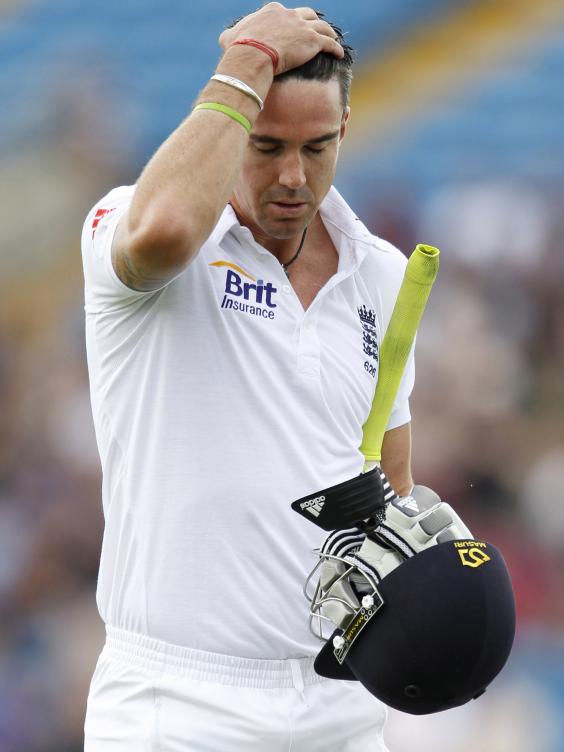 Having retired from T20 and ODIs, Pietersen suggests he may have played his last Test in an extraordinary press conference after second Test against South Africa. He was later forced to apologise after admitting sending "provocative" text messages to South African team. Left out of England squad for the World T20 and not given central contract for 2012-13. Uses YouTube to commit himself to all forms of cricket.
2013-14: Ashes woe
Commitment questioned on disastrous tour of Australia as rumours of rifts with hierarchy resurface.
KP and England: Pietersen's record
Tests
Debut 21-24 July 2005 v Australia, Lord's
Matches 104  Runs 8,181@47.28
100s 23 50s 35
Highest score 227 v Australia, second Ashes Test, Adelaide, December 2010
One-Day Internationals
Debut 28 November 2004 v  Zimbabwe, Harare
Matches 136  Runs 4,440@40.73
100s 9 50s 25
Highest score 130 v Pakistan, Dubai, February 2012
Twenty20 internationals
Debut 13 June 2005 v  Australia, Rose Bowl
Matches 37  Runs 1,176@37.93
100s 0 50s 7
Highest score 79 v Zimbabwe, Cape Town, September 2007
Reuse content