In a last desperate bid to salvage their World Cup campaign, England did what they felt they had to do. It was merely what Alastair Cook's detractors, whose numbers were growing like an army of cybernauts, had insisted they ought to have done months, if not years ago.
A significant number of critics who will now claim that they were of course right all along, said that Cook should never have been England's one-day captain in the first place. He was neither savvy enough as a tactician nor  sufficiently versatile as a batsman.
But the belated action by the selectors, however it was parcelled up in pretty paper and scarlet ribbons, smacked of panic and wreaked of  disarray. There were several moments in the last year when they could have asked Cook to stand down.
The first was after the disastrous tour of Australia last winter when an Ashes whitewash was followed by a one-day drubbing. Cook himself was close to giving it up at one point in Sydney when the  rigours of a tough tour were eating at his soul. On reflection, which then could have been  calm rather than alarmed, they should have viewed that as the decisive event.
NICK KNIGHT: Cook looked lonely and vulnerable as captain
Then in the late summer after defeat by India they could have decided enough was enough. But always they wanted to give a decent man another chance to turn round his own distinctly miserable form and inspire his team, so that by the end he had  led England in 69 one-day internationals, more than any other captain.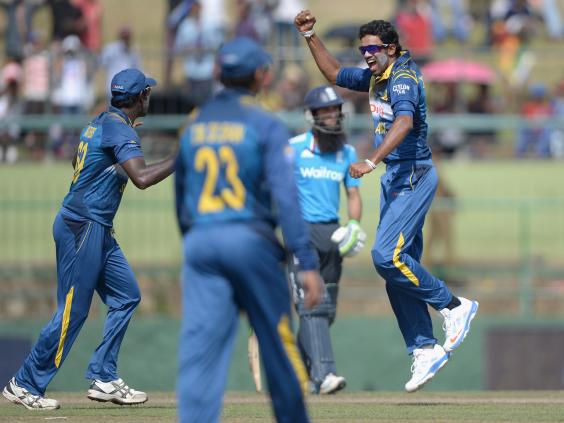 The coup may have been instigated for the correct reasons – to try to ensure that England start winning again – but it reflects poorly on both Paul Downton, the managing director of England cricket, and Peter Moores, the team's coach. In their different ways, they offered Cook their continued support in Sri Lanka in the last few days of England's tour, which proved to be another disaster.
Either they were both being deliberately misleading or had not asked the feelings of the other selectors – James Whitaker, Mick Newell and Angus Fraser – before speaking. Or they suddenly realised they were talking gibberish. If the gamble that has now been taken with Eoin Morgan, named as Cook's replacement at the 11th hour, does not yield dividends, they do not have many places to turn.
They were loyal but could not see that loyalty through to its logical conclusion, which was Cook leading England in Australia. If they should have acted sooner, then their own positions could be deemed to be as untenable as Cook's evidently became so late in the day. Certainly, if Morgan's team fails, it would damage the England leadership above him, perhaps irrevocably.
Downton said the other day in a Colombo hotel while passionately backing Cook, that he wanted to ensure that all England cricket followers felt enfranchised. If so, many may feel entitled to wonder what the hell is going on and vote accordingly.
In the case of Moores he wanted Cook as captain partly because he wanted to work with one man on his return to the job of coach last April from which he had been sacked five years earlier. Moores would doubtless insist that he gave him every opportunity, but he will have to ask himself whether that was truly helping the team and such a last-ditch change of direction ought ever to have been contemplated.
The timing of Morgan's promotion could hardly have been less propitious. He is in the worst run of form of his England career, having scored 90 runs in the seven matches in Sri Lanka, and one fifty in 19 innings. His ODI average since the start of last season in England is 17.31.
But it should be noted that he averages 71.17 as captain, and even in Sri Lanka when his runs were abject overall, he scored 62 in the match he was captain because Cook was suspended. Morgan seems to like captaincy for its own sake – "I stopped bowling long ago and it gives me something else to do in the field," he said in Sri Lanka last week – and claims to thrive on it. His eight matches so far have brought three wins, two of them against Ireland.
There were suggestions last night that Morgan's elevation could lead to a return to the team for Kevin Pietersen. Morgan is a friend and known supporter of Pietersen, who would naturally think he could handle the presence of such a controversial figure.
This should be taken as fanciful, insofar as anything in English cricket, considering what happens on a regular basis, is from the land of make believe. All that could be said is that Morgan's promotion makes it slightly more likely that Pietersen will play again than if Cook had still been around.
The intention is that Cook will stay as the Test captain and lead England in the Ashes next summer. This may not quite be the appropriate occasion to ask, but the question unfortunately is niggling away. Cook has batted in 59 consecutive innings for England without scoring a hundred. For a man who has scored 30 of them in all, 25 in Tests, five in one-dayers, it is legitimate to wonder if the slide is terminal.
Perhaps being deprived of the one-day captaincy, once the feeling of rejection has subsided, will offer him a kind of liberty. He will be able to concentrate on the form of the game that he was born to play.
But he will need to do it quickly. There can be no more assertions of faith, often  confusing loyalty for inaction, by these selectors.
--
COOK'S ODI RECORD
ODI debut v Sri Lanka, Old Trafford, June 2006
Appointed captain May 2011
Matches 92 Runs 3,204@36.40
HS 137 100s 5 50s 19
Record as captain:
Matches 69 Runs 2,502@38.49
HS 137 100s 4 50s 16
Most matches as England's ODI captain:
69 A Cook; 62 A Strauss;  60 M Vaughan; 56 N Hussain
Cook scored just one fifty in his last 22 ODI's
England have won only one of their last seven ODI series - against the West Indies earlier this year
Reuse content