It will be former England stars hogging the limelight when this year's Big Bash gets under way on Thursday night, but in Perth another Englishman will be hoping to offer compelling evidence that his international journey is far from finished.
The arrival of Kevin Pietersen in Melbourne and Andrew Flintoff in Brisbane will ensure that Australia's answer to the Indian Premier League attracts more than its fair share of British viewers over the coming weeks.
But, away from the glare that will inevitably follow the progress of those two giants of the English game, Michael Carberry is looking to make a point in his characteristically understated way.
The Hampshire batsman finished second in England's Ashes run-scoring charts last winter after being called up for his second Test. But, in the aftermath of a 5-0 mauling that shook English cricket to its core, he, like Pietersen, was discarded without so much as a second thought.
By and large, he kept his counsel this summer, preferring to let his batting do the talking as he watched Sam Robson take his place at the top of the order alongside Alastair Cook.
He then missed the final weeks of the season after suffering ligament damage to his thumb. Insult was added to injury when he became embroiled in the fall-out from the Pietersen affair, with a leaked England and Wales Cricket Board dossier claiming that the South African-born batsman disparaged Carberry in front of team-mates and management before the fourth Test in Melbourne.
Little wonder, then, that the Hampshire man admits the past 12 months have been the most challenging of his career. "I've got to be honest, 2014 was tough," he says. "I'm not going to sit here and lie and say I was totally in love with the game because, for me, it was kicking me in the you-know- whats a lot of the time.
"As I said on social media, this so-called 'altercation' that myself and Kevin Pietersen are supposed to have had, well, I guess I'm still waiting for that memo from the ECB to make me aware of this altercation because it's news to me.
"I've known Kevin a long time, since he came over from South Africa, and I don't think in the years we've played with or against each other, we've ever had a cross word. He's arguably one of the greatest batsman I've ever seen and England has ever produced. He was generous with his time and his advice on the tour. That went for anyone else who was on the trip as well."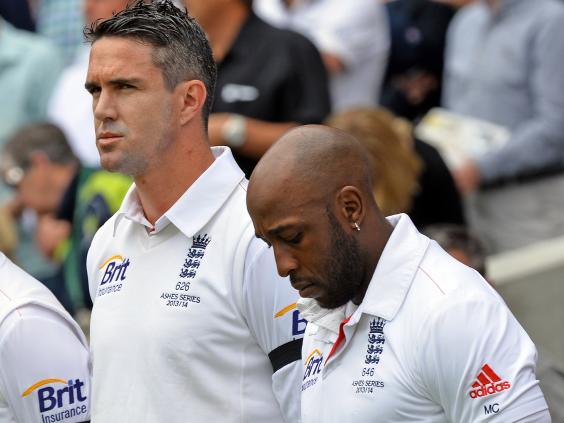 Since leaving Australia after that disastrous whitewash last winter, Carberry has played just once for his country – in a one-day international against Sri Lanka at Chester-le-Street back in May. If it was his final appearance in England  colours it was an inglorious one – he scored six as England were skittled for just 99 by the tourists.
"Having taken the grenades out in Australia I then had to sit back here and watch someone else have a go," he says. "Part of me is still disappointed now because I think I made some big strides out there and it was a learning curve.
"At the end of the day, though, I know it wasn't the case that I didn't have the stomach to go out and fight – it was a decision made on my behalf. They [the ECB] got in touch to let me know I wasn't playing but the writing was very much on the wall when I was picked for the Sri Lanka one-day series and ended up being just sat on the bench for four out of five games.
"From then on I pretty much knew that there wasn't going to be any space for me in that team. That was hard to take at times, obviously I had to find myself again and find a purpose in county cricket, which was tough."
It is to Carberry's immense credit that he still managed to score 847 runs in the County Championship last season, including three hundreds, as Hampshire won promotion from the Second Division.
It is a measure of his post-Ashes disillusionment, though, that he has already begun to rethink his plans when he finally calls time on his career.
"In terms of staying in cricket, it's an interesting one," he says. "This year was a tough year. I would say maybe before the Ashes I was interested in staying in cricket in a coaching role but this year really made me look at the game a bit differently.
"I will keep a slight hand in it but not as much as I once thought I would. I would like to do something else, I would like to be the master of my own destiny – and I don't want to rely on anyone else making a decision on how good I can be or on how much progress I'm making.
"I pride myself on my mental strength, I've had a lot of setbacks, a lot of disappointments with England and this was just another one.
"I had to pick myself up off the canvas and throw some punches. I didn't have a bad year with Hampshire with promotion to Division One and that's something that I'm very proud of. I've also had enough impact in Australia for Perth to come back and want me."
Now Carberry will hope that this winter has a happier ending than last. 
Amla and De Villiers put South Africa in control
South Africa recovered strongly from a tricky position on the first morning of the first Test against West Indies at Centurion, with the captain Hashim Amla and wicketkeeper A B de Villiers both scoring unbeaten hundreds as they reached 340 for 3.
The tourists won the toss and chose to insert South Africa, a decision which looked to have been vindicated when they lost three wickets in three overs with the score on 57.
But the fourth-wicket partnership has so far added 183 with Amla (133no) and De Villiers (141no) reasserting control for the No 1 Test nation in determined fashion.
After their defeat in a thrilling first Test at Adelaide, India made a potent statement of intent on the first day of the second Test in Brisbane, opener Murali Vijay scoring 144 as they reached 311 for 4.
Paceman Josh Hazlewood picked up two wickets on his debut but by the close Ajinkya Rahane had reached 75 not out.
Reuse content