For almost 20 years, Muttiah Muralitharan was persecuted as much as he was praised. It took him about 20 seconds to deliver his verdict on the present crusade to rid the game of illegal bowling actions.
"I'm in favour of the system, definitely," he said. "It's the only way to prove a bowler is chucking or not. People don't understand this, even past cricketers don't understand... everybody's arms are not the same."
Murali, the most prodigious and contentious wicket-taker of all, proceeded to give a demonstration of the workings of his remarkable right arm from shoulder, via elbow and wrist, to hand. It was the bewildering combination of these joints that confounded batsmen everywhere between 1992 and 2010 – and a few more since in various Twenty20 competitions – allowing him to take 800 Test and 534 one-day wickets. His combined international total is still 333 ahead of the next man.
This was an audience with Murali at his home in a secluded neighbourhood on the outskirts of Colombo. He had it built in 1997, shortly after the World Cup win that changed everything for Sri Lankan cricket.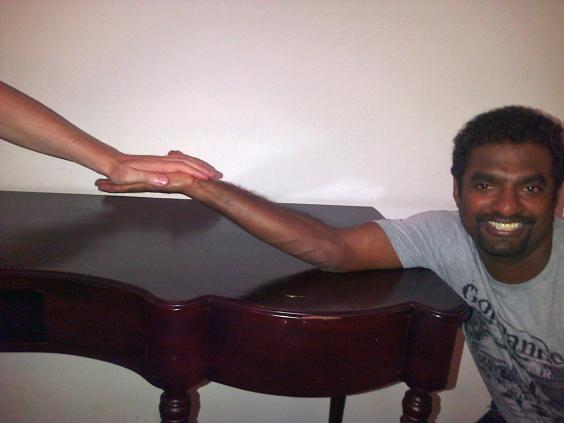 Throughout an auspicious, but controversial, playing career he rarely spoke publicly – damned if he did, damned if he didn't. But now, having finally departed the fray after playing his final game for Bangalore Royal Challengers in the Indian Premier League last May, he was an engaging and animated host. The five cricket reporters fortunate to be there in his front room were captivated.
For 75 minutes after providing tea and plenty of biscuits (there were miserable jokes about the biscuits because he is the son of a biscuit manufacturer from Kandy) Murali spoke. If the taboo subject of chucking was supposed to be off limits he swiftly brought it on. He began by showing that famous arm with the congenital kink in it, knelt by his sideboard and tried to lay it flat. This proved impossible because of the natural bend and he invited me to try to press it into a straight position. It would not budge.
Murali explained that the natural angle of his arm from straight was 27 degrees and that when he bowled it went from 38 degrees. That put him well inside the 15 degree flexion limit that the International Cricket Council allows, anything above being deemed as visible to the naked eye.
There is a determined ICC campaign to pursue chuckers at present. Several spinners have been warned off including, ironically, Murali's compatriot Sachithra Senanayake, who raised eyebrows in England last summer. The most illustrious is Saeed Ajmal of Pakistan, who has been found to have up to 38 degrees of flexion. "It's too high," said Murali solemnly.
"I can feel sympathy for them because they should have been tested before, not now. Somebody, somewhere is saying, 'Check all the spinners', but if somebody does that to all the fast bowlers' bouncers, who's going to bowl? No fast bowler bowling over 135 or 140kph [88mph] can bowl his bouncer without it going more than 15 degrees. They can't do it, that's my opinion."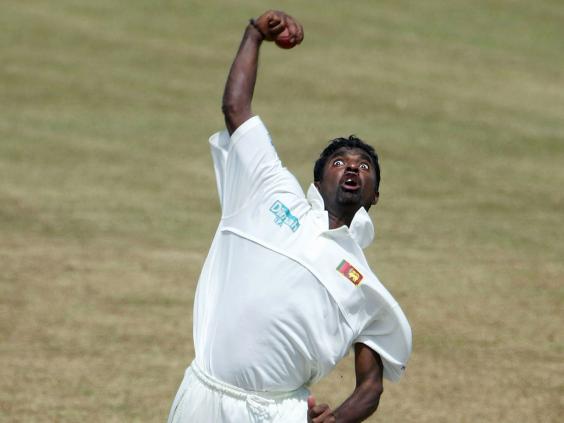 Murali was called for throwing in a Test match at Melbourne by the umpire Darrell Hair on Boxing Day, 1995. Ten days later, he was again repeatedly no-balled by umpire Ross Emerson in a one-day international against the West Indies. Four years after that, at Adelaide in a one-day international against England, he was called again by Emerson.
"It was a low point," he said, twirling an imaginary ball. "I knew it was coming but it was not easy to digest it. Even in 2007, when I went to Australia, all the media were complaining that I was bowling fast. I went to Australia purposely to do a test. Nobody asked me to do it. I volunteered.
"I wanted to show that I wasn't hiding anything. I never wore long sleeves. Never. Unless it was cold conditions, when I wore skins. I bowled with short sleeves. I am clear. If you are throwing, you will know. Your elbow moves so much, you will know. If I throw this, I will know."
Murali was left alone by officialdom after that 1999 incident but there were always mutterings. Modern technology might, or might not, have silenced the doubters. The wonder was that the man himself played with such contagious joy while also clearly conveying the message that it was a serious business.
He had words of simple wisdom for those who would try to blow the house down. And this from a man who was forever being examined, often maligned, not least on that great day at The Oval in 1998 when he spearheaded the rout of England by taking 9 for 65 in their second innings, 16 for 220 in the match.
"It was always there, I got used to it," Murali said. "If people are praising you, you take it but keep quiet also. Don't text, don't Tweet, don't use Facebook. Just leave it. The public doesn't need to know what you do and what you eat. If you want to put your opinion about anything, have a press conference. So think there are protocols in cricket.
"You can cry so much but, at the end of the day, the decision will be made by the people. Just leave it and enjoy your cricket. Why are you playing? To enjoy yourself. Show your talent rather than show other things."
For the benefit of his small but enraptured congregation he went through his action – doosra and all – in slow motion. Indeed, there was no stopping him. He told excitedly how the naturally bent arm gave him an extra suppleness in his wrist – the wrist, you may remember, that twisted like a corkscrew – and allowed him to bowl as others could not.
"Let people shout whatever they want, it's up to them," he said. "When you really straighten your arm, according to science, the movement of the wrist is less. When you're bent, it's more. So I have an advantage with a bent arm."
Now that it is all over he intends to be a coaching consultant. Recently, he was with Australia, of all countries, and has an agreement with the Bengal cricket board to coach spinners between the ages of 16 and 24. He will not be interfering with actions: "You can't take out the natural talent," he said, "you have to have more innovative bowlers."
He is involved in the development of cricket in the north of Sri Lanka, where the bulk of the Tamil population live. A Tamil himself, he is determined to further cricket there now that the horrendous civil war is over – running tournaments, providing pitches – but has no intention of embroiling himself in politics.
Murali, like others such as Sachin Tendulkar, let his cricket do the talking. His interviews were rare and necessarily defensive. He is sad about England's prodigal anti-hero, Kevin Pietersen.
"He is one of the talented cricketers in the world," said Murali. "I think he has under-achieved. His average should be more than 50. My view is that he became dragged into other issues and his cricket dropped a little. When he first started, he was smashing everything. He couldn't cope with the fame." Murali showed how to cope all right.
--
MURALI IN NUMBERS
1347 - His combined wickets taken in Test, ODIs and T20s – more than any other player
67 - Number of five-wicket hauls in Tests innings, more than any other player
9-51 - His best figures from all formats, achieved v Zimbabwe in January 2002
Sky Sports is showing the ODI series between England and Sri Lanka as part of its autumn of sport.
Reuse content