"Just go out and play like you do for your county."  The words are inevitably uttered by the team management when a new player is picked for England, and equally inevitably it is easier said than done. It is natural to feel the magnitude of the occasion and opportunity, and show caution through fear.
So the manner in which James Taylor has played deserves abundant accolades. He has scored runs, and more than that he's scored them playing as he does for his county, Nottinghamshire. Indeed, we have seen him play like this many times, hence an  A-list average above 50.
I spent a fascinating hour last week talking to Taylor at the team hotel in Kandy after his 68 in the fifth ODI, which itself followed his innings of 90 in the fourth. He put his ability to take his chance in this series down to a genuine self-belief in his own methods which he is convinced, even though he is only 24, have stood the test of time.
The contrast with his captain in the England side, Alastair Cook, could hardly be starker at present. There can be no saying to Cook, "go out and bat like you do for the county" for he has scored more than 10,000 runs for England. But he looks to be in a dark place from which it will not be easy to emerge.
Taylor is excited to be at the start of something, something that might turn England's prospects in the World Cup on their head. He talks about totally focusing on the current game situation and his role in that, which then almost distracts him from worrying about the bigger picture of "what happens if I fail".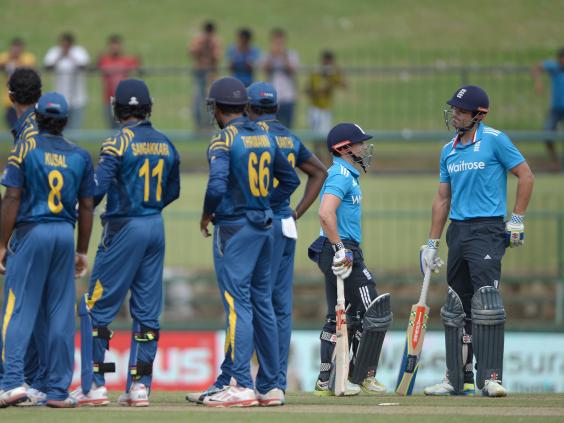 He replaces that thought with a desire to show everyone watching what he can do rather than what he can't. It is a refreshing attitude born out of his upbringing, which he describes as being very disciplined when it came  to sport.
Perhaps luck plays its part as well. Taylor is a hugely impressive guy who talks well but more importantly believes in what he is saying. We learnt a lot about his self-confidence with his decision to send Cook on his way after he was given out lbw on Thursday. A quick chat between the two saw Taylor give Cook his marching orders, not easy for a young player just back in the side.
As a player he has thought a lot about one-day cricket and how to create scoring options through changing angles and position at the crease. He has extremely quick hands through the ball which gives him most of his power.
Nothing has worked for poor Cook. He is coming to the end of a mentally exhausting year, the future direction of the England team placed firmly on his shoulders. It's beginning to show.
His dismissal in the last game is a good example. He missed a straight ball, as he done on many occasions on this tour, showing he is not watching the ball, a pre-requisite for any batsman. Cook looks worn out. He will be aware of the speculation surrounding his position and find it hard to stop thinking about it.
Remember that on tour there is a lot of time spent sitting around in your room, filling in time. It appears his way of dealing with it is to head to the nets. That is admirable and he will say it has worked in the past.
My greatest challenge as a professional cricketer was to prepare myself mentally for all eventualities, easier to do when scoring runs and thus not burdened by negative thoughts and self-doubt. He talks in interviews about doing the basics well; in fact I think he may be ignoring the most basic discipline of all: that of watching the ball.
He cut a forlorn figure on Saturday. He has one more chance to prove to himself and the selectors that he should be on the plane to Australia with Taylor.
Reuse content