On a glorious evening in Durham less than a year ago nobody could have foretold what would shortly happen to England. The turning point of the whole match, the fourth Test of the Ashes, came when Tim Bresnan produced a brutal lifter to David Warner to have him caught behind.
Australia never recovered from that moment. An hour or so later, England had won a deceptively convincing victory by 74 runs. The Ashes were already staying at home but that clinched the series and extended an unbeaten run of Tests to 12.
What a day it was. Here were a team who had forgotten how to lose. Looking back now it seems unreal that they should not only have beaten Australia for the third time in the series (as well as for a third successive series) but that it should have been achieved with such muted applause.
England would give anything for a win now, any win and if the back-slapping would still be underwhelming, the relief would be immense. The run without defeat has turned into another sequence, of nine Tests without a victory, the worst for 21 years.
There is no persuasive evidence that the end is in sight. That much can be gleaned from the squad of 14 chosen for the second Test of the Investec series against India, which starts at Lord's on Thursday. When the summer started, the selectors picked 12 players, which was then increased to 13 for the last Test and now has another addition.
This is because they cannot be sure what their best team is but are fairly satisfied that they have not arrived at it yet because they are still not winning. With assistance from the system in which they are operating, the selectors have backed themselves into a corner. It is unquestionably a mess.
Of the concerns for England, the two gravest are precisely what they were when they went into the opening Test against India at Trent Bridge: the form of the captain, Alastair Cook, and the lack of a spinner worthy of the description in an international team. The fact that their only innings at Trent Bridge fell away so alarmingly, as two before them had already done this summer, simply exacerbates their deficiencies.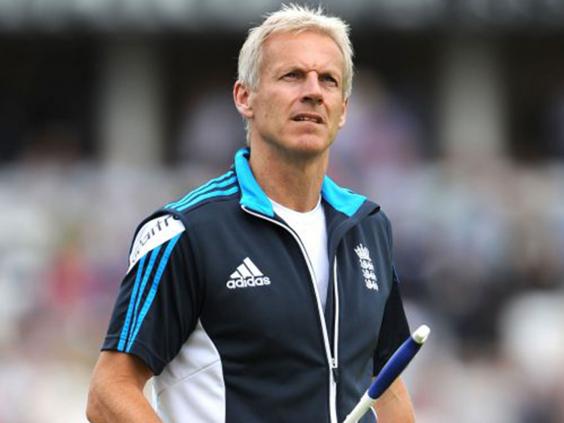 It was wrongly presumed (perhaps hoped on a wing and a prayer would be a more accurate reflection of the policy) that an attack of four fast bowlers, albeit of different types, plus a part-time spinner could see off Sri Lanka and possibly India. With the sort of pitches provided this has proved impossible and in the case of Sri Lanka the policy proved terminal.
To address it, the Lancashire spinner Simon Kerrigan has been called up. There is clearly a view to playing him and he was given handsome backing by the England coach, Peter Moores, who was also his county coach for five years. Kerrigan was with the squad for a few days before the match at Trent Bridge and seems to have been potent enough to assure the selectors and Cook that he and they will not be embarrassed again.
If nothing else, it shows how inadequate the spin resources in England have become. To the eternal search for trustworthy leg-spinners should be added similar quests for slow left-armers, of which there has usually been one to get England out of a hole, and even off-spinners.
Moores said: "The way the season has gone for spinners there has not been a massive time to bowl because the seamers have held sway. The back half of the county season is a bit funny because there is not that much county cricket so I am not sure if the schedule fits the spinner at the moment.
"But Simon is bowling well. We looked at the last three or four days and he was certainly challenging our batsmen and we have some good players of spin so I say he gets his chance in the squad."
Without a spinner, England may as well write off the Ashes next year and this series against India. But as a result of the squads they have so far selected they have given themselves a huge problem with balance. If Kerrigan plays he will presumably have to come in for one of the bowlers, perhaps Liam Plunkett or Ben Stokes, neither of whom deserve to be omitted.
On the other hand, they could ask Stokes, who made an unimpressive duck at Nottingham, to bat at six, the position where he made a deeply impressive hundred in Perth last winter. In that case they would have to drop a batsman and as the three novitiates, Sam Robson, Gary Ballance and Moeen Ali, have all scored hundreds that will be difficult.
If Kerrigan does not play, they will still expect Moeen to do a job for which he is patently ill-equipped. He has taken wickets but he offers no control. A glance at the aggregate wicket-taking and average lists for spin bowlers in the last three seasons shows that Moeen is the sixth among English qualified spin bowlers, but that sadly indicates the decline of a wonderful art.
Cook's return to form would compensate for much. He remains determinedly relaxed about it, as does Moores. But 25 innings without a Test hundred tells its own grim story. To put the tin lid on it, Ian Bell has played 17 Test innings since his last hundred. That was at Chester-le-Street last August. The world was different then.
England's options
Plan A
Omit one of their four seamers, presumably Ben Stokes or Liam Plunkett, on the grounds that rest may be needed, and put in the spinner. But that would place enormous pressure on Simon Kerrigan to bowl a hefty number of holding overs in the first innings and attack in the second. India would be certain to go after him, as they have already with Moeen
Plan B
Drop a batsman and enter extremely murky waters. It is unthinkable to leave out Moeen after his epic rearguard against Sri Lanka at Leeds but there is, just, a case for moving up Ben Stokes to six. Leaving out Sam Robson, who has a hundred and a 50, and asking Joe Root to open, which was where he played in the last victory, is an option they will also be anxious to avoid
Plan C
Leave it as it is and delay making the hard decisions. England have played with a four-man attack for long enough and when Stokes arrived last winter it seemed to give them another dimension
Reuse content