The sports fans of America are learning a new sound: that of leather on willow. This year, 17 teams from across the US are competing in the country's first-ever season-long national cricket competition, the American Cricket Champions League (ACCL).
The contest is due to culminate in October, when six of the teams will meet in Florida for a play-off tournament to decide the US national champions. Each one-day match in the competition consists of 40 overs per side.
The launch of the ACCL coincides with a surging demand for new cricket pitches in US cities including Washington DC, Dallas and Chicago. In Silicon Valley, south of San Francisco, cricket has exploded in popularity as tech companies take on more and more workers from South Asia. In New York City, the sport is so fashionable – and space so limited – that cricket enthusiasts must compete in a lottery to play in some parks.
John Aaron, the executive secretary of the American Cricket Federation, said cricket was now in a similar position to football. "When soccer first started here, people said it's not going to go anywhere – American football is the thing," Mr Aaron said.
"Soccer has not replaced American football, but it has certainly taken off now, hasn't it? It's attracting  international teams coming here to play. Cricket can do the same thing."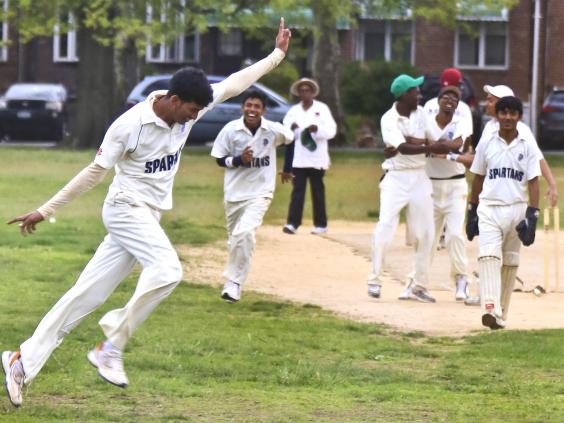 According to the United States of America Cricket Association (Usaca), the US has an expanding base of cricket enthusiasts, with more than 1,100 teams playing in local leagues. Most of the 30,000 players are immigrants from former British colonies, but the association hopes to expand its reach by introducing American schoolchildren to the sport that comedian Robin Williams once described as "baseball on valium".
The US Youth Cricket Association has donated some 1,500 sets of cricket equipment to community youth programmes in states across the US.
Not every cricketing initiative has proved successful. Indianapolis spent more than $5m on a cricket pitch in one of its parks. But last week the city pulled out of hosting a Usaca tournament in August, claiming a communications breakdown. Sunil Kumar, of Usaca, explained: "The costs for teams, families and fans to travel and stay in Indianapolis were just exceptionally high."
Reuse content