After a traumatic first act, Andrew Strauss finally outlined his vision for the future of English cricket on Tuesday. It was not a public declaration of intent but the new director of cricket's audience was perhaps his most important: the team he is supposed to guide from their present slough of despond to sunlit uplands.
First accounts of the meeting at the London hotel where the players are staying for the first Test at Lord's against New Zealand suggest that Strauss was at his logically and philosophically most persuasive. No doubt he recalled that the position was just as parlous when he took over as captain six years ago.
Strauss explained to the team why he had felt it necessary to remove Peter Moores as coach and confirm to Kevin Pietersen that he was no longer wanted as a player. He did not duck the issues and it is certain that, as he did as captain, he let the players know that they must take responsibility for their own games. Coaches – and Strauss is in desperate search for one – can only do so much.
The team's wicketkeeper, Jos Buttler, was won over by Strauss's approach, as so many players were when he was captain. Strauss has a quiet dignity and authority which make him automatically credible.
"He was very well received," said Buttler. "Everyone wants to see English cricket back at the top as the summer sport in England and getting the side back to No 1 in the world. That is everyone's ambition.
"The way he talked about it, with passion, and what he said, having been recently out of the game, shows he knows what it is all about. I think that is a fantastic thing for the players to all focus on, in putting that plan together."
It seems that Strauss convinced the players and the coaching staff why it was necessary for both Moores and Pietersen not to be part of the dressing room any longer, though for very different reasons. A lesser man might have begun to doubt the wisdom of his action and his decision to take the job after the first stormy days. "He was very open and honest about what has gone on – and all the players respected that," added Buttler. "Nothing has been kept from anyone and everyone knows the reasons why things are happening and what the plan is moving forward. That is the main thing everyone has taken out of it. They see the way the team and English cricket as a whole is going to move forward.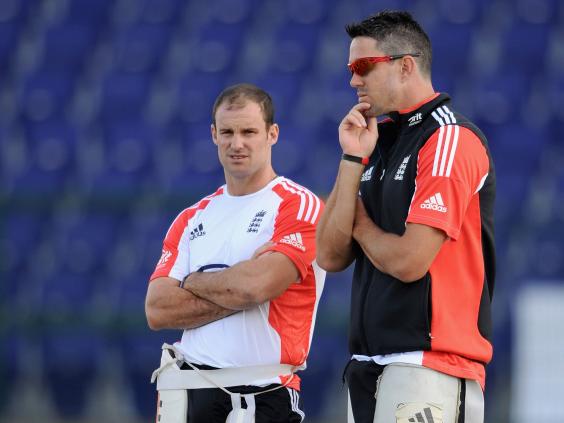 "It was great to hear what his visions are. You read things and you pick up on hearsay, but to sit in a room and hear him say why these decisions have been made and what the plan is moving forward gives the players clarity."
It would appear that Strauss, while expecting the players to do much more for themselves in terms of thinking about the game, is also anxious to nurture a candid regime. He will be benign much of the time, efficiently ruthless when necessary.
Without a full-time coach in place yet (but with his quest to find one presumably hotting up) Strauss will probably have considerable input into the 11 players from the 12-man squad who take the field tomorrow. Adam Lyth, of Yorkshire, will definitely make his debut as an opening batsman and Mark Wood, the Durham fast bowler, seems certain to join him.
Wood ought to have played on the recent West Indies tour but after a promising opening warm-up match he was consigned to drinks-carrying, as he observed on Tuesday. Wood has played only 20 first-class matches over four seasons with Durham but that has been enough to convince the selectors that he has the pace and rhythm to prosper at the highest level. He exudes confidence.
"I'm not as tall as the other bowlers and a bit more skiddy," he said. "Maybe I can bring a different dimension to the attack and a bit of enthusiasm around the dressing room, which is what I'll be trying to do."
Wood will probably replace Chris Jordan, whose brilliant slip fielding may not be enough to save his place, given bowling that has too often been not quite up to it. The hope is that Wood will provide something a little different.
His hero as a boy growing up was Stephen Harmison, his near neighbour in the sporting gold mine of Ashington (also the birthplace of Jackie Milburn, Bobby and Jack Charlton). It is part of the reason that he already looks comfortable around the England dressing room.
"I looked up to him [Harmison] massively because he was a family friend," said Wood. "His uncle and my dad were best friends growing up, so he used to come round the local cricket club and I'd be a bit in awe: 'Jesus, that's Harmy, do I go and speak to him?'"
Wood insists that his recent stint as an extra in the West Indies was invaluable. "Seeing how the lads go about their routine, I could pick up little bits," he said. "For instance, Jimmy tends not to waste too many balls in the nets and I could maybe learn from that."
Wood has never played a match at Lord's before, having been 12th man for Durham twice. If it was an oversight, it should be rectified tomorrow.
Reuse content