Safety standards for helmets in county cricket are set to be higher than ever next season but players' chief Angus Porter has warned the risk to batsmen will never be completely eliminated.
The cricket world has been united in shock by the sickening injuries sustained by South Australia's Phil Hughes in a Sheffield Shield match against New South Wales, but safety has never slipped down the agenda at organisations such as the Professional Cricketers' Association.
Porter, the organisation's chief executive, has been closely involved with an initiative to raise the bar in terms of protective equipment and expects to see helmets meeting the new standard as soon as next summer.
"We have been working hard for several years with the England and Wales Cricket Board, and the International Cricket Council, to improve protection for batsmen," Porter told Press Association Sport.
"As a result there is a new British safety standard which is in the process of being implemented that will hopefully offer a greater measure of protection.
"The standard is now live and the manufacturers are working with testing houses on designs that will pass.
"The first batch of helmets are coming through now which would pass the test and we're hopeful we will see them used in professional cricket next season."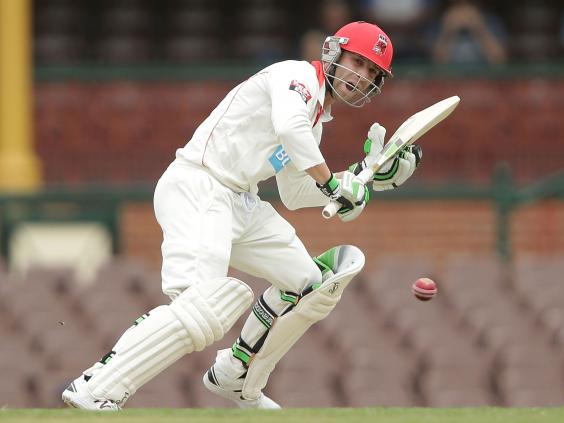 But Porter also cautioned against complacency, warning that the sheer physical dynamics involved in elite cricket carried inherent danger.
"It's difficult to know exactly what difference the standard might have made in this precise circumstance because there will always be an element of risk in cricket," he said.
"The balls are hard and they travel fast. No design will eliminate risk completely.
"While we haven't had life-threatening injuries for some time in this country we have had a number of serious injuries. Stuart Broad and Craig Kieswetter were notable examples this year and it is a matter to take very, very seriously indeed."
Phillip Hughes: Career in pictures
Phillip Hughes: Career in pictures
1/7 Phil Hughes

Hughes burst onto the international scene by scoring 115 and 160 against South Africa in just his second Test

REUTERS

2/7 Phil Hughes

Hughes, playing here in a tour match against Sussex, is well known to English fans after spells with Hampshire, Middlesex and Worcestershire

Getty Images

3/7 Phil Hughes

In last summer's Ashes series Hughes scored 81* at Trent Bridge as part of a 10th wicket partnership of 163 with the debutant Ashton Agar

EPA

4/7 Phil Hughes

Hughes's most recent Test outing was the Lords test of the 2013 Ashes series

Reuter

5/7 Phil Hughes

Hughes has scored 1535 runs in 26 Test appearances at an average of 32.65

GETTY IMAGES

6/7 Phil Hughes

Despite making his Test debut in 2009 Hughes is still just 25 - he has played 114 First Class matches and scored 26 centuries

GETTY IMAGES

7/7 Phil Hughes

Although he has been absent from the Test line-up, Hughes recently regained his place in the One Day side for series against Pakistan and South Africa

Getty Images
Porter was also keen to stress that 90mph bowling at the elite level was not the only circumstance where a cricketer might find themselves in trouble.
"I don't think we can forget about recreational cricket," he added.
"A number of helmet designs allow users to adjust the gap between peak and grille and kids can make that gap too wide in a bid to see the ball better.
"We must understand the issue of safety and that you can still be hurt at slower speeds."
PA
Reuse content