Cricket Australia officials were keen to stress that on-field matters will take a back seat as the governing body attempts to help its players mourn batsman Phillip Hughes.
Australia are scheduled to begin the first of four Tests against India next Thursday but the clash in Brisbane has now been cast into doubt following the death of Hughes yesterday.
Hughes, who would have turned 26 on Sunday, died of the injuries he sustained two days after being struck in the head by a bouncer while batting for South Australia against New South Wales at the Sydney Cricket Ground.
His death has sent shockwaves through cricket and Cricket Australia understandably wants to avoid rushing into a decision over whether the national team will be able take to the field at the Gabba next week.
Phillip Hughes: Career in pictures
Phillip Hughes: Career in pictures
1/7 Phil Hughes

Hughes burst onto the international scene by scoring 115 and 160 against South Africa in just his second Test

REUTERS

2/7 Phil Hughes

Hughes, playing here in a tour match against Sussex, is well known to English fans after spells with Hampshire, Middlesex and Worcestershire

Getty Images

3/7 Phil Hughes

In last summer's Ashes series Hughes scored 81* at Trent Bridge as part of a 10th wicket partnership of 163 with the debutant Ashton Agar

EPA

4/7 Phil Hughes

Hughes's most recent Test outing was the Lords test of the 2013 Ashes series

Reuter

5/7 Phil Hughes

Hughes has scored 1535 runs in 26 Test appearances at an average of 32.65

GETTY IMAGES

6/7 Phil Hughes

Despite making his Test debut in 2009 Hughes is still just 25 - he has played 114 First Class matches and scored 26 centuries

GETTY IMAGES

7/7 Phil Hughes

Although he has been absent from the Test line-up, Hughes recently regained his place in the One Day side for series against Pakistan and South Africa

Getty Images
Chief executive James Sutherland said at a media conference: "Cricket will go on and it will go on when we're ready.
"We haven't broached that subject with the players yet, we will in time but to be honest they've got other things on their mind.
"I know for many people seven days doesn't seem too far away, but in other ways it's a million miles away. We'll get there when we can.
"He (Hughes) would want nothing more than for the game to continue, but as I said before, the game will continue at Test level, when we're ready."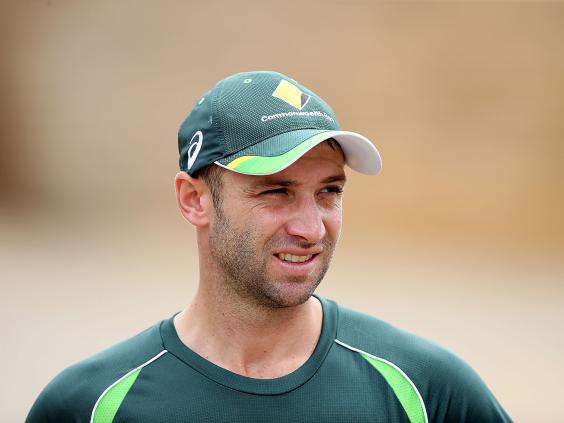 Pat Howard, Cricket Australia's executive general manager of team performance, echoed Sutherland's sentiments.
Howard confirmed the Test team had travelled to the SCG to grieve for Hughes and stressed that the focus is on the individuals, for the time being, rather than cricket.
"We're not going to talk about the first Test, we know it's there," he said. "What we're focused on is today.
"We've brought the whole team in, the whole Australian Test team are here. Today's about grieving.
"In regards to anything we do do, we need to make sure the players are in a position where they can make strong choices and that's not now, that's not this time.
"We'll do whatever we can, whatever the players need, to deal and cope with this, we'll do whatever we can to help and support the Hughes family.
"We're going to focus on people first rather than the cricket."
Sutherland said Sean Abbott - the bowler who struck Hughes in the domestic match on Tuesday - is coping "really well".
While there has been an outpouring of grief following Hughes' death, Abbott has been consoled by former and current professionals and fans alike amid concerns he may never play again.
But Sutherland, who chatted with Abbott yesterday, said: "It's been fantastic the way people have shown concern for Sean. Sean is holding up really well, I'm incredibly impressed by the way he's holding himself and his maturity.
"It's a grieving process that will affect people in different ways. Right now, he's holding up really well and I'm incredibly impressed with him."
Hughes, who was wearing a protective helmet, was hit by a ball on the back, lower left side of his head from Abbott as he attempted a pull shot on Tuesday. The batsman never regained conciousness and was pronounced dead yesterday.
He was rumoured to be in contention to add to his 26 Test caps, the last of which came against England in July 2013, against India in Brisbane due to an injury to Australia captain Michael Clarke.
India's two-day match against a Cricket Australia XI, which was due to start today, was cancelled and Sutherland has thanked the tourists for their support and understanding.
"We've been in constant contact with the officials from the Indian cricket board and I've got to say that their understanding and empathy has been absolutely outstanding," he said.
"They completely understand the situation. They're doing everything they can to do that.
"They'll prepare themselves in the best way possible. They understand that these are unique and extraordinary circumstances and I guess if the Test match goes ahead, both teams will have a very different sort of preparation."
In tribute to Hughes, a campaign on Twitter has been started with the hashtag #putoutyourbats, where people from all over the world are tweeting a picture of their cricket bat at their front doors.
Former Australia wicketkeeper-batsman Adam Gilchrist and ex-England spinner Graeme Swann are among those to have already taken part while Cricket Australia placed a total of 63 bats in the windows of its offices in Melbourne, with the number significant as that was Hughes' score at the SCG before his collapse.
Sutherland added: "We've seen some very personal tributes.
"I hear all over the country people are putting bats out their back yard and in their front window. We thank people for those tributes."
PA
Reuse content