The planned state funeral for Phillip Hughes has been called off, New South Wales state premier Mike Baird has announced.
Hughes suffered a fatal injury in a Sheffield Shield match on 25 November, with the Australian batsman being pronounced dead two days later having suffered a vertebral artery dissection – something that has been labelled a "freak accident".
More than 5,000 people turned out for the 25-year-old's funeral last Wednesday, which took place in his hometown of Macksville in New South Wales. His Australian team-mates, coach Darren Lehmann, family and friends were all in attendance along with former players including Shane Warne and Brian Lara.
In pictures: Phillip Hughes funeral
Sean Abbott, the New South Wales bowler whose bouncer struck Hughes during their match against South Australia, also attended the funeral, and he has been included in NSW Blues' squad to play a Sheffield Shield match on Tuesday against Queensland. Should he be selected, it will be the first match Abbott has played in since the unfortunate tragedy.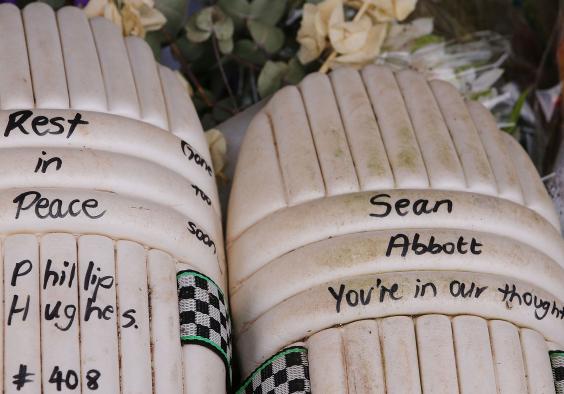 A state funeral had been organised for the Australian public to remember Hughes and his contribution to cricket in his home state, but Baird confirmed that it had been cancelled after consulting both Hughes' family and governing body Cricket Australia.
The decision was taken due to the level of support shown at his funeral last week, and that is has provided a good way of remembering just how loved Hughes was by those around him – both in and out of the game.
"All parties felt that given the enormous outpouring of support at last Wednesday's funeral, a state memorial service would no longer need to be held," Baird said in a statement.
"Last Wednesday's funeral in Macksville was a wonderful service and a fitting tribute to Phillip's life, and it was a privilege to be a part of it. It was a community event attended by thousands of people, watched live by millions of Australians and observed at a number of grounds around the country, including the Sydney Cricket Ground."
Australia's rearranged Test Series with India begins on Tuesday after the First Test was moved from Brisbane to Adelaide in order to allow Hughes' team-mate to mourn his passing.
Reuse content