For Alastair Cook and England the point of no return was reached long ago. It is an uncomfortable place to be in, he probably wonders about his right to be in it, but he is not about to leave it: Cook will lead England to the World Cup early next year.
There was another prolonged examination of his status yesterday in the wake of England's heavy defeat in the sixth one-day international against Sri Lanka, which finally cost them the series, and his own paltry performance. Comments by the England coach, Peter Moores, were dissected, analysed and relentlessly pored over to check if anything he said might suggest that Cook's invitation, already made in the provisional 30-man squad announced last week, would be withdrawn.
Briefly, it was pondered whether the services of a cryptographer might be more useful than those of a selector. In essence, Moores offered Cook his personal backing while insisting that his role would be reviewed at the end of this series, the last match of which will be played tomorrow.
There are three other selectors and by now, he seemed to be saying, not all might be reading from the same team sheet.
At 4-2 down, England would take any kind of victory as a sign that the good times are about to roll, but the desperation that Cook score some runs is at least its equal. England have lost five consecutive one-day series under Cook, four of them this year, in which they have lost 12 of the 19 matches when he has been captain, while averaging 27.28 with a top score of 56. 
"I think Alastair's the right man to move us to the World Cup," Moores said. "But like most things, I'll go into a room with the other selectors and we'll talk about it.
"A lot's happened over the last six ODIs; a lot of good has happened. Then we need to formulate that into a squad of 15 people who can go to  Australia and be competitive for the World Cup. That's what we've been working to and that doesn't change."
Given that the playing of sport at any level, especially at its rarefied peak, is based on results and performance, Cook has already borrowed too heavily on previous deposits. To extend the line of credit any further is beginning to risk total meltdown, but by now England must wonder what else they can do. As the adage has it: if you borrow £1,000 from the bank they have you by the balls, if you borrow £10m you have them by the balls.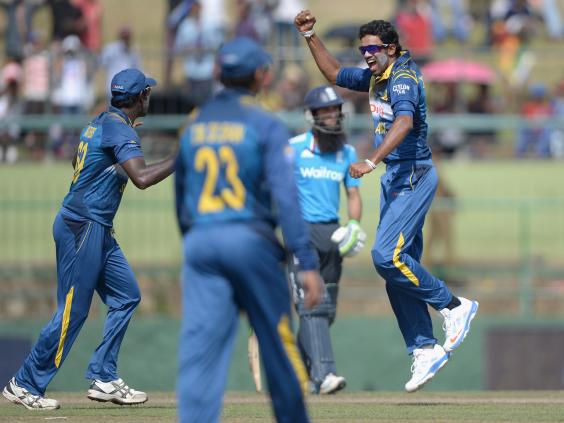 Cook's defiance and implacable stance are admirable in many ways; they are what made him a hugely successful opening batsman in all forms of the game. But loss of form has to count for something. He cannot keep saying that it will all come good when patently it has failed to come good for months.
It sets a potentially difficult precedent for the future of this regime, led by the managing director of England cricket, Paul Downton. To accommodate Cook, the veteran Ian Bell and the rookie Alex Hales have already been dropped.
Cook had a wretched match on Saturday, when England were swept aside by 90 runs. The two mistakes he made could each have cost England the game. Put together they may have done so twice.
He missed a straightforward catch offered by Kumar Sangakkara when the batsman was on 41. Sangakkara went on to make 112, Sri Lanka to add another 201 runs. That blip apart, Sangakkara was excellent. He has now scored 2,709 international runs this year at the age of 37. Small wonder Surrey are keen to recruit him.
The total was still within England's sights, just, but not for long when Cook was out in the first over, walking across his stumps and missing a straight ball. Plenty of his predecessors will tell him that this is one of the surest indicators of a scrambled brain. But the truth remains that he already been told that he is captain of England in the 2015 World Cup.
"He has, and he is captain of the World Cup squad," said Moores. "At the moment that is the situation but, as I said, we would be wrong not to look at our series and review. When people say, are you confused? I'm not confused at all. Alastair Cook is captain for the World Cup. We'll review the series at the end, as we always do."
Many who have seen this interminable struggle, which becomes harder and harder to watch, simply out of human compassion, may wonder how England can justify their continued support for a lame-duck captain. Moores had a bash.
"We're trying to balance out the right team," he said. "Of course Alastair needs some runs but we're trying to balance out an aggressive batting order, a side that can take wickets throughout and also play in an environment that's great for young players to express themselves.
"We've got a lot of young players coming in to this team who are doing well. So you have to take all of those things into account, to try and pick what you think is the best leader, the best team to be successful in Australia, the tri-series, to build ourselves up to the World Cup.
"I'll spend many hours thinking about it and we'll discuss it with selectors and that's my opinion at the moment."
The point of no return.
Reuse content