Almost a year after his unceremonious dumping, Kevin Pietersen continues to play an essential role in English cricket. He has become the light relief, the pantomime villain, the man who can be sure to pop up and deflect attention from weightier matters.
Pietersen's latest wheeze to crack us up is to have his body tattooed with a map of the world marked with red stars designating the venues where he scored his 35 international centuries. This suggests that he has the wrong end of the stick on tattooing convention.
Our Kevin (well, not strictly our Kevin any longer since England dispensed with him, but he so wants to be one of us that it seems churlish not to be a little inclusive in memory of all the good times) has given this a modern twist, as he did with so much of his batting. While it was once the done thing to have "I love Mum" inscribed somewhere on the upper arm, Pietersen has effectively had inked across his back and chest "I love me."
There was some confusion about the map's accuracy and not only because Pietersen scored nine of his hundreds in London, entailing a red star pile-up. It looked to be the wrong way round but Pietersen explained this by saying it "was just the reflection," allowing the possibility that he intends to stand in front of the mirror gazing adoringly at the map the right way round.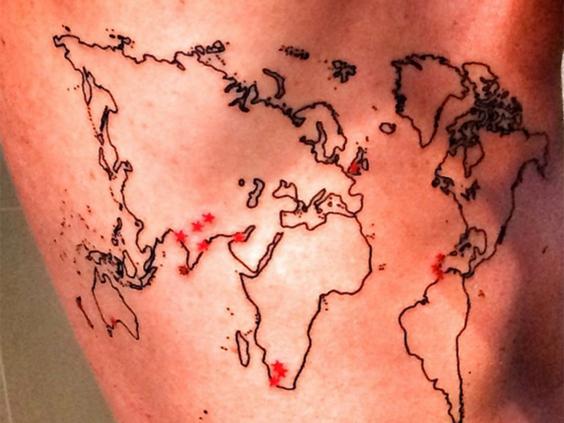 In his rip-roaring memoir, KP, in which he traduces so many of the splendid men who helped, along with himself, to make England the best team in the world, he indulges in interminable stretches of self-justification. But he does concede that one of his mistakes involved an earlier visit to the tattoo parlour when he had the three lions of England emblazoned on his left arm.
"I regret the way I carried on back then, especially the three lions tattoo I got during the first one-day series I played in South Africa," he recalls. "When I think of it now I blush."
Well may he blush one day about his latest expedition into the world of body art. Plenty of other cricketers have tattoos but it is difficult to think of any who have so deliberately drawn attention to personal achievement, inviting the observation that his skin is even thinner than it appears. Or perhaps Sachin Tendulkar, in the light of Kevin's example, is even now contacting a Mumbai tattooist with a design based on his 100 hundreds for India in internationals, which would need to embrace 54 locations.
Pietersen might have kept the venture private, between himself and his mirror, but before the ink was dry he had posted photographs on his Instagram account. By his own high standards he may be pushed to top this, but doubtless he will think of some way to continue to play a central role, to get under the skin, as it were, of the English cricket establishment.
His former team are making it so easy for him and his acolytes at present that he barely needed the map. England were bowled out for 234 in Sydney on Friday, which was, in truth, a notable recovery after being 33 for 4. Eoin Morgan, the new captain, scored a handsomely appointed hundred to fashion a recovery of sorts but it was insufficient to expunge the question he refused to answer the day before on the eve of this pre-World Cup triangular series.
Would England be a better side with Pietersen? Instead of addressing the point, Morgan became prickly and said he thought it was a terrible question. It was not terrible, of course. It was mischievous but it was pertinent.
England's total on Friday made the answer blindingly obvious if runs alone are the criterion. Morgan might have seized this inaugural opportunity to make it abundantly clear that players come and players go, that there was more to it all, that he had taken the job knowing what he had to deal with and that Kevin was actually in decline anyway.
Only the lifting of the World Cup and the Ashes later in the year will dispel Pietersen. The only way he could grab attention then would be to have a tattoo engraved in unmentionable places, or invade the pitch at Cardiff during the first Test against Australia next summer waving his bat in one hand and a placard in the other saying "Justice for KP".
Anything is possible in this saga. If its latest instalment merely underlined England's shortcomings, which they revealed again in all their glory, it removed general attention from movements in the corridors of England cricket power.
With a new and vibrant chief executive, Tom Harrison, starting on Monday, and a new, thrustful chairman, Colin Graves, assuming charge shortly, there is significant change afoot. It has not been clearly explained why the outgoing chairman Giles Clarke remains in the newly created position of president.
But this is an opportunity for a clean sheet on which a fresh vision can be drawn. So much more wholesome than self-promoting images of world maps.
Reuse content