As if Stuart Broad's status as public enemy No 1 in Australia wasn't already confirmed, the England paceman's  decision to accuse Shane Warne of "trash talking" and confirm he has no regrets about not walking during the first Test in the summer is unlikely to have endeared him any further.
News of Broad's comments in an  interview with Michael Vaughan broadcast last night on BBC Radio 5 Live were filtering through just as England trained at the Waca ground ahead of Thursday's opening tour match against the Western Australian Chairman's XI.
Having already admitted that he knew he had edged the ball when given not out by umpire Aleem Dar at a  crucial stage of the match at Trent Bridge, the Nottinghamshire bowler's admission that he would do it all again in the forthcoming Ashes series will have come as no surprise.
Yet it is Broad's comments in what  appears to be an ongoing feud with coach Darren Lehmann and bowler-turned-TV pundit Warne that are most intriguing. Asked to respond to Lehmann's description of England's performances as "dour" and Warne's assertion that captain Alastair Cook has employed "negative tactics", he was scathing in his reply.
"Lehmann will try mind games, but you'd expect Australia to try to get  inside our bubble," Broad said.
"It's a PR game. I see Warne as working for Australia. We are not listening to what he says. It's like a big fight – all the trash talk that goes before it. We don't need to get involved in that.
"We're very happy with where we are as a team. We've got some skilful players, guys who are hungry to  perform in Australia – we don't need to comment on Australia."
Despite apparently burying the hatchet with Lehmann before the fifth Test, after the Australia coach accused him of cheating in a radio interview that earned him an ICC fine, Broad also hinted that there remains a distance between the two men. 
"He [Lehmann] came across and said, 'I meant it in jest' and I said, 'I'm black and white, it doesn't look like jest to me'. He said something along the lines of, 'Listen to the interview' and I said, 'I have far better things to do with my time', and that was about it.
"We shared a nice beer and I said, 'See you in November'."
Broad's refusal to walk at Trent Bridge helped England to record a  narrow 14-run win on their way to a  3-0 series victory. But he remained unrepentant when pressed by Vaughan over whether he would take the same action in the future.
"It's a really interesting debate and something that got blown so out of proportion, maybe because the Australians were frustrated they had wasted two referrals," he said.
"It was an important moment because, let's be honest, if Belly and I hadn't put on those runs, we wouldn't have won the Test match, so we would only have won 3-1 or something."
Broad took a full part in training at the venue for the third Test. It is  unknown whether he will get a run out in the three-day warm-up match against a second-string Western Australia side that will be captained by spinner Michael Beer.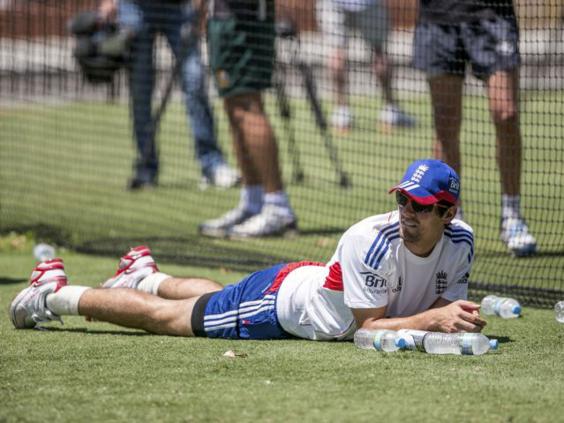 Surrey bowler Chris Tremlett is in the frame to play and he is hoping that his success on the 2010-11 winning tour will see him secure the spot as third seamer behind Broad and Jimmy Anderson for the Ashes series.
"I have experience from last time which helps, because I have bowled on these pitches and done well and maybe that is in my favour, but I am just taking each game as it comes," Tremlett said.
"I am not thinking about the future and just focusing on playing well in the next game if I get the chance."
Clarke returns to give Aussies a timely boost
Michael Clarke will make an earlier than expected return to action tomorrow.
The Australia captain is missing from the tour of India with a back injury and was not expected to play until New South Wales's Sheffield Shield clash with Victoria on  6 November due to a back problem but has been named in the side to face Tasmania this week. With the first Ashes Test starting in Brisbane on November 21, the 32-year-old has little time to rediscover his form.