Ashley Giles, England's limited-overs coach, is "very interested" in replacing Andy Flower as team director he revealed here on Sunday after his team finished their tour of Australia the way it started and the way it carried on – with defeat.
Giles is the man most likely to replace Flower, who announced he was leaving the post on Friday. The new England and Wales Cricket Board managing director, Paul Downton, is to begin the task of finding a successor as the England team return home from Australia on Monday.
"I'd be very interested in doing the job, definitely," Giles said, after his side finished their nightmare tour Down Under with an 84-run defeat to lose the Twenty20 series 3-0.
"I'm not going to deny that and I'm sure I will be applying for the post."
Giles revealed he had already spoken to Downton following Flower's decision, which came as a shock to him. The 40-year-old is, however, not taking anything for granted after enduring a  difficult time in Australia.
Defeat in Sydney  condemned England to a second series whitewash of the winter, following their 5-0 Ashes embarrassment, after losing the one-day international series 4-1.
Giles is therefore reluctant to think too far ahead with a limited-overs tour to the West Indies and the World Twenty20, which starts in Bangladesh on 16 March, foremost in his thoughts.
"I've not given him [Downton] my CV yet," he said. "At the end of the day I think it is important that I control what is coming up in the next couple of months.
"If I have to put an application in over the next couple of weeks then I'll think about that and get it done. Results will talk as well and I've got a really big series in the West Indies and more importantly the World Cup in Bangladesh. Our record in the subcontinent for limited-overs cricket isn't brilliant so it is a good challenge.
"We're pretty much at base level right now. We have a lot of work to do and before that we have a lot of talking to do about which squad we take."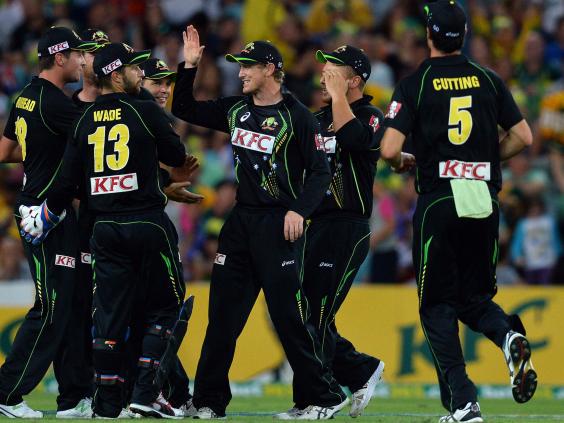 Downton has time on his side before any decision on the new head coach needs to be made, with England's next Test not until June, when they host Sri Lanka.
Former India and South Africa coach Gary Kirsten has been tentatively linked, and Giles knows showing he can turn fortunes around in the next two months can boost his prospects. "I'm not silly, if it goes out to a process other people are going to apply," he said. "It's one of the biggest jobs in cricket and I'd apply for it because I want to do it.
"As someone who was very proud to play for England I've been proud to coach the  one-day side. To do the whole job would be a fantastic opportunity, but it's hard work  as well."
On the pitch, Australia hit 13 sixes, profiting on short straight boundaries, as they posted 195 for 6.
Captain George Bailey completed the innings by taking 26 from Jade Dernbach's last over as the right-armer returned series figures of 1 for 141 from 11 overs.
England's top-order  collapsed for the third game running – five of the top six were caught in the deep – with only Eoin Morgan (34) and Joe Root (11) amongst them reaching double figures. England were bowled out for 111 from 17.2 overs.
The loss meant England remained marooned in eighth place in the shortest format's rankings, a place above  Ireland, with the World Twenty20 six weeks away.
Reuse content