Australia are rattled. This much is evident because the Pom baiting has been turned up to 11. With two days to go before the start of the 34th Ashes series in this country there it is likely to stay unless a 12 can be found.
The home side's players are on their best behaviour, adopting the modern sportsmen's mantra of concentrating only on their own game and letting the opponents do the worrying. As if. When the action starts that might change.
But the fear, nay the expectation of defeat, is clear in the approach of the country at large. The local daily in Queensland, not an organ renowned for its sober presentation of events, carried a front-page picture of Kevin Pietersen on Monday with the headline: "He's so arrogant not even his own team likes him."
The Courier Mail's solitary shred of supporting information was that Pietersen had walked from the plane on England's arrival in Brisbane unaccompanied by any of his team-mates. The fact that later pictures showed the rest of the squad doing similarly – it tends to happen when walking through airports – did not temper the paper's judgement.
Pietersen later responded on Twitter by saying, "Putting me on the front page does wonders for my ego! You've done me proud. Thank you x" before replying to Ben Dorries, the reporter who wrote the story, "I would have preferred a Sydney front page tbh.. But I'll take Melbourne! No one has heard of Brisbane outside Oz!"
But Pietersen was not alone in attracting the paper's mischief-making since a leading article traduced an entire nation.
"Call them what you like," it said. "Pommy bastards, soap-dodgers or just cut to the chase and label them shameless cheats at cricket, but England's Ashes squad have landed in Brisbane and we need to be friendly for a bit while they are our guests in this fine city."
And so they have been. The barbs are being unfurled in a desperately comical attempt to undermine the favourites. It demonstrates that the population at large are giving their team less chance than they might actually have. Three successive Ashes defeats, two maulings this year at the hands of India and England, have reduced confidence and diminished expectation, turned down to minus two on the This Is Spinal Tap scale.
England are trying hard to ignore all external and extraneous issues. They had the day off on Monday, far from the madding crowd, while the entire Australia squad turned up at a shopping mall wearing their whites, or as they call them here, creams. Many shoppers wondered what was going on.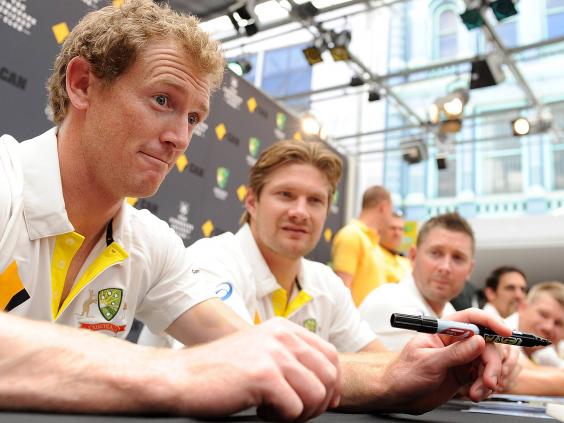 For Jimmy Anderson, on his fourth tour of the country, it feels like nothing has changed. He remembers it as being like this when he was the new kid on the block back in 2002 with the one-day side, just 20 and, it was said, with a great future ahead of him. That future has been realised but Anderson, arch manipulator of a cricket ball from any manufacturer and now the wise leader of the attack, knows what to expect.
"It always seems to be like this, really," he said. "Maybe it wasn't so much here, but in 2006-07 and the summer just gone there were things flying about and generally the Australians saying things about us but I don't think it is any different.
"I can't speak for anyone else but I was brought up to think that actions speak louder than words. We will try to concentrate on performing well in these games and how we are going to try to beat the Australians. That's where it matters, on the field, and that is where we will try to show people what we are about."
There appears to have been a misunderstanding between Anderson and Michael Clarke, the Australia captain. In his diary of last summer's tour, Clarke wrote that "Anderson is the one who prefers not to talk to me" and hints that Anderson's own book had a crack at him. He goes on to say that he doubts it is personal as they do not know each other.
How these mild spats grow legs. Anderson, asked about the comments, said: "I think he is possibly being a bit paranoid. I've nothing against him at all. To be honest, I don't remember seeing him many times outside a game situation so if he goes on how I behave in the field, he might think that, I don't know." It adds a little extra frisson to Thursday morning.
England's vast knowledge of playing in Australia can only be a help. There comes a tipping point where experience becomes "past" it but that has not yet been reached with this band of men. Of the 18 players who effectively form the squad, with Tim Bresnan about to be officially added any day, only six are making their first Ashes tour.
Anderson, who has taken 46 wickets in his last two Ashes series in Australia in 2010-11 and in England last summer is the oldest hand. But Alastair Cook, Ian Bell and Pietersen are here for the third time, the rest of the team for the second. All countries that England tour present their challenges but those in Australia dwarf the others because of what is at stake.
"Coming out here is always a tough place to be," said Anderson. "You're not just playing against 11 blokes on the field, you're playing against a whole country who are backing them. The guys who have been here before, our job now is to try to pass that on to those who haven't played out here before – and try to make them as relaxed as possible going into that first Test." But the tourists had their time off yesterday. The time for relaxing is past.