He came out last of all. The cacophony of affectionate noise that greeted him would hardly have graced the grand old Opera House behind but it was sweet music to Michael Clarke's ears.
Three years ago at Brisbane, when he was the acting Australia captain, he walked out to bat in a one-day international amid boos. Clarke's countrymen were disdainful about his batting, his lifestyle, his use of social networking sites, his captaincy, his tattoos. They were so unhappy with him, they didn't know why they were unhappy with him.
But they know now why he is a hero all right, a man completely redeemed. Clarke has taken a team almost cobbled together – for the Dirty Dozen read the Unchangeable XI – and orchestrated them so expertly that they have beaten the Poms 5-0.
All of the Unchangeables, or nearly all of them, were fêted at a public ceremony on Sydney Harbour alongside the Opera House. The first person to take his place on the platform was the Prime Minister, Tony Abbott, and then out came the team and the coach, one by one.
They took their time getting to Clarke, perhaps so the moment could be milked for all it was worth, perhaps to allow Chris Rogers, the absent opening batsman, to make it. Rogers arrived 15 minutes later after the speeches were done. He admitted to having overslept, this being the public celebration, but not the first celebration of Australia's Ashes victory.
Walking up the custom-built aisle in the wake of his players, shaking hands and exchanging high fives with fans, Clarke might have given a passing thought to the capriciousness of it all. He deserved this moment. "This is special because yes, sometimes there has been so much shit," he said to me a few minutes later, taking a break from autograph-signing. "It's special because of this team, this group of guys."
Back in 2011 at The Gabba he took the jeering with distinct aplomb. He responded by saying they were entitled to boo, but nobody could recall it happening to a captain of Australia. Yet even five months ago, he could not have imagined this unfettered approbation.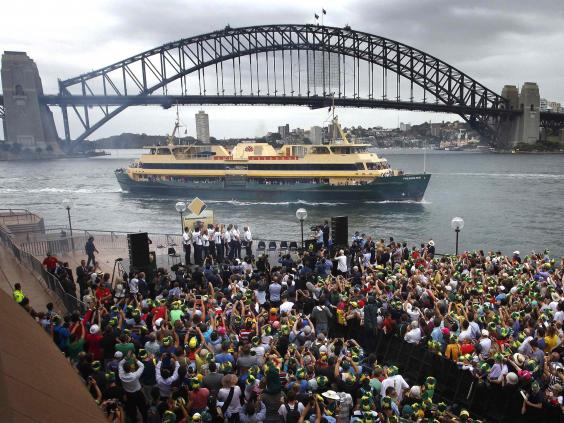 There were times in England last summer when he approached despair. On the evening Australia lost the match at Durham and with it the series, his diary of the tour revealed that he spent the night tossing and turning.
"I'm extremely hopeful that we will learn from these times and they'll make us a better group and better players," he wrote. "But the truth is I don't know. It seems like we're not learning. I'm part of that."
A particular image kept Clarke going then. The boys were rallying, he said, everyone was looking after each other and Clarke was looking at the horizon.
"There's a photo on my phone which shows waves smashing the sand in the foreground but far away the horizon is calm. That's what I'm looking at. Every single day I see my dream and my goal, which is for us to be the No 1 team in the world. I'm not taking my eyes off that."
They are not there yet and all they can hope for is to close the gap on South Africa, where they play a three-Test series starting next month. Australia have moved to third place with their handsome win against England but their next Test opponents are top of the rankings, still 16 points ahead of India in second.
Clarke would probably concede that he is a different man from that derided temporary captain. Forget the tactical acumen. He may still like the good things in life, he may still bring an earnest approach to his business. But marriage appears to have relaxed him, the knowledge that this is his team has engendered in him a sense of caring and nurturing that never used to exist.
It seems faintly ridiculous that he should still answer to the sobriquet Pup, bestowed when he was the junior member of that legendary Aussie side of 10 years ago. Maybe his compatriots sense those things, maybe 5-0 against the English would have given anyone redemption.
Atonement was in the breeze as the Freshwater ferry to Manly passed by the Opera House and broke into a collective cheer.
Davey Warner, he of the Joe Root haymaker, was in charming mode. He recalled that occasion in the Birmingham late-night bar which caused him so much trouble, now forgotten.
"Celebrating that night was probably a mistake," he said. "Now I can celebrate even more." Warner was a man who needed to learn a few lessons but this sounded as if he had learned the hardest of all: have a few beers by all means when you have drubbed your oldest enemy but not after they have bested you in the Champions Trophy of all things.
Prime Minister Abbott spoke some pleasant words, which included the usual homilies about the greatest of friendships and the fiercest of competitions (not in this Ashes it wasn't) but he conceded that Australia had whipped their opponents. As he made his way back through the crowd, someone shouted: "Get back to Canberra, you drongo."
It was lucky this did not rouse the ire of the grey-suited Public Protection Unit assigned to look after the premier. They were fairly relaxed, though. As they cased the joint before play, I approached them and supposed that they couldn't speak. "What do you wanna speak about?" said the boss. "This is Australia." So we chatted about protecting prime ministers and other dignitaries, though not from being called a drongo.
There was a sense of goodwill floating around the harbour which had last been seen in England in 2005 when the Ashes were won in a nailbiter. Nobody can quite believe what has happened here.
Australia scored 3,189 runs in the series (more than they managed in their last Ashes whitewash in 2006-07) at a scoring rate of 62.50 and an average per wicket of 41.42. England scored 2,158 runs (fewer than in 2006-07) at 21.58 runs per wicket and a rate of 48.17.
Peter Siddle, Australia's third seamer, said he thought they were a better attack than South Africa's, which is saying something. "The consistency we've had against England, it shows, and to win 5-0 quite convincingly." It seemed sensible to seek confirmation. Better than Dale Steyn, Morne Morkel, Vernon Philander?
"For the third time, yes, did you get that?" Sure did.