England made light yesterday of their captain's stiff back. Far from Alastair Cook being in danger of missing the first Test of the Ashes series because of the chronic condition, the management seemed to be subliminally suggesting that he could, if it came to it, bat for two days while doing 20 press-ups between overs and some weight training between sessions.
Instead Cook did not play the opening match of England's tour, against a Western Australia XI, which began overnight. His absence was, the perfectly understandable line went, more a precaution than a necessity. But make no mistake, the opening fixture is not one that a captain on a tour of Australia would lightly body-swerve no matter the quality of the opponents.
If nothing else, it also led to rampant speculation about who would take over from Cook were he to miss any of the Test matches in the series. Matt Prior has been named officially as the vice-captain and was duly nominated to assume the helm for the curtain-raiser as England broke with their recent convention and announced their XI before the toss.
But Prior himself cast doubt on whether he would step into the breach in the event – the almost impossible event he was at pains to stress – that Cook were to be absent in Brisbane on 21 November.
Cook and his counterpart, Michael Clarke, can now be assured of sharing back scares in the next three weeks. Clarke made his return to competitive cricket yesterday for New South Wales in the Sheffield Shield and made an assiduous 88 but he has been out since Australia's tour of England finished last month and no platitudes can now allay the fear that his enduring weakness could strike again at any time.
In the case of Cook, his deputy Prior was clear. He said: "Obviously, Alastair waking up with a stiff back yesterday it's not a big deal as such. It's not a massive injury, it's purely precautionary. But with three games to play before the first Test, a good amount of time, it's important that you get the preparation right and you don't want guys rushing back and creating more issues. We have got the time to play with so it was deemed the right decision to let Cooky rest."
Obviously, as it were, Prior was toeing the party line. But then England were hardly about to concede Cook's injury was graver than it is. Their relaxed air as the temperatures began to threaten the thermometer's normal capacity pinned the blame on the long flight from England as a major contributory factor. But that was almost a week ago and the journey to Hobart, where they  play next, is hardly a short hop.
It was natural to ask Prior how he would cope if the worst were to happen to Cook. His reply was surprising and seemed to indicate that he saw the vice-captaincy as a self-contained role of its own and not as an automatic replacement.
"The other thing I think we've got to get clear is that if Cooky did go down for that first Test, fingers crossed it never happens, just because I'm vice-captain doesn't mean I'll automatically step in as captain," Prior said. "The management and selectors would have to make a decision on that. At the moment I've been given the opportunity to captain tomorrow and I won't look any further ahead than that. Hopefully, we won't even have to talk about this because Cooky will be absolutely fine."
Nonetheless, if only for a moment, it focuses attention on England's choice of Prior as vice-captain. And if not him to take over from Cook in an emergency, then who? It is not as if the captain and the vice-captain are appointed on a joint ticket but there has always been an implicit understanding that Prior was here  as cover.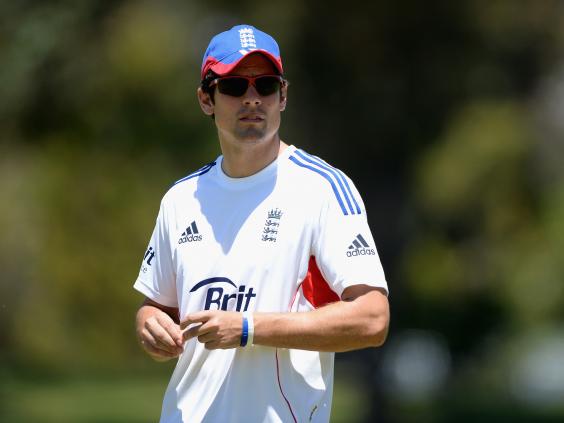 The most astute tactician and reader of the game would probably be Ian Bell followed by Graeme Swann, though Kevin Pietersen is a former captain, Stuart Broad is captain of the Twenty20 team, Joe Root has led England Lions and Jimmy Anderson has occasionally stated a desire to captain.
Prior has captained Sussex twice as a senior (having originally led their Under-12s), leading them in an innings victory against Bangladesh in 2005 and a seven-wicket defeat against Durham in 2008 when he scored a fighting 133 from 212 in their second innings.
This is the third time England have been without their appointed captain for the opening match of an Ashes series. In 1990-91, Graham Gooch was forced to withdraw with a broken and poisoned finger after being hit by a ball driven by Robin Smith in a warm-up game and England, led by Allan Lamb, lost by 10 wickets. Poor Lamb was castigated for driving to dinner on the Gold Coast an hour away on the first night and was out cheaply the following morning.
In 1911-12, Pelham Warner fell seriously ill after the first match (and missed the entire series) and Johnny Douglas stepped up. Although he was hapless in the opening Test, which was lost by 146 runs, he changed his approach and England won the next four.
The chosen team for the opening skirmish bore little relation to that which will do battle at The Gabba. Kevin Pietersen, a late arrival after a spell of compassionate leave, Broad and Swann were rested. Jonny Bairstow and Monty Panesar, who has a gippy tummy, were also omitted. Chris Tremlett, Steve Finn and Boyd Rankin were thus let loose for their private battle of the giants.