Kevin Pietersen manipulates the myth of his martyrdom with the relish he once reserved for milking mediocre bowling. It disguises his insecurity, diverts attention from the emptiness of a career that is petering out in lucrative self-indulgence.
His cheerleaders are clearing their throats for the publication of his latest autobiography. Plans to massage public opinion are set. He, or more accurately those with a vested interest in the exaggeration of slights, real or imagined, is too clever to indulge in the toddler tantrum some naïvely anticipate.
Pietersen will use a carefully modulated, rigorously scrutinised interview in the newspaper which carries his ghostwritten banalities to set the agenda. He is likely to admit mistakes, but in such a measured manner as to undermine their significance.
Expect meaningless pledges of allegiance, promises he would add to his 104 Test appearances in a heartbeat. They are disingenuous, because scathing criticism will be directed at those at the heart of the England team, the captain, Alastair Cook, and the coaches with whom he is associated, Peter Moores and Andy Flower.
Opportunism has already been camouflaged by altruism. The news management cycle began with Thursday's announcement of the KP24Foundation. Due to be launched with a gala dinner in Dubai on 6 November, it intends to support underprivileged children around the globe.
Kevin Pietersen in pictures
Kevin Pietersen in pictures
1/55

Pietersen scored a career-best 326 not out in Surrey's County Championship match against Leicestershire.

Getty

2/55

Kevin Pietersen hits a four during his innings for Surrey against Glamorgan

Reuters

3/55

Pietersen is the centre of attention despite sitting on the end of Surrey's team photo yesterday

Getty Images

4/55

Pietersen had an IPL deal said to be worth £200,000 with the Sunrisers Hyderabad before negotiating his release

Getty Images

5/55

Pietersen was part of the Melbourne Stars side that lost the Big Bash final earlier this year.

Getty Images

6/55

Kevin Pietersen walks during his final England appearance during the 2013/14 Ashes.

GETTY IMAGES

7/55

Pietersen in the latest Ashes series

Quinn Rooney/Getty Images

8/55

Andy Flower with KP

Tom Shaw/Getty Images

9/55

Kevin Pietersen with Andy Flower

GETTY IMAGES

10/55

Kevin Pietersen looks on as England crumble once against in the Fourth Ashes Test in Melbourne

GETTY IMAGES

11/55

Kevin Pietersen of England bats during day one of the Fourth Ashes Test Match between Australia and England at Melbourne Cricket Ground on 26 December 2013

Gareth Copley/Getty Images

12/55

Kevin Pietersen makes a gesture to the Gabba crowd

13/55

England batsman Kevin Pietersen walks off at the Waca after the fall of his wicket

GETTY IMAGES

14/55

Kevin Pietersen is all smiles at The Gabba ahead of the first Ashes Test

Getty

15/55

Kevin Pietersen: The local daily in Queensland carried the headline: 'He's so arrogant not even his own team likes him'

Getty Images

16/55

Kevin Pietersen will have a scan and treatment on a knee

Getty

17/55

Kevin Pietersen prepares for the ODI series against Australia

GETTY IMAGES

18/55

Kevin Pietersen bats in the nets at The Oval a

Getty images

19/55

Kevin Pietersen is honoured for becoming England's leading all-time run scorer

Getty Images

20/55

Kevin Pietersen

PA Wire

21/55

Kevin Pietersen of England celebrates with fans after England retained the Ashes

GETTY IMAGES

22/55

Kevin Pietersen's after his 23rd Test match hundred

Getty Images

23/55

Kevin Pietersen – 2
Lasted a grand total of 13 balls in the match, making 7 runs. Played a particularly stupid shot to get out in the second innings and then played no further part in the game due to a calf strain. Doubtful for the next Test, although on this performance he won't be greatly missed.

Getty Images

24/55

AP

25/55

Pietersen must wait until the opening Ashes Test next month to make his first appearance

Getty Images

26/55

Kevin Pietersen: The batsman was spoken to by the referee in the Mohali airport toilets

Getty Images

27/55

Pietersen doing charity work

AFP/Getty Images

28/55

Kevin Pietersen on a celebratory Twitter post

29/55

Alastair Cook and Kevin Pietersen

GETTY IMAGES

30/55

ECB chairman Giles Clarke listens to Kevin Pietersen speak at a news conference in Colombo

Reuters

31/55

Pietersen was one of the more enthusiastic participants in England's victory parade through London

Getty Images

32/55

Pietersen is left out of England's squad following the controversy over provocative text messages

Getty Images

33/55

England retain the Ashes in Australia, their first series win in the country since 1987. Pietersen ends the series with 360 runs at an average of 60.

Getty Images

34/55

Pietersen arrives with England for the one-day World Cup in India in high spirits, but the trip ends in disappointment for him, with injury eventually forcing him him out.

Getty Images

35/55

Pietersen is named in England's Test squad for the first Ashes Test at Lord's, taking the place of the hugely experienced Graham Thorpe.

Getty Images

36/55

Pietersen hits a swashbuckling maiden test century to rescue England in the final Ashes Test at The Oval. The draw means England reclaim the Ashes for the first time since 1987.

Getty Images

37/55

Going on to score further centuries in East London and Centurion, Pietersen ends up being Man of the Series, making 454 runs at an average of 151.33 and becoming the fastest man in history to reach 500 one-day international runs in the process.

Getty Images

38/55

Kevin Pietersen and the team after winning the World T20 in 2010

GETTY IMAGES

39/55

Main attraction: Kevin Pietersen celebrates his century against South Africa. He finished the day on 149 not out

AFP

40/55

Flintoff and Pietersen in 2005

PA

41/55

Kevin Pietersen enjoys a superb match-winning century for Delhi

AP

42/55

England beat Pakistan to take an unassailable 3-0 lead in the one-day series. Kevin Pietersen notched a century in the process.

GETTY IMAGES

43/55

Pietersen with the Ashes

PA

44/55

KP at Wimbledon

GETTY IMAGES

45/55

getty images

46/55

AP

47/55

Kevin Pietersen does the 'teapot' after England win the Ashes in Australia

Getty Images

48/55

Kevin Pietersen gives his verdict on the Lamborghini Gallardo

AFP/GETTY IMAGES

49/55

Pietersen in his early England day

GETTY IMAGES

50/55

GETTY

51/55

GETTY

52/55

GETTY IMAGES

53/55

PA

54/55

Kevin Pietersen (left) and Andrew Flintoff

GETTY IMAGES

55/55

KP in his first Ashes triumph

GETTY IMAGES
An eclectic mix of ambassadors includes Boris Johnson, Gary Lineker, Heston Blumenthal and, inevitably, Piers Morgan, the human megaphone. Judging by Pietersen's mission statement – "Poverty, homelessness and geography should never be allowed to stifle our children and put out the flames" – it is surely only a matter of time before Bono is recruited.
The charitable aims are authentic, but image consultants and public relations advisers will recognise the broader strategy. Pietersen will open his fusillade with a BBC interview and a supposedly exclusive Q&A session on Tuesday, 48 hours before the book is widely available.
His publishers are attempting to emulate the micro-managed success of Sir Alex Ferguson's autobiography, but cannot avoid an inconvenient truth. Ferguson was a compelling subject, capable of addressing the fundamental issues thrown up by modern sport.
When Pietersen enters the playpen of social media, and he glories in unfiltered praise and his potential to make mischief, the brittleness of his character and the superficiality of his message becomes clear: "I got a feeling quite a lot will like it!..... have I EVER held back?...... the truth is coming….. WAHAHAHAHAHAHAHAHAHAHA!!!! MY CONFIDENTIALITY AGREEMENT EXPIRES AT MIDNIGHT TONIGHT......"
This week's debate will be ferocious, but futile. Entrenched positions will be reinforced. There will be few conversions to either cause, and too many casualties on either side. It will be petty, pointless, and probably puerile.
Pietersen's most persuasive ally will be his perceived enemy. The England and Wales Cricket Board are a shambolic organisation, who appear to confuse the founding principle of nurturing domestic cricket with the more narrow aim of promoting their insufferably smug chairman, Giles Clarke.
This is a man who could not wait to prostrate himself at the feet of serial fraudster Allen Stanford, a meddler who has aligned English cricket with those who have allowed the game in India to become a bloated, corrupted, geopolitical monster.
Pietersen is damned by the division he creates. He is a symbol of a rudderless sport, a global freelance exploiting T20 competitions which will, if unchecked, smother Test cricket. The ECB reserve the right to refuse to give him international clearance to play in Australia this winter, but he is likely to be only a short-term irritation.
He is already being overshadowed by emerging stars, such as Surrey's South African-born batsman Jason Roy. Rather than buy the book, invest in a CD which captures Pietersen in his pomp, a force of nature. Remember to switch the TV off when, as he fades away, he returns to our screens on Strictly Come Dancing.
Rio wrong about Kick It Out
Rio Ferdinand is due to make his 500th Premier League appearance on Sunday at West Ham, the club at which he launched his career. He deserves to be afforded due respect, despite the diminution of his talent as a mobile, intelligent central defender.
In later years, in a secondary career as the most insightful member of a new generation of TV pundits, he may regret this final season at QPR. He may also have cause to review his illogical, unworthy criticism of the Kick it Out anti-discrimination organisation.
Ferdinand has much in common with Herman Ouseley, Kick it Out's driving force. Both have suffered directly from the racism which exists beneath the surface, in sport and society. Each is an important advocate for change.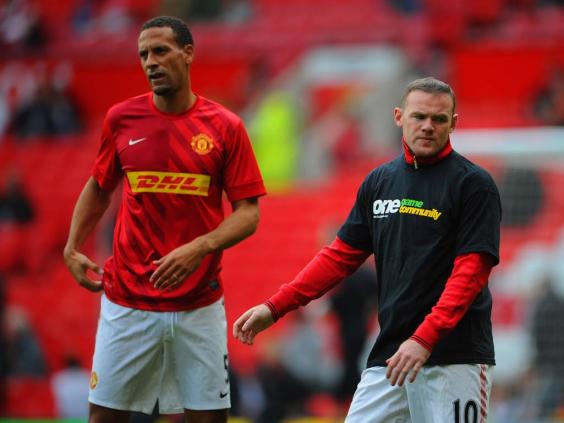 Ferdinand is touted as a candidate for Fifa vice-presidency. Lord Ouseley, a dignified, resilient man determined to call those who run English football to account, is the best chairman the FA will never have.
They are united by something far bigger than that which divides them: the right of fellow human beings to be accepted for who they are, rather than the superficialities of colour, creed or sexuality. Together, they can achieve something substantial.
Rugby's risky collision course
A record number of Premiership rugby players, 26, were forced into injury-induced retirement last season. The average career span, at international level, of the past 100 England players to leave the game on medical advice is less than three years.
Concussion is being treated with appropriate, if overdue, care and attention. Yet the club season, driven by commercial imperatives, is too long. Contact sessions in training carry inherent risks.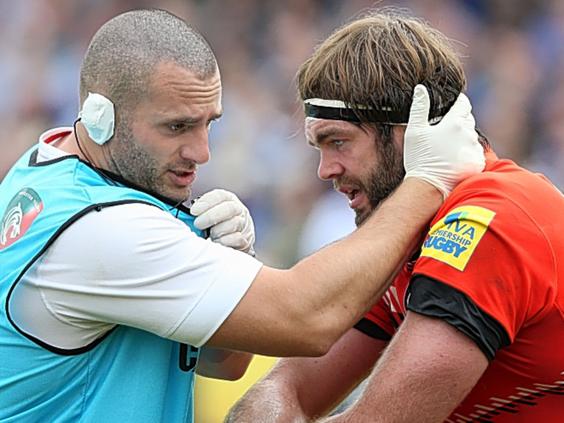 No one wants to neuter a compellingly physical collision-based sport, but as it approaches World Cup year, rugby union faces hard choices if it is to fulfil its duty of care to those who matter most – the men who put their bodies, and their future, on the line.
Mourinho's turn to suffer
Jose Mourinho's graceless refusal to withdraw his "specialist in failure" slur before Sunday's potentially pivotal visit of Arsenal to Stamford Bridge tempts fate. He deserves to lose to Arsène Wenger for the first time in 12 attempts, as a reminder that class is indelible, permanent.
Reuse content