McCullum's captaincy should be a model for Cook
If Alastair Cook wanted to pick a brain or two in the run-up to England's test series against India, he could do worse than get on the phone to Brendan McCullum.
New Zealand wrapped up victory against West Indies yesterday to complete a second series win against the same opposition in seven months. The result in Bridgetown yesterday was made possible by a brilliant batting performance by Kane Williamson, a good all-round bowling effort but most of all by excellent captaincy. Having lost a sizable portion of the game to bad weather McCullum declared overnight, leaving West Indies a tempting chase of 308 on the last day. They fell short by 54 and with 18 overs remaining.  Even on the last day of a five-day match, McCullum's declaration was bold - and decisive.
But the recent successes of McCullum's captaincy - the series wins against the Windies sandwiched an even more impressive series victory against India - have been hard fought.  His first outing as skipper was against a strong South Africa and in two tests New Zealand were completely outclassed.  He had the better of draws against England in New Zealand before more heavy defeats in the return series last year.  Since then, McCullum has overseen ten tests and only one loss – and as many wins as New Zealand had managed in the previous three and half years.  His self-belief in an imaginative approach to captaincy has played a major part that turnaround.
Cheats don't always prosper
In the context of New Zealand's recent excellence, it is a sad coincidence that Lou Vincent has today released a statement admitting his involvement in match-fixing.  It is right of course that he should be banned for his activities but tragic yet again that the sport should be mired by talk of cheating – especially at a time when recent test matches have shown the utter beauty of the game.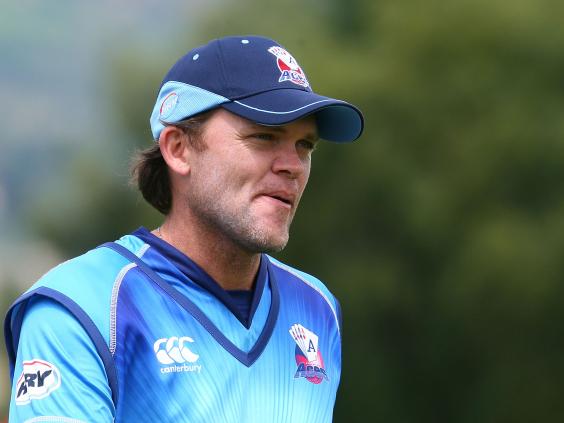 I was at Lord's on the morning that the News of the World revealed the spot-fixing by Pakistan's trio of cheats in 2010.  At first there was a sense of disbelief about the claims, then shock and ultimately anger that we were sitting there, watching a game which had – at least in some respects – been thrown.  But the overwhelming sense was of feeling utterly sick that cricket could so easily and so smoothly be the subject of such duplicity.
Vincent probably won't be the last, despite the best efforts of the global authorities.  The one thing that would help above all would be a reduction in the amount of cricket being played.  But that's a forlorn hope when there is so much legitimate money to be made, let alone the illegitimate.
If Sri Lanka's attack was 'county standard', what is India's?
With England looking to bounce back from defeat by Sri Lanka, it may have been comforting to see India's travails against Leicestershire at the weekend.
While the batting of Dhawan, Pujara and co looked to be in decent working order - albeit against a moderate attack - the Indian bowling was decidedly unimpressive. In a game featuring over 30 players the use of ten bowlers by the tourists is less remarkable than it might initially have seemed.  But to take only three wickets between them is a poor effort, whichever way you look at it.
During India's test series against New Zealand in February, only Ishant Sharma could reasonably be said to have excelled with the ball, taking fifteen wickets over the two matches.  But he and all of India's other frontline seamers went at over 3.5 runs per over, which is indicative of a worrying lack of consistency.  Mind you, Sri Lanka's attack was said to be no better than 'county standard' before they bettered England's efforts at Headingly so there is no point counting chickens: not least for fear of ducks.
Pre-season predictions are still in the balance
With half a dozen games left to go in the Championship, the Light Roller's pre-season predictions are looking a tad mixed. Yorkshire still look a good shout for the title, despite losing several stars to the England cause. It could have been worse of course: Bairstow, Bresnan, Lees and Brooks have all been on the England radar but have yet to be called into the ranks.
As for division two, tipping Essex appears to have been a triumph of hope over experience. The club has been beset by injuries at times but a number of key players simply haven't performed to their full ability.  Sitting slap-bang in the middle of the table, chances of promotion are looking slim if not completely distant.
Glamorgan, my dark horse for the season, have a good blend of youth and experience. Mark Wallace seems a thoughtful captain. And occasionally they have looked excellent. But two wins from ten means they are thirty points off the pace in fourth.