Four months and what seems like a lifetime ago, a man was asked if he thought England were on the slide. He said: "I don't because we have a core of players in this side who are going to be around for some time. The holy grail in international sport is winning after winning.
"We have been successful for a period of time. We have the systems, the programmes and, most important, the people in place to make sure that continues over a period of time."
That was Hugh Morris's valedictory comment as managing director of England cricket, before the second Test against Australia in December. It does not exactly stand up to close scrutiny.
England have lost the vast majority of the matches they have played since then, the team and the systems appear to be unravelling and nobody would dare hazard a guess about where the next win or sequence of wins is coming from. Kevin Pietersen continues to haunt them. They are without a coach to replace Andy Flower, about whom Morris said in the same conversation: "He is an outstanding man who is a very important part of the England cricket team."
The defeat to Netherlands on Monday was a fitting conclusion to the winter. The Dutch played like professional cricketers, England in their new state-of-the-art, round-neck orange shirts did not. Their new sponsors, Waitrose, must have cringed at the thought of ever signing the contract and worried about the share price. When England won the football World Cup in 1966 they became known as the wingless wonders; on Monday, England's cricketers were the collarless clowns.
It should have convinced everybody that something has gone badly wrong in English cricket and that too many people have been far too pleased with themselves about how well it was all going. Paul Downton, Morris's successor, has to sort out the short-term mess, first by helping to pick a new coach.
Downton, like many others involved, is saying nothing. His silence may be understandable while he gets his feet under the table, perhaps he has plans to reveal all presently, but for now he may as well be Austin Powers, International Man of Mystery – to whom he bears a passing resemblance.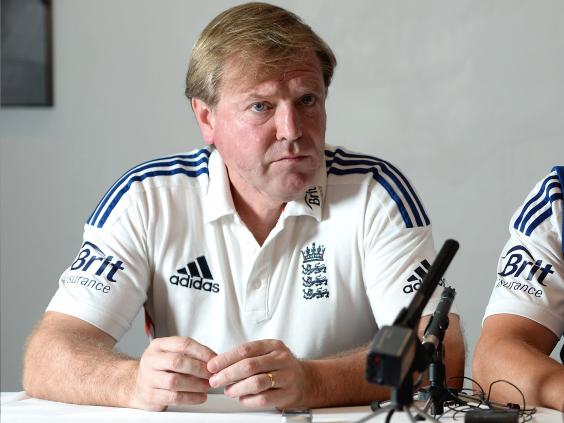 True, Giles Clarke, the England and Wales Cricket Board chairman, offered his views last week when he said he did not think English cricket is at a low ebb, in which case his attendance in Australia and the West Indies this winter was either a waste of his money or conducted in blindfold.
The players appear to have taken a vow of silence, or have been sworn to it, when all anybody wants to know is why all this might have happened. At county preview days this week, which are always jolly occasions, England players are either not speaking or not speaking about England.
Matt Prior, normally helpful and engaging, is declining to be interviewed or keeping his opinions for his newspaper column. Lancashire withdrew from interview slots Simon Kerrigan, who made a hapless Test debut at The Oval last summer against Australia. No doubt they were worried what devastating insights he might have to offer.
There has to be a degree of sympathy. Questions inevitably come back to the Pietersen issue and legal niceties preclude any straight talking on that. As Alastair Cook, the Test captain, said: "There are a number of reasons which will become clearer soon. You have to respect the position I am in at this moment in time."
What a mess it has all become. England have been in trouble before. They spent most of the Nineties veering between laughing stock and daft old uncle but this is palpably different. Followers of English cricket are used to them losing but there is the definite feeling that they are also not liked much at present, something that goes back to last summer and just before.
Two causes for the debacle stand out. One was to fail to notice that the team were indeed on the slide and that the victory against Australia last summer concealed a host of defects. The players whinged at the time that they were not being sufficiently lauded and promptly lost the Ashes 5-0, which they may as well have presented on bended knee to the Aussies on a silver platter before a ball was bowled. They simply did not compete as everyone, this reporter included, expected.
The second was to divide the coaching duties between Flower, who assumed control of the Test team, and Ashley Giles, who nominally was in charge of the limited-overs sides. It left the coaches and the players wondering who precisely was boss.
Giles could not get on with it as he wished because Flower was still head coach. Although Flower wanted to spend more time with his family he also wanted an influence on one-day affairs. After the Ashes tour, he at least had the grace to concede, or was persuaded, that it was not working.
The new coach will not be anointed until later this month. The shortlist contains at least four candidates. Trevor Bayliss, the Australian who coached Sri Lanka for four years and is now coach of New South Wales, has emerged as the sole foreign interviewee. Peter Moores, of Lancashire, who has already been England coach once and was cruelly jettisoned, Mick Newell of Nottinghamshire, and Giles are also on the slate.
Giles will have woken up today and perhaps realised that he may have to seek alternative employment. He would still be the appropriate choice, as time would tell, although he has made some crass calls lately. But the tide has turned against him with the Netherlands defeat. His players failed to put their finger in the dyke.
"Gilo has had a tough winter – we've all had a tough winter," Cook said. "He's a very, very good coach. He's a fantastic coach, and a very good man as well. There are a lot of decisions to be made over the next couple of weeks by the hierarchy of the ECB – and important decisions as well."
A critical interview given by Michael Carberry, who opened for England in the Ashes and did not appear in the subsequent one-day series, reflected well on nobody in English cricket. Carberry's grouses about lack of communication and feeling badly done to were not supported by excellent performances – and he is still in possession of the Test opener's spot – but they had timely credence.
Bayliss, as an outsider, will find some support now. But the feeling is that if England truly have systems in place, it should be an English coach. The announcement, it seems, will not be made for three weeks. The holy grail is much, much further away.
Reuse content