Cricket and fatties have history and no sooner had the Pakistani Cricket Board introduced salary-linked fitness tests than 12 of its elite squad failed them, costing each a quarter of his wages.
The penalties stretch down right from the top, from batsman Shahid "Boom Boom" (or should that be "Bonbon"?) Afridi, a Category A player, who has lost 100,000 rupees, about £1,000, from his September pay-slip, to some rather more lowly squad fodder who will forfeit only around £100.
Inevitable progress perhaps, but such bleep-test fascism should be sounding alarm bells both in cricket and the wider sporting world.
Firstly, fielding heroics from cricket's iconic rotunda-morphs are among the most memorable images in the game. Anyone who happened to see 20-stone Bermudan Dwayne Leverock's flying catch at the 2007 World Cup will not only never forget it, but also has no need to pay the extortionate entry fees to Sea World. It's a tragedy really that Ultra HD came too late to record it in all its undulating, aerobatic glory.
Similarly, Shane Warne's famous Ball of The Century is made all the more magical because it confounded Mike Gatting, trundling back to the pavilion shaking his head, the great man's chins and midriff united in a baffled tremolando.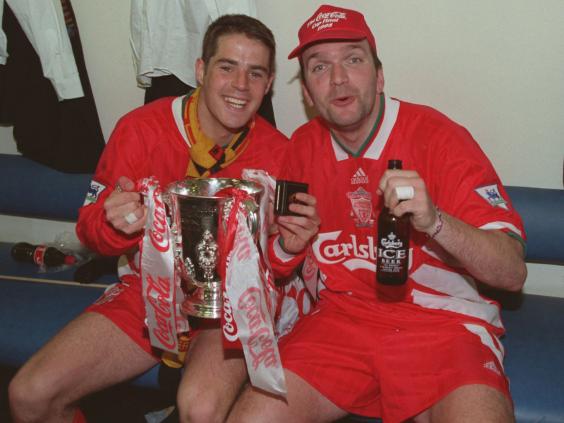 But more importantly, as top-level sporting fatties spiral towards extinction, we must mourn the death of the valuable public service they have provided.
Your Gattings, your Neil Ruddocks, your Jason Leonards. They were the fan on the pitch, the window into Valhalla.
Once upon a time, sport was something you did. Now it is something you watch.
Despite its loud protestations to the contrary, the London Olympics has done exactly as every other Olympics that went before it, and failed to achieve any lasting boost in mass sporting participation.
In this brave new HD world, Sir Chris Hoy's thighs or Cristiano Ronaldo's rock-hard six-pack are just yet more solid steel partitions in the wall standing between  Us and Them. Sportsmen now are from that other planet, inside the television, which we cannot reach. So why bother trying?
Of course, it was only ever an illusion. Fat sports gods are scarcely more like us than the thin ones. True sporting talent is a rare thing, overwhelming greed is more common, but when nature conspires to implant both within the same human vessel the results can be torturously comic.
Remember Jamie Pollock, Middlesbrough's Makélélé of the early 1990s, the substantial midfield ballast liberating the more spritely Juninho, forced from the game at 28, not long after a failed spell in the Spanish league with Osasuna? "The trouble with me is that I'm a fat bastard," he once told a journalist there. "I've come here to get fit. I need discipline. Here we can't be seen in the bars, like. We'll get fined."
Some local newspaper pictures of him looking far more, well, comfortable, emerged late last year, promoting his new role as a director in his family's Middlesbrough-based glass business.
There was a twisted truth put about a few years ago by some American comedian or other that George W Bush was the most inspiring President in all US history.
"You look at Obama, and think, 'Man that guy is incredible. How will I ever get anywhere in a world that's got people like that in it?' One look at Bush, and you're thinking, 'If that guy can be President, I can do anything'."
Leverock still lives above a curry house in Bermuda. There is, apparently, a picture of that catch up on the wall downstairs.
"Order another round of samosas, and one day, that could be you," it intimates. It's nonsense, of course, but we need such fatuous logic to get off our arses at all.
Em-mental Magath still wants to be a big cheese
At the opposite end of the self-control spectrum, we now know, lies Brede Hangeland, once of Fulham FC. So trusted was he by his now ex-manager Felix Magath that he was permitted, nay instructed, to take cheese to bed with him.
It has indeed been confirmed true that, to hasten his return from injury, Hangeland was instructed to sleep with a large wheel of cheese affixed to his leg.
So many and varied are the stories emerging from the unhinged German's brief time piledriving the West London club to the bottom of whichever division he happened to have dragged them into, that they seem right for a Michael Sheen biopic.
This column, like Jarlsberg, doesn't do cheese-pun jokes, but if it did it might suggest The e-Damned United.
Magath has already expressed an interest in carrying on in English football management, an ambition we can only hope is resolved by the time Der-brie County entertain Sheffield Wensleydale in February.
Reuse content