England have confirmed the recruitment of an Australian to help regain the Ashes. Trevor Bayliss will arrive next month to mastermind the latest attempt to defeat the oldest enemy.
With the feel-good factor again surging through the game after the magnificent Test match at Lord's, the clear consensus is that the right man has been secured as the new coach.
But if England manage to win the series which starts in July, there are bound to be claims from Australia that it could not have been done without their help. Bayliss's credentials are impeccable but it still reflects poorly on an English system which has had millions of pounds spent on it. There simply was not a home-grown coach deemed worthy of the role.
The other main contender on the shortlist was Jason Gillespie, also an Australian, who played 79 Tests. It could at least have been claimed he learnt his coaching onions here after having been at Yorkshire for the last three years.
While Bayliss will be ideally expected to help England clinch the urn at The Oval in August (or even before, if things are going much better than expected), that was not mentioned by England's director of cricket, Andrew Strauss, when he announced the appointment. Instead, he deliberately paid tribute to Bayliss's expertise as a one-day coach.
England are staging the Champions Trophy in 2017 and the World Cup in 2019, and are desperate to do well in both to recapture the attention and affection of the public. The entertaining victory against New Zealand at Lord's after five days of bright cricket showed that there is still a tremendous fund of goodwill towards the game in general and the team in particular that can be tapped into. Bayliss no doubt drove a hard bargain to lure him away from his job as coach of New South Wales, his home state, but he is letting himself in for a relentless way of life. He is expected to be here in time to prepare for England's Ashes camp, if not before, but then will be almost permanently on the road.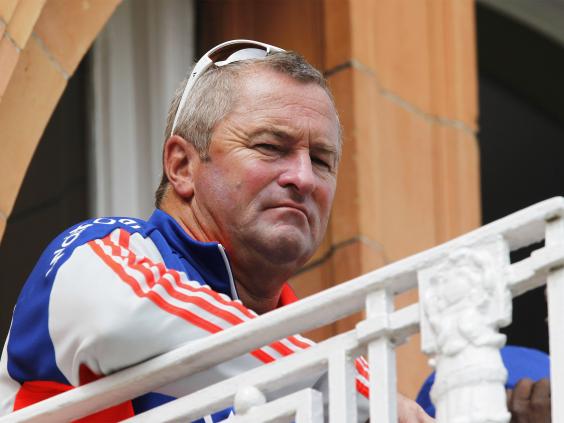 England go to the UAE to play Pakistan in all forms of the game a little more than a fortnight after Australia's tour finishes. A week after that tour ends they are bound for South Africa, a trip which is followed by the World Twenty20 in India before the domestic season recommences.
Strauss has already made it clear that he expects the coach to be there every step of the way in all formats.
"Trevor has an outstanding record as coach, has global experience and is very highly regarded in the game," Strauss said. "He has proved himself in both domestic and international cricket, has a strong reputation for man-management and has shown how to build winning teams in all three formats.
"His expertise in the shorter forms of the game will be vital as we build towards three major ICC events over the next four years."
Bayliss has had two spells as coach of New South Wales, winning the Sheffield Shield in each. He has also been successful with Kolkata Knight Riders in the Indian Premier League and Sydney Sixers in the Big Bash.
His period as Sri Lanka's coach between 2007 and 2011 was also successful. They reached their highest Test ranking and went to the finals of both the World Cup and the World Twenty20.
Bayliss may arrive earlier to take charge if he can sort out family matters at home. He will definitely be there in time for the Ashes camp.
His way will unquestionably be eased by the presence of the assistant coach, Paul Farbrace, who was with him in the Sri Lanka days. Farbrace has the trust both of the dressing room and of Bayliss. It could work extremely well for England.
Coaching conundrum: Five areas of concern
Frail top order
All too soon England will face the threat of Australia's left-arm quicks, the Mitchells Starc and Johnson. The top order have looked frail and Adam Lyth had a poor debut, so there remains a question mark over Alastair Cook's opening partner. With the notable exception of Joe Root, the specialist batsmen have looked tentative, going deep into their crease before addressing the ball. A little of Root's confidence needs to rub off on his peers.
Specialist spinner
There is a dearth of full-time twirlers and tweakers in the shires. The off-spinner Moeen Ali does not look like the man to bowl out the Aussies on the final day – and James Tredwell was an unimpressive standby in the Caribbean, while the leg-spinner Adil Rashid appears to be regarded as a drinks carrier. So it's time to unearth a gem. But can he be found in time to win back the Ashes?
Get up to speed
Bayliss comes in with a CV that includes success in all three formats – and the one-day and Twenty20 aspects of his qualifications are of particular interest after England's hopeless showing at the World Cup. They looked far behind other nations in terms of tactical awareness and ability to adapt.
Massive workload
New director of cricket Andrew Strauss is not about to make it easy for Bayliss. There has been no division of responsibility, he is in charge of all three formats. The England job, with all its long absences from home and media scrutiny, is remorseless enough already. Bayliss can call upon a trusted old assistant in Paul Farbrace, so he needs to delegate at least a little bit.
Local knowledge
There remains an unanswered question in this English revolution: what happens to the selectors such as chairman James Whitaker? The fact is, Bayliss knows next to nothing about the pool of talent or otherwise on the county circuit. This has never happened before with an England coach. He will hardly have time to get out and about, either. And if that's the case, who will really be picking the team?
Reuse content