England have spent the last two months telling their supporters that this summer represents a fresh start, yet the flaws that proved so damaging in the winter were to cost them once again here.
Poor work in the field on crucial occasions during the Ashes was one of the factors that allowed Australia to take a 5-0 whitewash. Here, a remarkable mistake by Michael Carberry – making his international debut in Twenty20 cricket – reprieved Thisara Perera, and allowed the Sri Lanka all-rounder to play the innings that allowed his team to achieve a nine-run victory in the only Twenty20 match between these teams this summer.
Carberry's error denied Alex Hales the chance to win a game against Sri Lanka for the second time in three months. His 116 in the World Twenty20 in Bangladesh in March brought England success, but the Nottinghamshire opener's 66 from 41 deliveries here proved a vain effort.
Lasith Malinga, the master bowler in limited-overs cricket, finally outwitted Hales and took 3 for 28 in his four overs. In the shorter forms, mistakes from the Sri Lanka captain are rare indeed.
England were starting to gain the upper hand when the crucial moment of Sri Lanka's innings arrived. The dangerous Perera had powered to 20 when he misread Harry Gurney's slower delivery and the ball looped into the covers.
In such situations, decisive calling is paramount. Neither Carberry nor Eoin Morgan, captain in the absence of the injured Stuart Broad, seemed to be able to decide whose catch it was. When Carberry tried to claim it, he was sufficiently distracted to let the ball slip through his fingers.
Thereafter, Perera showed how effective a batsman he can be in this form of the game. Chris Jordan is one of England's principal hopes for the future yet he was left chastened after the penultimate over of the innings.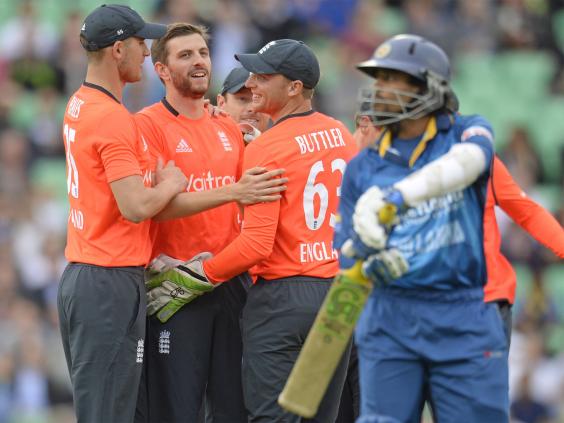 Perera took the Sussex bowler for 22 from five deliveries and when he was eventually run out by Gurney off his own bowling in bizarre circumstances from the final ball of the innings, he had inflicted plenty of damage. His 49 came from just 20 deliveries and included seven fours and two sixes, helping his team to post what looked an imposing total of 183 for 7.
Hales batted well, as he had in Chittagong in March, but could not find a durable top-order partner. Carberry (7) and Ian Bell (13), who was playing his first Twenty20 match since January 2011, went cheaply, as did Joe Root (5). When Morgan was caught at long-off by a sprawling Suranga Lakmal, England were 85 for 4 in the 12th over.
Jos Buttler made an entertaining 28 before he was caught at deep midwicket, and Malinga showed his expertise to bowl Hales with a slower delivery. It left Ravi Bopara and the lower order with too much to do. Sri Lanka can look to the five-match 50-over series, which starts tomorrow, with some confidence.
Perera's innings tainted what was otherwise a steady display in the field from England, who won the toss. Lahiru Thirimanne was dropped on 14 and went on to make 40 yet despite that error, and the punishment suffered by Jordan and off-spinner James Tredwell, there was plenty to encourage England, who enjoyed a fine international debut in this format from Gurney.
The Nottinghamshire left-arm seamer showed a mature temperament, claiming the wickets of Thirimanne and Tillekeratne Dilshan and conceding only 26 runs from his four overs.
He was also quick-witted enough to effect the run-out of Perera, when he remembered to remove the stump from the ground after the batsman's straight drive had removed the bails at the non-striker's end.