Michael Clarke has more than one reason to smile after leading Australia into Sunday's Cricket World Cup final where they will face rivals New Zealand, but the Kangaroos skipper was left red faced after Thursday's semi-final win over India following a reporters slip of the tongue.
Clarke was sat at the post-match press conference alongside man of the match Steve Smith, who hit a sublime 105 runs off just 93 balls as well as execute a perfect run-out of Ravindra Jadeja as the reigning champions were knocked out of the tournament.
Listening eagerly, Clarke was addressed by the BBC's Stephan Shemilt, only to be asked – by accident – "Michael, you've had tremendous sex…success as Australia captain…"
Watch the video below...
Unsurprisingly, the room erupts into laughter, none more so than Smith who starts banging the table in a fit of laughter. Clarke takes it well, with a simple rely of "interesting" accompanied by a head nod.
Shemilt tries to salvage his question, but it's already too late as the laughs continue.
"You might have had that, I don't know," says Shemilt.
"How well do you know me?" Clarke jokes in response, before adding: "That's a question for my wife."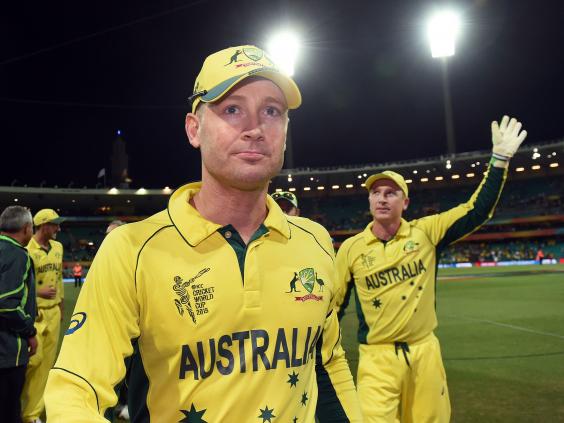 By now, the smile on Smith's face is almost as big as the Tasman Sea that separates Australia with New Zealand, and Clarke will hope for just as must success against the Kiwis as he reportedly had between the sheets when they meet at the Melbourne Cricket Ground on Sunday morning.
Reuse content