A name which was not on anybody's lips to take England thrillingly forward after the Kevin Pietersen epoch was that of Michael Lumb. About all the two have in common is a South African birthplace and playing for Nottinghamshire where one of them appears not to have fallen out with anybody.
Lumb would not have been on this tour had England brought a proper one-day day party instead of their Twenty20 squad, nor would he have played yesterday had Alex Hales been fit to open the batting in the first one-day international against West Indies. But he was belatedly called up for this match in Antigua and duly became the first England player to score a hundred on his debut in one-day internationals since Dennis Amiss in the second match of all in 1972.
Unfortunately, it was insufficient to secure the victory that England so craved. Their lean run continues in the post-Pietersen era, a reminder that sacking him was never a panacea. Defeat by 15  runs with a makeshift team was not unexpected, but Lumb's innings deserved greater reward.
England started with great gusto in their pursuit of West Indies' improbably high total of 269 but fell away alarmingly towards the end. They simply had too much to do, and whereas the home side slogged 116 in their last 10 overs, England mustered 62.
It was probably inevitable that Pietersen would make news on the day of England's first international match since his sacking. He was involved in a spat with his former colleague, Matt Prior.
During a question-and-answer session in Dubai, Prior was asked if Pietersen's absence would raise morale in England's dressing room. He replied: "Yes, it will. I think one of the biggest things they [the ECB] want to rediscover is the value of playing cricket for England, the honour and the pride you need to show as an England cricketer."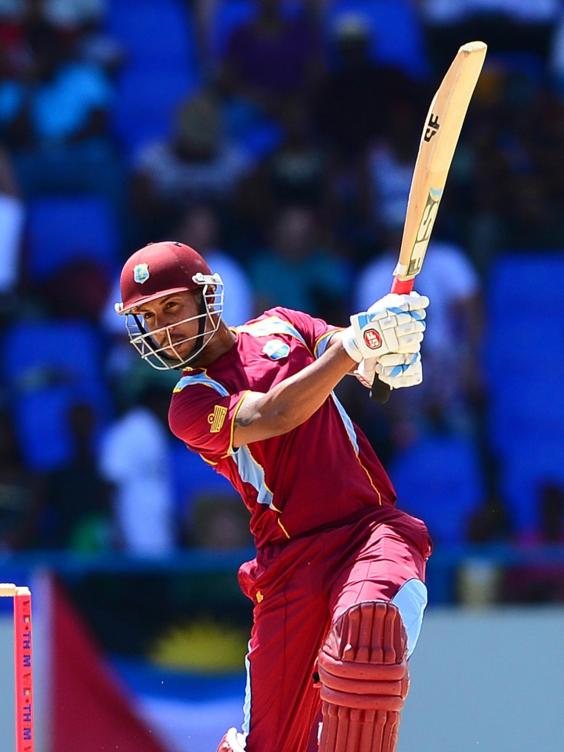 Just before England were to start heralding the new dawn – and indeed right on cue, it might be thought – Pietersen tweeted: "Fewer Q&A's, more Sussex nets methinks @MattPrior13! #josbuttler" with reference to Prior's poor recent form and the proposition that Buttler may be ready to become England's Test wicketkeeper.
It did not reflect well on either of them, though Prior, one of those who helped keep Pietersen in the team during the South Africa text imbroglio of 2012, was at least attempting honesty.
He must have known, however, that his comments would quickly gain wider currency.
It was confirmation for the tourists here, if it were needed, that Pietersen will continue to be the spectre at the feast. They know they have to continue without him and they know that this will not always be easy.
The need to try to win every international has to be balanced against the importance of trying different methods and players.
Such is definitely the case on this tour, a point further confused by the fact that it is essentially preparation for the World Twenty20 starting in Bangladesh later this month. England were partly forced into this position yesterday by injuries to Hales and Eoin Morgan.
Lumb and Moeen Ali, who was also making his debut, opened the batting and became the first all-new partnership to do so since the inaugural one-day international – yesterday was England's 614th – in the winter of 1971. In the field, however, the captain, Stuart Broad, bowled only six overs, Ravi Bopara and Ben Stokes none at all.
This was to have a look at others, including Ali's off-spin, but it cost England immense damage towards the end of West Indies' innings. The match was sheer drudgery at the start as slow bowling controlled matters.
West Indies fell to 45 for 4 in the 16th over but they did not lose another wicket until the 40th. Their policy was superb. Lendl Simmons and Dwayne Bravo put on 108 in 145 balls, then Bravo and Darren Sammy shared 116 in 61 balls. It was an impeccable example of so-called backloading the innings and was also utterly thrilling hitting. From being 112 for 4 after 35 overs the home side finished on 269 for six.
England were not initially deterred. Lumb, and especially Ali, at first played with brio. They were obviously under instructions not to forget to score runs. Ali played several handsome drives, Lumb was elegant.
They put on 96, and Lumb by then was playing with calm judgement and careful control. It was all the more serene for somehow never looking in doubt. But he was out in the 37th over, carving to cover.
The tricky spin of Sunil Narine then mesmerised England at a crucial time and they were left with far too much to do as wickets fell.
However, it could be not less than a happy occasion because of the knighthoods conferred by the Antiguan government during the interval on their former star cricketers, Andy Roberts, Richie Richardson and Curtly Ambrose. The crowd were rightly in awe.
Reuse content