At Taunton on Tuesday, supporters of Somerset and Nottinghamshire bore witness to a run-fest, the likes of which would have once been unthinkable.
In 100 overs of cricket, the two sides racked up 834 runs between them. The poor bowlers were left wondering where it had all gone wrong.
That, though, isn't a new sensation. Since the first Twenty20 tournament was played on these shores in 2003, scoring rates have soared higher and higher – and may not yet have peaked.
The ICC has already taken action on bat-sizes, with new legislation limiting the maximum dimensions of a bat coming into force on October 1 of this year.
What to do with the ball in the short and long-term remains a far more tricky question, although one of English cricket's oldest companies believes it has the answer.
When the MCC meet Afghanistan at Lords next month, they will play with a white Dukes ball, rather than the Kookaburra, which has been the ball of choice in the one-day game for a generation.
The experiment - which was actually due to take place in a friendly between Essex and the Netherlands on Friday before the former reached the semi-finals of the London One Day Cup – will, according to Dukes owner, Dilip Jajodia, offer a window into a more equitable future in the battle between bat and ball.
"You look at that game at Taunton, it's just crazy – the ball doesn't do anything," he tells The Independent. "It has been the case in the Champions Trophy too, everybody has said that there's absolutely no movement and the reason for that is that it's a machine-stitched ball.
"The shape is different and the seam is different and therefore it won't swing, or if it does, it swings  only briefly.

"The white Dukes is going to be used in the MCC and Afghanistan match straight after the Lords Test (between England and South Africa) and there is now a worldwide interest because I'm saying that our ball will last 50 overs, you don't need to have one from each end.
"People don't understand that the supporters will get bored if there's no contest between bat and ball and cricket is in danger of becoming a game where the bat completely dominates.
"How are you going to persuade a young cricketer to take up bowling when all they see is balls disappearing out of the ground? The bowler has nothing going for them."
Since the Dukes ball was used at the 1999 World Cup in England, the Kookaburra has been routinely thrashed around grounds across the globe. Things have been evened up slightly at the Champions Trophy, with the slow wickets in Cardiff, where England were knocked-out by Pakistan on Wednesday, slightly evening up the playing field.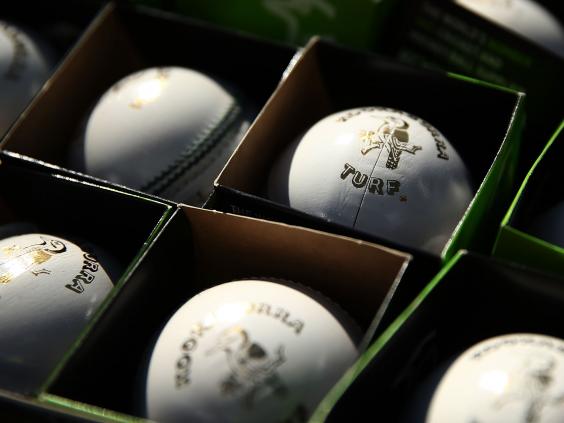 Hasan Ali was England's tormentor in chief, taking 3-35 off 10 beautifully crafted overs. In days gone-by, those figures would have been the norm rather than the exception. In an era of hulking willows and two balls from each end, though, the opposite is true.
Of the 30 highest one-day scores in history, only one was scored before 2005 – Sri Lanka's 398-5 against Kenya at Kandy at the 1996 World Cup – and three of the top five have come since 2015.
Bowlers now see going being hit for 60 off their ten overs as being a heroic effort.
"We need to bring bowlers back to where they should be," says Jajodia. "If you introduce the white Dukes, we're not suddenly going to see sides being taken down for 80 all out but you won't keep getting scores of 380 or 400 because from 50 overs that's over the top. Everything is in favour of the batsmen at the moment and when the ball does move, you see that a fair few of them haven't got the first idea of what to do. I can't see how that's helping cricketers or cricket itself develop.
"You have to make batsmen think again and having the one ball throughout the innings does all sorts of good for the sport. The ball will move around and then it will settle down and then the spinners will still have a ball that's round and reasonably firm and has a seam on it. Everybody can get into the game."
Having made inroads into Australian cricket, Kookaburra – which has had exclusively ball supplying rights to Australia, New Zealand and South Africa since 1946 – will not cede ground in one-day cricket easily. But Dukes, which made its first ball as far back as 1760, is hoping its quest can strike another blow for tradition.
They can count on the backing of bowlers the world over.
Reuse content