If Sir Ian Botham was quicker and more versatile, then Jimmy Anderson is fitter and subtler. Those are the verdicts on England's two best ever bowlers, counting Test wickets taken, delivered by the third.
There cannot be a single observer better placed than Bob Willis to make this judgement. He bowled with Botham for England in the late 1970s and early 1980s before watching almost all of Anderson's international career from the commentary box.
Ever since Anderson made his Test debut in 2003 he has been chasing down Botham's record of 383 Test wickets. Last summer he claimed second place in the standings, overtaking Willis' 325. Eight wickets in the fifth Test against India at The Oval – starting on Friday – would overhaul Botham's record.
Willis thinks Anderson would be worthy of dethroning Botham, even if he is a bowler of a slightly different profile from "Beefy".
"There are similarities between the two," he told The Independent Monday. "They have natural away swing with the new ball and tremendous control of line and length."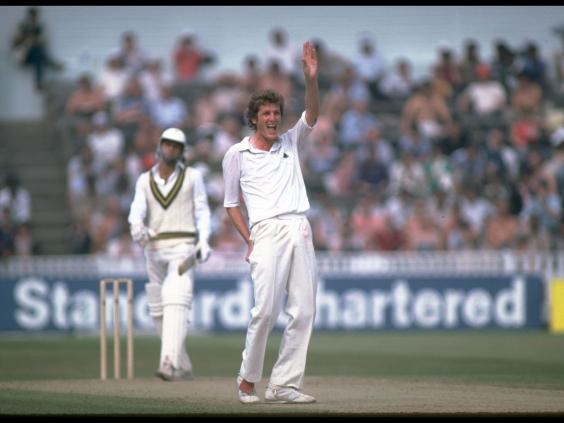 Botham, though, was faster and more spectacular, exploding onto the scene, taking his 200th wicket in just his 41st Test, and contributing brilliantly with the bat. Anderson's mastery, however, has increased over time.
"At his peak, Beefy would have been a quicker bowler, but I think Jimmy has got better disguise," said Willis. "I don't ever recall Ian hiding the ball as he ran up to deceive a batsman as to which way the ball was going to swing."
Anderson's ability to move the ball in as well as away from the right-hander, almost entirely beyond the batsman's detection, has been arguably his most dangerous weapon in the last few years. "I would concede that Jimmy probably has the better disguised, the more lethal in-swinger than Ian," said Willis. "It probably moves later in its trajectory than Ian's did.
"That is the great skill of the swing bowler, to make the batsman think the ball is going straight and then, in the last third of its travel, it veers off either way." Anderson has also proven to be more adept at reverse-swing, which emerged towards the end of Botham's career.
This is not to say, though, that Botham was not a thrilling swing bowler. Willis points to the summer of 1978 when Botham "bowled Pakistan and New Zealand out as an absolute past-time, with basic swing bowling". Botham, aged just 22, took 37 wickets at 14.75 in six Tests that summer. Willis had to make do with 25 at 18.48.
As impressive as that summer was, Willis believes that Botham's bowling was more versatile, more capable of flourishing in unhelpful conditions than Anderson's has been so far. While Botham averaged 29.63 away from England – and 26.31 on the subcontinent – Anderson averages 36.14 abroad and 32.31 in Asia.
"If the ball doesn't swing abroad Anderson is severely handicapped," said Willis. "With the Kookaburra ball with its flat seam, you get precious little seam movement.  I think both of them were better bowlers in England than overseas, as most English bowlers are."
Botham, in this sense, has the edge and Willis spoke of the Golden Jubilee Test in Bombay in 1980, when Botham took 6 for 58 and 7 for 48 – as well as scoring 114 – as England beat India by 10 wickets. "He bowled brilliantly in the Jubilee Test," said Willis, "that was a tremendous performance on a spinning, dusty track. He could turn it on in most conditions."
While some draw comparisons between the two personalities – Anderson's occasional grumpiness and Botham's pally exuberance – Willis suggests that those are the function, more than anything else, of different eras.
"Jimmy is a little bit like Glenn McGrath, motivating himself by chuntering to himself and to the opposition," he said. "Clearly it is an important tool these days. Ian though was far more likely to take the mickey out of them afterwards over a beer or 10. Times have changed in that regard, it's a more monitored professional atmosphere these days, I don't think the teams mix anything like as much as they used to."
Botham was famously good friends with Viv Richards, Dennis Lillee, Jeff Thomson and other players of his era. "That is part of the game that has disappeared," admitted Willis. "In a more professional era when people are playing for very high salaries, that part of the game was bound to drift out of the window."
If Anderson does not break Botham's record at The Oval, he will have to wait almost nine months until England's next Test match, in the West Indies next April. While Anderson has stayed remarkably fit, Willis thinks his workload should be managed if he is to push to 400 Test wickets and beyond.
"England have got a very, very hectic schedule," he said. "Apart from the World Cup, England would do well to rest Jimmy from 50-over cricket, and keep him wrapped up for the big events, to prolong his Test match shelf life. It looks as if he will get past Ian,  and in fewer Test matches, which is a tremendous testimony to him."
Sky Sports will broadcast its 200th live England Test this week: England v India 5th Test at The Oval from Friday 15 August
Reuse content