If Chris Froome and the other top contenders for the Tour de France required any proof about the scale of the challenge they face this July, they would have found it in the result from this year's Giro d'Italia, cycling's second biggest stage race.
On Saturday, the Giro was still one day from being completed when the eventual winner, Alberto Contador, stepped down from the leader's podium and said: "My build up for the Tour de France starts right here."
Ever since last October, Contador, widely recognised as the greatest stage racer of his generation, has been saying that his target this year is to become the first rider in 17 years to take both the Giro and the Tour de France in the same season.
Thus, on Saturday, knowing that the most difficult mountain legs of the Giro were behind him and that outright victory in Italy's Grand Tour  could no longer escape him, Contador made it clear he considered the first chapter of that challenge to be complete. Next stop, the Tour de France, which begins on 4 July.
Since 2007, Contador's spectacular run of success contains two Tours de France (2007 and 2009), two Giros d'Italia (2008 and 2015) and three Vueltas a Espana (2008, 2012 and 2014), bringing his total of Grand Tours to seven. Historically, only all-time greats Eddy Merckx, Bernard Hinault and Jacques Anquetil have taken more. Of the other three top contenders for this year's Tour – Italy's Vincenzo Nibali, Froome and the talented young Colombian Nairo Quintana – only Nibali has more than one Grand Tour to his name.
By trying to become the eighth rider to win the Giro d'Italia and the Tour de France in the same year, Contador is bucking the modern trend. "Other riders, after winning the Giro d'Italia, would say their season was already  complete," Contador said, "but not me."
His team owner, Russian businessman Oleg Tinkoff, who dyed his hair pink – the Giro leader's colours – to celebrate Contador's victory on Sunday, raised the stakes immediately afterwards by saying that if Contador does win the Tour, he should then try to become the first rider to win all three Grand Tours in a single year, with the Vuelta starting on 22 August. Contador, probably wisely, is avoiding any  comment on that particular feat for now.
Standing in Contador's way of triumphing in the Tour de France, apart from obvious factors like the huge mental and physical exhaustion caused by winning even one Grand Tour, are the Tour's three other main contenders, with Froome regularly named by Contador as the most dangerous of them all.
Froome and Contador have only crossed swords twice this year, most memorably at the Vuelta a Andalucia in February, where Contador dropped the Briton on the race's toughest climb at Hazallanas. However, Froome then returned the favour in style, beating Contador on the second summit finish at La Guardia and finishing two seconds ahead of the Spaniard overall.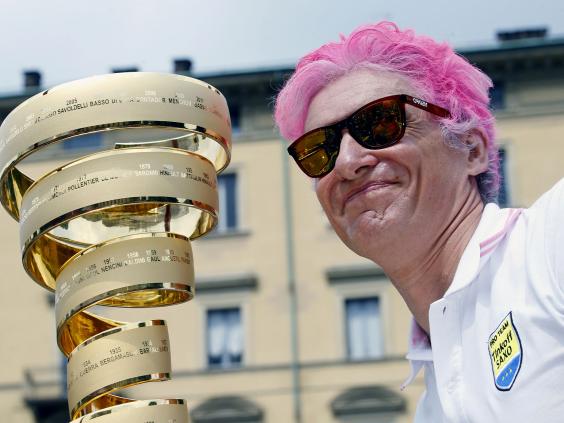 A much more important test of strength will be in the Critérium du Dauphiné, which starts on Sunday, where Froome will take on last year's defending Tour champion, Nibali. The crunch moment between Froome and Contador, though, will be in the Tour, where both riders have unfinished business after crashing and being forced to retire last year.
Froome will also be encouraged by the fact that his own Tour record against Contador is faultless – in 2013, their one direct Tour head to head, the British rider won strongly, while Contador was a shadow of his usual self and finished fourth.
Compared to the Giro, Contandor's opponents in the Tour will also be much tougher, with Nibali, Froome and Quintana all on the start list. In a race with an almost risible amount of time trialling, which will be decided in the Alps and Pyrenees, it is worth remembering that Quintana has already inflicted a rare mountain defeat on Contador this year, on the toughest stage of Tirreno-Adriatico, Italy's second biggest race.
Froome's battles with Contador, though, go back a lot further than that, to the 2012 Vuelta, where the Briton, who had ridden flat out in the Tour  that year, had his first experience of racing as sole leader of Sky in a Grand Tour. Forced to settle for fourth, Froome's performance, nonetheless, earned lengthy praise from Contador, who won.
Then in 2013, Contador was left reeling – as was the rest of the Tour – by Froome's stunning ride to victory that July, when Quintana finished a notable second. However, last year, their next direct Grand Tour encounter, Contador succeeded in convincingly beating Froome in the Vuelta in September.
Discussing Contador early this spring, Froome recognised that the Spaniard is "an extremely tough rival" and that "if anybody knows how to win the Tour, it's him". But he also pointed out that Contador's mission of winning both Giro and Tour in the same year was a huge challenge, given that "by the time you get to that third week of the second Grand Tour, you're on your hands and knees".
Others are not so convinced that will be the case with Contador. Retired French great Hinault, the only rider other than the Spaniard to have won each Grand Tour more than once, said before the Giro that he was sure Contador could "do the double". So, too, is three-time Tour winner Greg LeMond.
"If anybody can do it, it's Contador," the American told specialist website Cyclingnews. "He's got so much experience. He's an impressive rider and is arguably the most consistent Grand Tour rider, probably ever. We'd have to go back to Merckx's reign to make a comparison and he doesn't seem to be fading yet."
Such praise could intimidate Contador's rivals. But there is a flip side. Should Froome beat Contador in the Tour, knowing the Spaniard is such a formidable opponent would only make the Sky rider's achievement even greater – and that will surely give him extra motivation next month.
Reuse content