A bullish Sir Bradley Wiggins admitted he was feeling the pressure to break one of the oldest and toughest records in cycling as he revealed the distance he hopes to achieve on Sunday.
The former world, Olympic and Tour de France champion plans to smash the world hour record at the Lee Valley velodrome by riding further than 55km (34.2 miles) – at least 220 laps of the Olympic track in east London.
"Now I'm in the taper, the nerves are starting to build," he told The Independent after a training session. "It's not a training effort any more. It's easy when the velodrome is empty, but it's another thing on the day."
A crowd of more than 6,000 people will pack the stands for the 6.30pm countdown, joining a global television audience of millions as Wiggins looks beyond the 52.9km mark set by his British rival Alex Dowsett last month.
But Wiggins, who wore a gold helmet and shoes to go with his new Team Wiggins speed suit, said he would not rule out an assault on the 56.4km record laid down by Chris Boardman in 1996 – using the now-illegal "superman" riding position – if the conditions were right.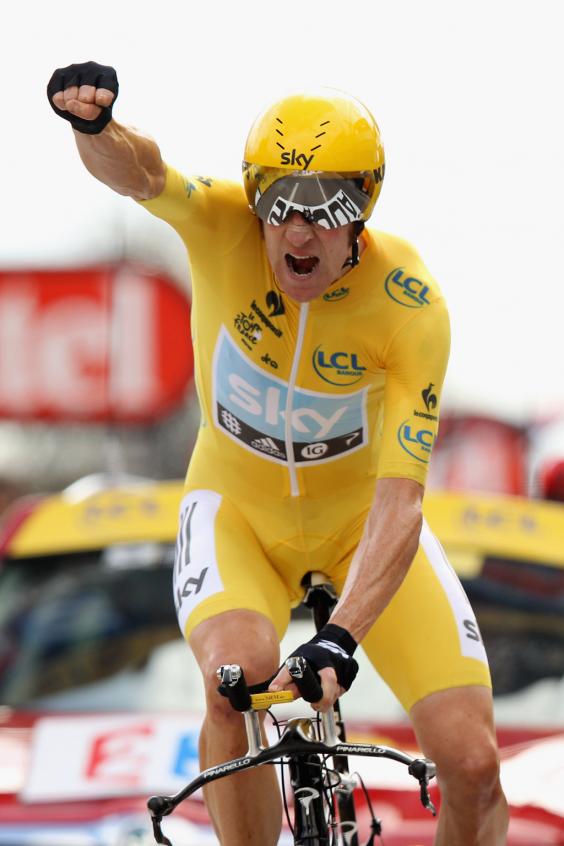 "The only thing that can really affect how fast I can go on the day is air pressure," he said. Low pressure means  thinner air, which a cyclist can cut through faster. "But it [the pressure] is supposed to be one of the highest recorded, which doesn't help. That could be the difference between Chris's record and 55km."
In 2000, the UCI, cycling's world governing body, struck off Boardman's record when it introduced strict rules about bikes and riding positions that could be used in attempts. The controversial decision ended an era in which a duel between Boardman and "Flying Scotsman" Graham Obree had brought what was then rare glory to British cycling.
A relaxation of that rule last year maintained limits on positions but allowed the use of aerodynamic track pursuit bikes, launching a new era for a record established in 1893 by Henri Desgrange, the journalist and amateur cyclist who went on to found the Tour de France.
Fausto Coppi, Jacques Anquetil, Eddy Merckx and Miguel Indurain, who will watch Wiggins' attempt on Sunday, are among the giants of cycling to have broken the record since then. "To put my name up there with the likes of those people, it kind of puts you in a different bracket," Wiggins said.
The 35-year-old, who cut his teeth on the old Eastway track that used to stand on the site of the Olympic velodrome, would not rule out a second attempt if anything went wrong on Sunday, but welcomed future challenges by his time-trial rivals Tony Martin, of Germany, and the Swiss Fabian Cancellara, as well as a second attempt by Dowsett.
"Whatever I do on Sunday, I hope someone goes for the record again because that's what it is about," he said. "It will ratify the record even more and add more kudos."
Wiggins said he would not let the crowd's cheering affect his plan to ride consistent laps of just over 16 seconds. But with 12 minutes to go, he said he would leave everything on the track in an event that is synonymous with pain and suffering. "I always empty it," he said. "That's what I do."
Reuse content