All the razzmatazz and spectacle of a Grand Tour start is set to hit Belfast with a vengeance late Friday afternoon as the Giro d'Italia, cycling's second biggest race, kicks off with a city centre team time trial and then has a two further stages on Irish soil.
To say that Northern Ireland's biggest sporting event of 2014 looks set to be well-received is no exaggeration, with more than 140,000 fans expected to pack the streets of central and east Belfast – more than half the city's population – for the 21km opening stage.
Posters, banners, flags and bunting in the Giro's emblematic colour, pink, are already festooning many of Belfast's central streets and buildings here, with the outside walls of several high-rise flats papered over from top to bottom in the same colour.
Life-size models of Giro bike riders are present in almost every city centre shop and hotel, Giro-themed cocktails and special food dishes are on offer aplenty, and even if the 198 real riders are not likely to take up several restaurants' offer of "a first free drink for all race participants", it's a nice thought.

It is not just in Belfast where expectation is growing steadily. For tomorrow's 219km stage everything from castles to tractors and butcher's shops to the Carrick-a-Rede rope bridge, not to mention a flock of sheep near Giant's Causeway, have been painted or dyed various shades of pink.
At the Hip Chip shop in Bushmills, a stage-two town, special pink fish and chips are on sale, whilst in Larne there have been 12 days of build-up celebrations, including Italian-themed opera nights, carnivals, family bike rides, street markets, and "bike art" parades. There is even a pink bicycle treasure hunt.
"Personally," Irish pro Dan Martin, whose uncle Stephen Roche won the 1987 Giro, told the Belfast Telegraph, "this is the biggest buzz I have ever experienced at the start of a Grand Tour. It's surreal. Even the staff in the hotel we're staying in are wearing pink."
The presence of the Giro so far from its traditional stomping ground sounds odd, but it is not. Race starts, or grande partenze, are almost as common on foreign soil in the Italian race as in the Tour de France: the first was in 1965 in San Marino, just 11 years after the Tour's first grand départ was held abroad, and they have become increasingly frequent in the last 20 years, with grande partenze in Athens [in 1996], Holland [twice], Belgium and most recently in Herning, Denmark in 2012.
Dublin has also hosted the opening weekend of the Tour de France, in 1998, although that misfired somewhat longterm because of the Festina drugs scandal which dogged the race all the way to Paris and beyond.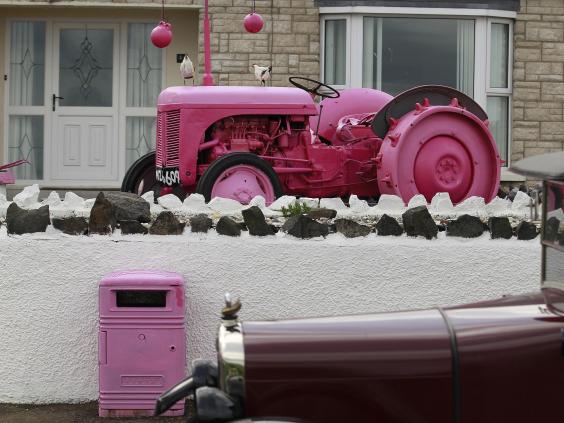 This time the Giro's presence in Ireland has been born – circuitously – out of a failed attempt at a grande partenze for the Giro on the east coast of the United States a few years back. One of the key instigators, Darach McQuaid, began thinking of an Irish start instead and then found himself in Washington for a St Patrick's Day celebration alongside Enda Kenny, the Taoiseach. As McQuaid explained: "When I cornered him at the White House, he said he liked the idea."
With the Republic giving the Giro the thumbs-up, Nothern Ireland's steadily improving economy and fast-increasing popularity as a tourist destination meant that it is viewed as a solid £3 million investment on this side of the border, too – particularly given the Giro's worldwide television audience of up to 180 million viewers.
The distance, logistically, was probably the biggest hurdle, but that has been overcome by adding an extra day to the Giro's usual total of 21 with the race starting, for the first time, on a Friday.
That is followed by tomorrow's 218km stage out of Belfast and back again, taking in the Antrim coast road, past Giant's Causeway and Rathlin Island, and after Sunday's fast trek down to Dublin, the race then transfers on Monday – a rest day – to Italy's south-eastern port of Bari for the remainder of the stages.
As Ireland's most successful rider ever, Tour and Giro winner Roche tells The Independent that apart from giving cycling here a huge boost, the Giro has another role to play: rather than the divisions that have too often troubled its people on both sides of Ireland's borders, "We've got a sporting event here and you're all taking part and that's how it should be.

"When athletes talk to each other, they communicate regardless of religion or nationality, and if you can't push those other issues under the carpet, this is something to bring people together, that breaks down the barriers."
Roche has a special double family interest in the Giro this year. His son Nicolas, a racer who became Ireland's first Tour of Spain leader in 25 years last September, will be heading the Tinkoff-Saxo team in the race while nephew Dan, winner of a major Pyrenean stage in the 2013 Tour de France, is an overall contender for the Garmin-Sharp squad. In Team Sky, Ireland's Philip Deignan, winner of a Vuelta stage in 2009, will be expected to make his mark.
"The home-ground launch is the bonus to me," Nicolas Roche said. "I can't wait to get a feel of the buzz that the Giro has created in Ireland over the last few months. It's a huge deal for the Irish fans, Irish cycling, and it's a huge deal for me."
Historic and personal implications apart, when the Giro passes Northern Ireland's cricket ground at Belfast's Ormeau Road it will have an unprecedented opportunity to pay homage to one of cycling's single biggest technological breakthroughs.
In 1889, in a series of bike races at the cricket ground, local rider Willie Hume became the first person to race using a pneumatic tyre, recently invented by John Boyd Dunlop in his Belfast home for his son's tricycle.
Hume went from his usual also-ran status to winning all his races that day. And more than a century on, as the Giro's riders roar past, it is Belfast and Ireland that will be reaping the benefits of Dunlop's invention.
Ratto takes lead in driving rain as Italian pair set the pace on day two
Rossella Ratto won stage two of the Women's Tour to take the overall lead in torrential rain in Bedford. The Italian broke away early on the 118.5km second stage from Hinckley and held off her compatriot Susanna Zorzi in a two-up sprint.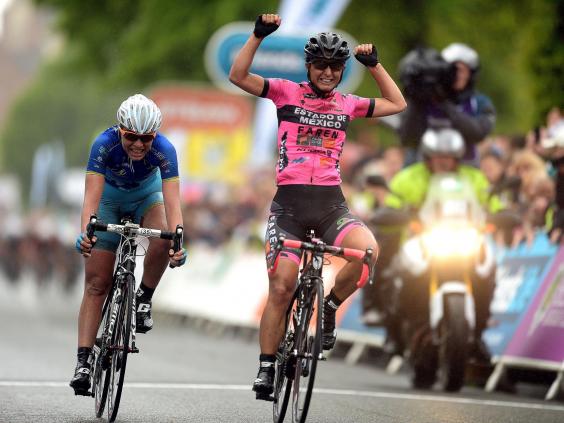 Olympic and world champion Marianne Vos led the peloton to the line in third, six seconds behind the Italian pair.
Lizzie Armitstead is the best-placed Briton overall, 14sec behind Ratto, going into Friday's 80.5km stage from Felixstowe to Clacton-on-Sea, where cross-winds could have an impact.