After a crash as dramatic and painful as the one which wrecked Mark Cavendish's Tour de France hopes last year on stage one in Harrogate, you might think it could be hard to see any silver linings in such a resoundingly black cloud. But as Cavendish faces up to his ninth season as a pro this January, the Etixx-Quick Step rider says he knows of one for sure.
"It's added a couple more years to my career," Cavendish tells The Independent. "I can't imagine ever not being a part of the Tour now."
Cavendish, who will turn 30 in May, entering the decade in which most riders finish their career, adds: "I hadn't got a plan of when I was going to stop, but you know that [some day] you are going to stop. Now, though, I want to carry on for as long as possible."
In seven previous participations in the Tour, Cavendish had racked up a minimum of two stage wins each time since 2008 to amass a staggering total of 25 by 2013. After his 2014 Tour ended almost as soon as it had begun, he agreed that being forced to watch the rest of the race from his sofa  was "bizarre".
However, rather than sitting at home feeling depressed, as he puts it in his typically direct style: "I wasn't moping around. I had a job to do, which was get fit and get back on my bike. That took my primary concern."
The one piece of good news, as Cavendish points out, was that he was in top shape physically. Given that he was facing the most serious injury of his career – a grade four shoulder ligament separation, and the shoulder blade sticking out at an angle for good measure – that was probably just as well.
"I was already at the peak of my fitness. I was 10 days to two weeks off without riding my bike and then I was already on the turbo. I wasn't losing anything, and it wasn't like I was in the middle of the winter and I was in low condition and went back to nothing again.
"My shoulder hurt a bit when I was doing gym work in the autumn, but that was it; afterwards it got good really quickly."
Two multi-day track races in Belgium and France helped him to fine-tune his condition to a point where his Etixx-Quick Step team manager, Patrick Lefevere, says he believes the sprint star is in the best shape ever at this time of year. Cavendish is more guarded, saying he will not be so sure of his exact condition until he starts racing next week in the Tour de San Luis stage race in Argentina.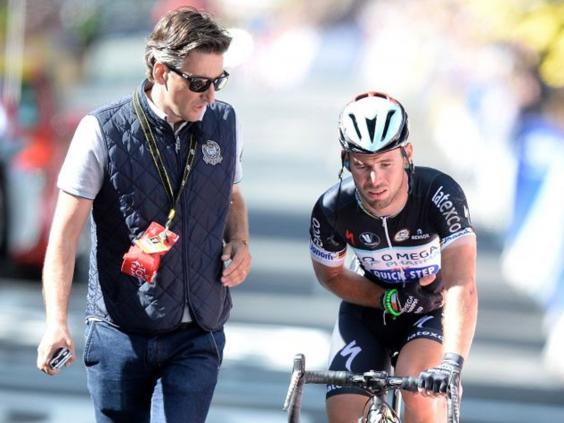 "I don't know exactly where I am until that first race. I never do. You can't replicate that sharpness you get from racing in training."
The week-long event in Argentina offers an ideal season start because, he says: "San Luis is a nice race, it's kind of low key and I look forward to getting there."
During Cavendish's absence, Germany's Marcel Kittel and the Norwegian Alexander Kristoff have been ruling the roost in the bunch sprints. But rather than discuss his potential rivals, the Manxman, as ever, remains focused on his own goals – "winning as many sprints as possible" – with two specific targets in mind.
First, there is trying to capture Milan-San Remo, one of cycling's major Classics, for a second time. Cavendish remains just one of two Britons to have secured a "Monument" – as cycling's top five one-day races are known – where victory is so difficult that, for example, Team Sky have yet to win even one with any of their riders in their five years of existence.
Subject to numerous route changes, this year Milan-San Remo switches back to its traditional format. It will make even tenser what is already a fast, fraught finale along the capi hills of the Mediterranean coast, with the finish in San Remo also slightly closer to the last short climb of the Poggio.
"I really like it," Cavendish says of the return to the "old-style" Milan-San Remo. "It's the race that I grew up watching, the race I grew up dreaming of, so to be able to race it and try for the win will be a big thing." It is also, he points out, "the one Monument that I can win at the moment".
Such a victory could not fail to have major consequences. "The best thing that could happen to him would be winning Milano-San Remo; the euphoria that creates takes you to another level," Lefevere claims.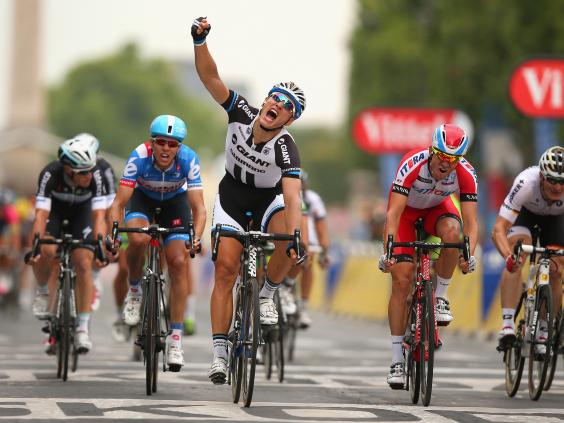 The team manager describes 2015 as a crucial year for Cavendish, because he is "at the end of his contract". But Cavendish begs to differ, saying: "It's as crucial as any other. I can't get any hungrier for the Tour de France; that's just not possible."
Cavendish bristles slightly at the suggestion that, given Kittel's run of sprint victories in the Tour, some fans might not be expecting him to be a match for the big German next July. "Who do I have to surprise? What's the surprise? I've won 25 Tour de France stages and it's not easy to win one in your career, let alone that number." Some sports fans, he agrees, have very short memories.
On a more practical level, sports director Brian Holm, who has worked with Cavendish since 2007, argues that the Briton's experience is one of several factors that can help give him the edge over his younger rival.
"We saw that between the first and the last bunch sprints in the Tour [last year]," says Holm. "I don't know if it was the team or Kittel but he didn't show up so much. Cavendish, you know he'll always be there. He gets stronger and stronger in a race like that. Of course, it's more difficult with Kittel and Kristoff, but that's cycling, you get new generations coming through."
Cavendish, Holm argues, is "like Wiggo" – Sir Bradley Wiggins, whom Holm also directed for a year in 2008. "He's either on it or he's not. But when he's on it, nobody's going to beat him, he's so focused."
If his mentality is perhaps one similarity with multiple Olympic champion Wiggins, one difference between him and the Londoner is that Cavendish's chances of taking even one Olympic medal now look increasingly unlikely.
That is through no fault of his own. Cavendish says that if Rio 2016 has an unsuitable course for him to risk repeating his doomed London road-race challenge, then a recent change in regulations means a return to the track, his other Olympic option, is now all but impossible for him.
The new rules mean track riders must take part in small, local events in order to achieve Olympic qualification. And that, Cavendish argues, has had a devastating effect on the discipline in general, let alone on a road-rider such as himself, already racing nearly one day in three all year. And he puts the blame firmly at the door of cycling's governing body, the UCI.
"In Britain track racing is big because we win at it, but the UCI have killed it by segregating events," he says. "I can technically ride the Olympics and I'd like to, but to qualify is very hard when you've got a road career."
It has got so hard, he points out, that "Brad [Wiggins] is quitting his road career to do that". At the end of April, Wiggins will leave Team Sky and switch to a track-dominated race programme in pursuit of yet more Olympic glory.
If Cavendish's long quest for an Olympic medal seems almost certain to end in frustration, then his Etixx-Quick Step team are confident he will return to add to his 25 triumphs in the Tour de France – which already make him the equal third most prolific stage winner in the Tour, behind only Eddy Merckx with 34 and Bernard Hinault with 28.
"It's not rocket science to see that the man to beat is Kittel," Holm argues. "But if Cav had been there, I'm sure he would have won some stages in the Tour last year. And if Cav stays on the same level he had then, then he will win again."
--
CAVENDISH'S AGENDA - 2015 schedule
Tour of San Luis (Argentina) 18-25 January
Dubai Tour
4-7 February
Kuurne-Brussels-Kuurne (Belgium)
1 March
Tirreno-Adriatico (Italy)
11-17 March
The classic seven-day stage race warm-up for Mark Cavendish's first big target of the season, the Milan-San Remo, and prestigious in its own right
Milan-San Remo (Italy)  22 March
Tour de Suisse (Switzerland) 13-21 June
Tour de France
4-26 July
Pencilled in:
Gent-Wevelgem A top Belgian one-day race on 29 March
Either the Giro d'Italia (9-31 May), where Cavendish became Britain's first points jersey winner in 2013, or the shorter Tour of California (10-17 May) are possibilities for him before the Tour de France
--
CAVENDISH IN NUMBERS
8 - Cavendish has ridden in eight Tours de France since his 2007 debut
2011 - Topped points classification on Le Tour four years ago – first Brit to do so
25 - Mass finish stage wins by Cavendish on Le Tour – more than any other rider
Reuse content