The look of deepest frustration on his face as Mark Cavendish roared across the finish line of cyclng's Road World Championships on Sunday said it all - this had been a golden opportunity for the Briton to take one of his sport's most coveted prizes, and instead, he'd had to settle for silver.
Finally a bike length behind winner Peter Sagan at the line as the Slovakian repeated last year's Championships victory, Cavendish knew Qatar's pancake flat course represented his best chance since Denmark hosted the race in 2011 - where Cavendish won. 
A Road World Championships victory in Qatar would have been rounded off an already massively remarkable year for Cavendish, with four stage wins and his first ever yellow leader's jersey in the Tour, a silver medal in the Olympic Omnium and a gold medal in the World Track Championships this spring. 
Yet at the same time, such a packed summer schedule meant winning in Doha was a very tall order, particularly after a spell of illness saw Cavendish miss a couple of warm-up races and he'd also had a training crash, suffering cuts and bruises, shortly before the race.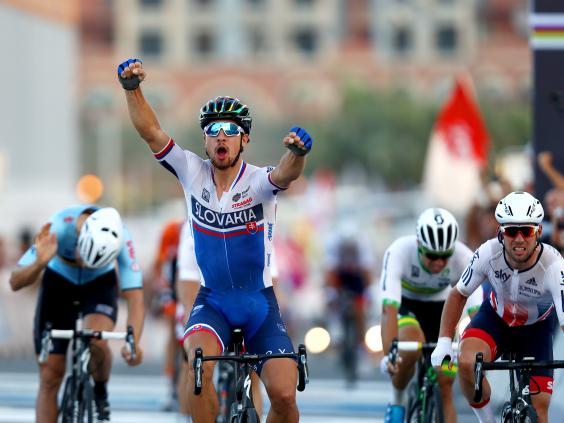 Cavendish told the BBC afterwards he had "messed up tactically" in the small bunch sprint which decided the race, and it was certainly an error that cost him dearly. But what must add to the disappointment is that up until that point, Cavendish had not put a foot wrong.
Britain's splitting the field early on, in a working alliance with the Belgians, was a master-stroke for Cavendish's chances. In one fell swoop, Germany and France, both present with significant sprinting firepower, were eliminated from the running. Also, on a very technical finale, reducing the front group so massively, dramatically reduced the risk of crashes.
In the front group of 25 riders, Cavendish could only count on one GB team-mate, Adam Blythe, after losing Luke Rowe when the Welshman punctured, but that was arguably hardly critical, given Peter Sagan, too, only had one team-mate.
I wanted to be on Peter's wheel. I knew Sagan would just get the right wheel and I could float off him.
Then all the way through the run-in to the finish, Cavendish had been perfectly positioned, right behind the wheel of the one rider that mattered - Sagan. "I came with so much speed and power," he told the BBC. "I wanted to be on Peter's wheel. I knew Sagan would just get the right wheel and I could float off him." But then, having told British team-mate Adam Blythe to move past him, "it spread everyone and everyone jumped and I had nowhere to go." 
Blocked briefly, Cavendish regained speed and was clearly Sagan's closest pursuer at the finish line. But after more than 250 kilometres of near-faultless racing, the Briton's bid for a second rainbow jersey ran out of road.
With both the 2017 and 2018 Road World Championships set to be very hilly, Cavendish's next chance may come in 2019, where Championships course, on home soil, is rumoured to be flat. But that is only a rumour for now, and will be three years hence too. At 34, Cavendish's sprint speed may no longer be what it was. 
Either way, Doha's disappointment should not overshadow what has been an exceptionally good year for the British sprinter. But such a painfully narrow defeat will be difficult to forget.
Reuse content