Sir Dave Brailsford believes that Sky's Chris Froome has avoided a potential dip in performance levels following his outstanding victory in the Tour de France last year and claims that only the odd incident with marauding baboons is hindering his off-season training.
"You can't get away from the fact that if you win a major sporting event, things happen which are totally detrimental for you to try and win again," Brailsford said.
"I've seen it with a lot of Olympic gold medallists, the next couple of seasons there's a lull, it's a human phenomenon, and it's very easy to explain. But I think he's managed it all very well, he's had his time to do his bits and bobs, as it were, and he's now in South Africa training." Indeed, claimed Brailsford, Froome's degree of commitment to winning the Tour this year is "as strong as it was in 2013". The only problem, he added, "has been getting robbed by baboons".
"There are all these signs in the place where they're staying [in South Africa] saying, 'Don't leave your door open, baboons can come in and nick your food.' And they left their door open..."
Sky's team principal said that Froome, despite having suffered from a bad case of sunburn after one ride, had been able to train in South Africa with "no distractions, really knuckling down". But he will almost certainly not be racing as hard as he was in the early part of 2013 when he captured victories in high-level stage races like the Tour of Oman. With Froome's status as team leader clearly established, the Briton can afford to ease back a little and, ideally, come to his big summer challenges like the Tour de France more rested.
"The idea of going into Oman and hitting it hard, I don't think the necessity is the same this year," Brailsford said. "Last year one of the challenges for him was to get more experience as a leader, and we were taking every opportunity to try and refine that."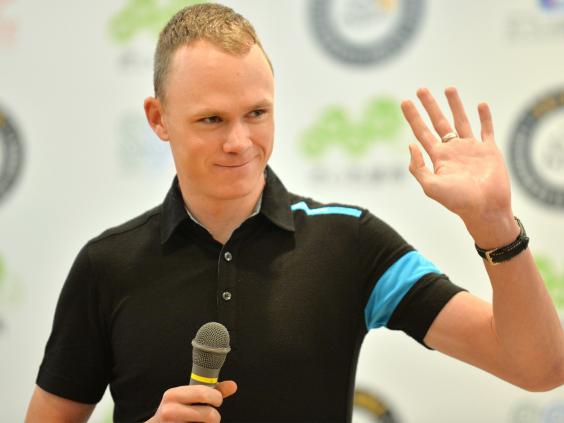 Brailsford admits that as one of the sport's world leaders, Sky is facing an unrelenting threat from other teams, or as he puts it: "The band of competitive advantage [Sky has] is narrowing. Other teams are doing their work", and Sky have to continue to strive to stay ahead of the game.
One element missing last year from Sky's collective 2012 recipe for success – and that Brailsford ensured was in place this winter – was "an occasion to get everybody together to really think as staff and riders about what's worked, and what could stop us in the future."
Rather than a quick hour added on to the end of a training camp, say, Sky's entire team spent three full days brainstorming and discussing their racing season in a specially hired theatre in Majorca. "Last year we missed that with the whole [Lance] Armstrong thing" – the American's doping confession and the ensuing fallout – but this time round, Brailsford said, "it was really good feedback."
British Cycling and Sky have become famous for lateral thinking and Brailsford has spent some of the winter in the United States, looking at other sports to see what could be applicable to cycling.
"I hadn't done that for a few years but I went to America to see some basketball guys, some ice hockey guys. There's no one reference point out there, so it's an opportunity to collate, a horizon scan."
Other new projects are to develop further Sky's base in Nice, where they have a human performance centre and a team house. "We have 14 riders living down there," Brailsford pointed out, with Froome based in nearby Monaco. Then, after the 2014 season, Sky have a large number of riders – 11 – out of contract, including Sir Bradley Wiggins. "We need to start thinking about building the team for the next two or three years and that's quite a fun challenge, too."