When all the fuss over Sir Bradley Wiggins' exclusion from the Tour de France has abated, and after we learn whether Mark Cavendish has won next Saturday in his mother's home town of Harrogate, once the yellow bunting comes down for good in Yorkshire and London's Mall, the Tour's biggest talking point will be whether Sky's Chris Froome can repeat his maiden overall win of last year.
The Tour is regularly rated the most arduous sporting event on the planet. In its 111 years, only 11 winners have managed to stand on the highest step of the podium in Paris two Julys in a row. That underlines the monumental difficulty of racing at such a high level when it comes to avoiding accidents, illnesses, strategic errors and seeing off stronger rivals. It also shows how physically and mentally taxing winning one Tour can be.
"Repeating a victory in the Tour doesn't get any easier just because you've done it once," says Miguel Indurain – considered, after Lance Armstrong lost his titles, the greatest Tour de France rider with five successive wins between 1991 and 1995.
"Certain complicating factors disappear, but they get replaced by other ones," he says. "Ok, so you know you've got the physical ability to win the Tour. And you've got more experienced as a racer, too. But what gets a lot tougher from one year to the next is the increasing pressure from the outside world to win all over again."
"The feeling of responsibility is greater, you're more nervous. It never gets less complicated. Each year is as hard as the last."
In 1992, the year of his second Tour win, Indurain had the considerable added boost of having won a second Grand Tour, the Giro d'Italia in May, to motivate him for July. He also had a team fully dedicated to his cause  – unlike in 1991, where he was joint leader of the Banesto squad with Pedro Delgado.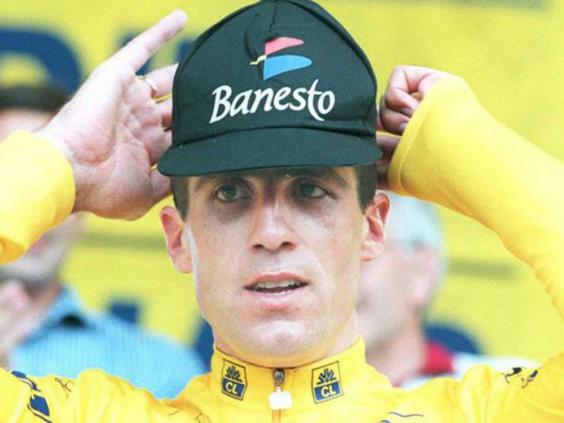 With a big win like the Giro  already in the bank, as it were, he says, "you can see that the season is going well, you're on the right road". He points out that Froome – who did not race this year's Giro – will have much less of an idea about his key challengers' race form as a result: "[At the Giro d'Italia] you'd had a good, hard look at your rivals, because at that period in cycling we would all be racing all year round. Compared to now, we went to the Tour with a much clearer idea of who would be capable of what."
Recalling his glory days, he adds: "The time-trials were always key for me. That was my strong point. The rest of the race was all about defending my advantage."
This year's Tour has just one individual time-trial, which, Indurain warns, "changes things a lot. The time trial takes place after all the Tour's mountainous stages,  too, so the climbing specialists will have a much bigger advantage over the all-rounders when it comes to winning overall."
Indurain also had to face in his second Tour-win attempt – like Froome will next week – a difficult early stage over the farm cobbles of northern France and Belgium. His director Jose Miguel Echavarri was livid at the time that such terrain had been included – "this kind of stage doesn't belong in a Grand Tour".
However, Indurain, despite losing little time that day, holds a different point of view. "The climbers might not like it, but just like the time- trials, they are part of cycling. You've just got to find the right riders to back you up on that terrain." In the end, though, he believes there is one key ingredient for success. "When it comes to winning a second Grand Tour, what matters most is knowing that you've done your work properly beforehand," he warns.
There can be no doubt overall that Froome has trained and raced well this year – winning the Tour of Oman, his first race, in February. But in the recent week-long Criterium du Dauphine a crash and subsequent injuries left him on the backfoot compared to his biggest Tour rival, Alberto Contador. Rather than  repeating last year's win, Froome finished twelfth.
Despite that, Indurain remains convinced that Froome has it in his legs to win two consecutive Tours. "I'm sure he'll reach the race in top shape. He's the reference point for everybody else." And he does not see his fellow Spaniard and double Tour winner Alberto – in strong form all season – as being much more difficult a rival this year than last, "because he was already extremely troublesome for Froome last July.
"It's going to be a good fight. He [Contador] has been much more consistent this year more focused. Both are in great shape. But let's not forget the other rivals; if Contador and Froome get too obsessed with beating each other, another rider could surprise both of them."
In this race, there are no guarantees, he adds. "You can come to the Tour in the form of your life and not win. Strong form is only one part of the picture. There are a thousand factors in the Tour de France that can end up causing you to lose."
Wise words, then, for Froome to heed.
5 things to watch out for on the Tour
Home start
The Tour starts in Yorkshire. The race's second start in the UK gives GB fans the opportunity to see the biggest annual sports event on the planet on their own roads for three days. Unmissable.
Sprint Kaiser
Marcel Kittel is a 26 year old German sprinter who beat Mark Cavendish in four Tour de France stages last year. Expect more of the same this year.
Bumpy road ahead
The. Stage five will see the Tour's peloton tackle nine segments of the Roubaix cobbles, cobbled cart-tracks in northern France that could rip the overall classification apart.
Chinese cracker
Cheng Ji is a Beijng-born Giant-Shimano squad member who is set to become the first Chinese pro to race in the Tour. He will be part of the team's sprint formations attempting to deliver Kittel and John Degenkolb to stage victories
Ladies day
La Course is a brand-new race, due to be held on the Champs Elysées on the Tour's final day which may become one of women's cycling's most high-profile events.