Vincenzo Nibali overcame his last obstacle, a 54km time trial, en route to Italy's first victory in the Tour de France since 1998 yesterday, finishing fourth behind stage winner Tony Martin of Germany.
A protracted struggle between three riders, Spain's Alejandro Valverde and Frenchmen Thibaut Pinot and Jean-Christophe Péraud, for the right to stand next to Nibali on the Paris podium was finally resolved yesterday, too, with veteran Péraud, despite puncturing, moving up to second and Pinot dropping a place to third.
Valverde remained in fourth as he struggled badly from general fatigue in yesterday's long time trial, plunging to 28th on the stage and finishing more than 90 seconds overall behind Pinot.
French national pride has thus been satisfied by placing two riders on the podium for the first time since 1984. As for Italy, bereft of top Tour de France contenders in recent years, Nibali's victory has given the sport a much-needed boost.
"There wasn't a single day that was particularly hard. It was all about maintaining consistency," Nibali said later. "Every day was important."
"I just kept going, day by day, without thinking about the implications of what winning the Tour would mean. Today [Saturday] was very hard, for example, a very tough time trial, and it'll only be when I ride onto the Champs-Elysées that it actually will sink in I've won."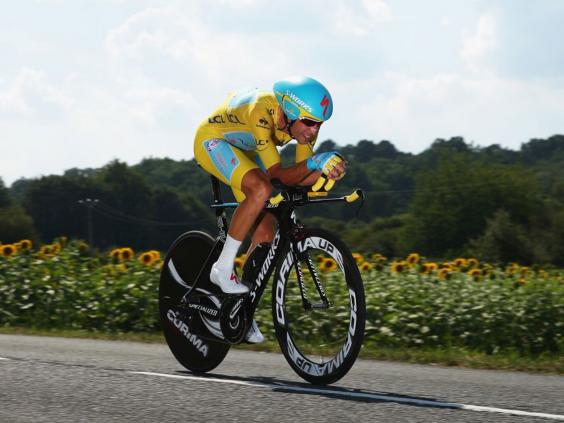 The Italian is his country's first Tour winner since the late Marco Pantani in 1998, and like the little "Pirat"', as he was nicknamed, the rider known as "The Shark" has gobbled up mountain stages aplenty. Nibali has taken victories in the Vosges, Alps, Pyrenees and also – post a long grind through the Peak District – Sheffield.
However, unlike Pantani, who spent the first week of the Tour he won sitting at the back of the peloton, Nibali has never been far out from the action.
His Sheffield win – "the best day of the race" he said yesterday – meant Nibali switched his Italian national champion's jersey for the yellow of race leader, and over the brutally difficult stage in northern France featuring the cobbled lanes of Paris-Roubaix, while Chris Froome crashed out, Nibali gained time on all the other favourites.
Then, after Alberto Contador's equally brutal and untimely exit in the Vosges on the same day, Nibali took another key step towards victory with a win on the painfully steep La Planche des Belles Filles climb.
With each mountain-top finish that followed – Chamrousse and Risoul in the Alps, Pla d'Adet and Hautacam in the Pyrenees – Nibali never failed to bolster his lead by another 30 or 40 seconds, and he took two more solo stage wins to boot. Assuming he does not lose time today on the largely ceremonial run through the Champs-Élysées, his winning margin of nearly eight minutes is the largest since Jan Ullrich won by more than nine minutes in 1997.
Nibali will therefore become one of a select group of only six riders in cycling history to take all three Grand Tours – the Vuelta in 2010, the Giro in 2013 and the Tour in 2014 – together with Jacques Anquetil, Eddy Merckx, Bernard Hinault, Felice Gimondi and Contador.
However, with both Contador and Froome crashing out, an evaluation of where the Italian truly stands in the pantheon of cycling's greats is much harder to make. His situation is similar to that of Luis Ocaña in 1973, who won the Tour in a year when the victor of the four previous events, Merckx, was missing as well as Gimondi. The result was that despite crushing the field Ocaña's race was dubbed "the Tour of Absences".
The same situation about the Tour's winner also arose in 1999, when both Ullrich and Pantani, who had triumphed in 1997 and 1998, were missing, and a certain Lance Armstrong unexpectedly dominated the race. Although later stripped of his titles because of his doping confession, on the road, at least, in 2000 Armstrong went on to beat both Pantani and Ullrich – and Nibali, at 29, will certainly be gunning to do the same next year.
Next July, though, not only will Froome and Contador hopefully manage to avoid disaster, but Nairo Quintana, second in the 2013 Tour and widely rated as the most-promising new Tour contender, is due to take part, after the Colombian missed this year's race in order to win the Giro in May.
A repeat win will, therefore, arguably be much harder. But what nobody can dispute is that as a professional since 2005, Nibali's progress towards his first Tour de France victory has been steady and (importantly given cycling's ongoing issues with doping problems) thankfully controversy-free.
Third overall in the Giro in 2010 represented his breakthrough in the Grand Tours, but Nibali's spell as leader of the Tour's Best Young Rider classification back in 2008 was the first time he showed up on the radar of cycling's showcase event. Then, in 2012, after the Italian finished third overall behind Sir Bradley Wiggins and Froome, it was clear that he remained on an upward curve.
Nibali's victory also ends Britain's domination of the overall classification for the last two years and – barring an unexpected success today – is the first time since 2007 that a UK rider has taken no stage wins. The absence of Mark Cavendish, who has won a minimum of two every year since then, has been painfully obvious. So too has Sky's failure to recover from the twin blow of losing both their overall options: Froome through a crash, and Richie Porte, the team's much-touted "Plan B", to illness.