The headquarters of Welcome to Yorkshire are tucked away in a corner of Leeds and, ironically, are very difficult to find. But when you do finally stumble upon the tourism agency, it is impossible to miss. The colour yellow is ubiquitous, from the display of bikes outside to the grand fluorescent 'Y's that seem to have multiplied like bunnies.
Inside, Gary Verity, the organisation's chief executive, is wearing bright yellow braces. He's inspecting his knuckles, which are bloody, as though he has been in a fight. In fact, he has been in a fight. "A bloody 90kg ewe," he says. "I was up at 5am wrestling with the thing."
Verity is an award-winning sheep farmer, as well as a former City man, a "career chief executive", as he has described himself, before he turned his attention to putting Yorkshire on the map. In this role, Verity is also the man who has carried out a mugging of which Robin Hood – also a Yorkshireman, locals insist – would have been proud.
For it is Verity who has been behind one of the most eye-catching coups of recent sports history: bringing the opening day, the so-called Grand Départ, of the world's biggest annual sporting event, the Tour de France, to Leeds next Saturday. Hence all that yellow: the official colour of Le Tour.
The Tour can claim to be the world's biggest sporting event by virtue of its global TV audience of 3.5 billion, in 188 countries, as well as the 12 million who, over the course of three weeks, spend an average of six hours waiting by the roadside for a fleeting glimpse of the peloton. (Preceding the race is a vast publicity caravan – a snaking line of garish floats and trucks populated by attractive young people dispensing cheap merchandise; two hours later, the imminent arrival of the peloton is signalled by the ominous presence in the skies of a phalanx of helicopters; and finally the riders swoop past in a cocoon of French motorcyclists – not just any motorcyclists, but France's elite cops, the Garde républicaine.)
When the Grand Départ took place in London in 2007, and travelled to Canterbury the next day, the roadside crowd was two million, pumping £88m into the south-east economy. But with cycling exploding in popularity, the two days in Yorkshire next weekend are likely to be even grander than London's.
Parts of Yorkshire are already en fête, with bunting, banners and houses painted yellow or white with red spots (in honour of the King of the Mountains polka-dot jersey), while the Waggon and Horses pub in Langsett – where stage two will race through en route to Sheffield – has changed its name to the Pedalers Inn and produced EPO ale. (EPO, of course, being the banned hormone that has been the source of so much controversy and scandal in recent years.)
That the Tour de France is making its bizarre detour to Yorkshire (before heading for France via Cambridge and London) is pretty much all down to Verity, a smooth-talking, warmly engaging 48-year-old with a touch of the Ron Atkinsons about him. It was an idea that occurred to him while he was shaving. ("All the great ideas come when you're having a shave first thing in the morning.")
Verity had been casting around for a big idea, an event for Yorkshire that would be, to use his expression, "uber-mega". In the build-up to the London Olympics, he sat on the Nations and Regions Group, which focused his mind on sport, and what it could do for Yorkshire.
He had originally returned to live and work in his home county when his wife, Helen, was diagnosed with terminal cancer. She died in December 2009. It was a few months later that Verity came up with that uber-mega idea, which quickly developed into "an obsession". It is tempting to see it as something to fill a personal void, but he says it was also prompted by his desire to restore a sense of local pride. "I encountered a lot of strange attitudes, being back in Yorkshire," he says. "There was this chip on our shoulder about Manchester. You know, 'Manchester can do this,' or 'Manchester have got that.' That never used to be the case."
The reason, he thought, was Manchester's hosting of the 2002 Commonwealth Games. "I felt that was probably their tipping point. After that, they developed a different attitude. The answer for them became, 'Yes [we can do that]… Now, what's the question?' whereas in other cities it would be, 'We can't do that, it's too difficult, or it costs too much.' Manchester developed that confidence, that swagger, that dynamism.
"I felt that was bad for us here. We needed something that could be our Commonwealth Games moment."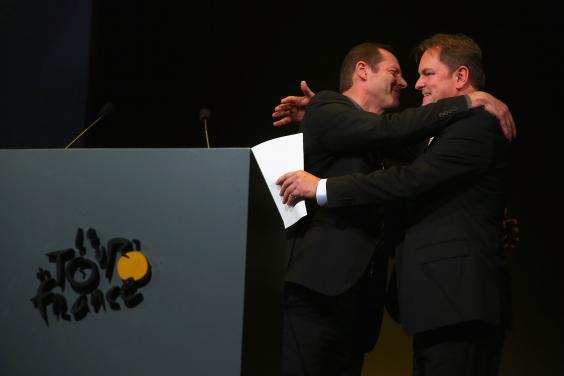 That was when he thought about the Tour de France. Soon after, he found himself sitting beside somebody from UK Sport who seemed to know a bit about the Tour, so he asked for contact details. Then he composed an email in French. Several months later, there was a response, inviting him to lunch. He travelled to Paris in October 2010 and met Christian Prudhomme, the Tour's charismatic director, as well as some of his colleagues.
Verity felt the meeting went well. "I could tell there was interest, and the chemistry was starting to form." Although that didn't convince the sceptics back in Yorkshire. "Everyone thought I was mad."
There were other hurdles: more glamorous bids from Florence, led by the mayor, Matteo Renzi (who has since become Italy's prime minister), Barcelona, and another that was uncomfortably close to home. Three years before Verity's trip to Paris, Paul Bush, the head of EventScotland, travelled to Paris to make the same pitch to Prudhomme, who was receptive to a Scottish Grand Départ. This subsequently became an officially backed campaign to bring the Tour back to Britain, and British Cycling endorsed a proposal that would see the Tour start in Edinburgh and wend its way through England and Wales before arriving in London. The "official" bid was awarded £10m, including £1.75m from UK Sport.
Verity became aware of the other British bid, and, soon thereafter, of official displeasure at his efforts to bring the Tour to Yorkshire. He is a little vague on the details. "We found out about that bid partway through the process. They were bidding for 2018 initially. Anyway, all we could do was influence our bid. We couldn't worry about others." It seems pointless asking Verity whether he was deterred by a rival British bid. He would simply point out that he is from Yorkshire. As for the money needed to host the Tour, he could worry about that later. He would gamble, in fact, on a Grand Départ in Yorkshire "unlocking" the £10m or so required to stage it.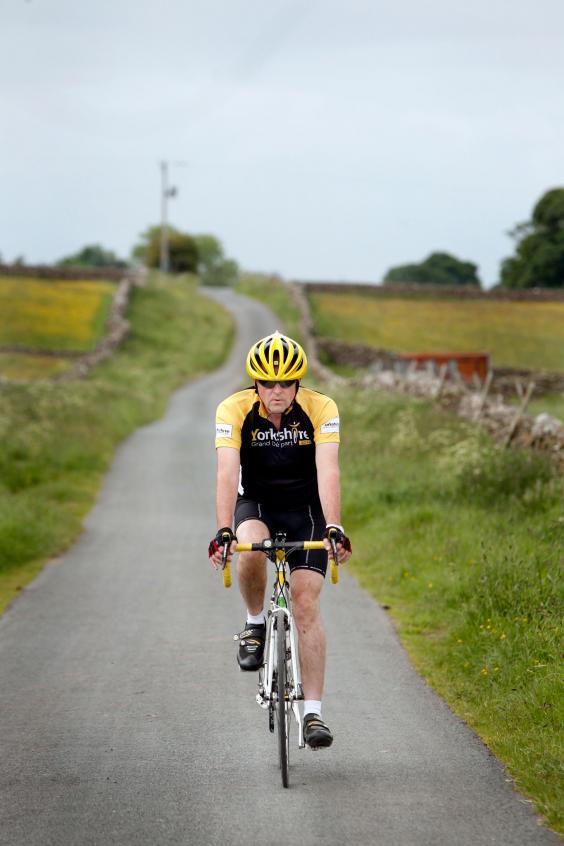 The next – and, as far as Verity was concerned, more significant – hurdle was that all Prudhomme and his colleagues knew about Yorkshire was that it was home to "the Yorkshire" – France's most popular dog, the Yorkshire Terrier. That all changed in May 2012. "We flew them by helicopter from London to my farm," says Verity. How did he pay for that? "I didn't." The helicopter was loaned by a City friend, and landed on a giant yellow "Y" mown into a field beside his farmhouse in Coverdale.
"I'd spent a lot of time by then studying the Tour and getting under the skin of it," he adds. "The fact that it is in many ways about connecting rural and urban France; the importance of agriculture, this affiliation they have with the equivalent of our National Farmers' Union. One of our pitches to them was that Yorkshire equals authenticity."
Verity welcomed Prudhomme and his colleagues at his farmhouse with a glass of Yorkshire lager – "No point giving them bitter" – and canapés: Yorkshire puddings, naturally. He presented a letter signed by every Yorkshire MP ("bar two, who shall remain nameless"), "then I got one of our Michelin-starred chefs, Frances Atkins, to pop round and cook lunch".
"The reputation of English food is so poor," said Prudhomme. "But this is amazing."
The party was then driven round the Dales in two stretch limos. "We showed them Middleham Castle, home of Richard III; we covered up the signs that said Middleham is twinned with Agincourt. We stayed the night at Swinton Park, and took them back up in the helicopter; spun them round Yorkshire, landed at Harewood House. Another of our Michelin-starred chefs, Simon Gueller, who's mad about cycling, made us dinner, and we had two chief constables, the local head of the Arts Council, the [regional] heads of the CBI, TUC, IoD, chambers of commerce, political leaders, the Earl of Harewood, and Brian Robinson, Britain's first Tour de France stage winner [1958]. And I said, 'Look, this is Team Yorkshire that wants it, not just me.'" k
The visit ended the next day with a stroll in Leeds. As they crossed Millennium Square, the big screen, which usually shows BBC News, went blank, then burst into life, showing a promotional film for Yorkshire's bid, ending with a personal plea from Mark Cavendish, the multiple stage winner, for the Tour to come to Yorkshire.
Later, as Verity walked Prudhomme to the Eurostar, the Tour director said, "You have all the ingredients for a Grand Départ. We just need to learn how to make it a meal.
"Yorkshire," he added, "is very sexy."
"I knew then," says Verity, "that we'd nailed it."
Two months later, when Bradley Wiggins won the Tour de France, Prudhomme decided the Départ had to return to Britain as soon as possible. He called Verity, who assured him he was "available for selection", and 2014 would not be too soon. The Scottish-led bid also declared itself fit for 2014, and didn't appear to regard Yorkshire as a threat.
In October 2012, Brian Cookson, the then-British Cycling president (now president of the world governing body, the UCI), told journalists that the 2014 Tour would almost certainly start in Edinburgh. Meanwhile, Verity signed a contract with Amaury Sport Organisation (ASO), the private French company that organises the Tour.
On 14 December 2012, while Verity was at his daughter's school carol concert, it was confirmed that the 2014 Tour would start in Leeds. Verity plays down the furore that followed, but it is fair to say that UK Sport, the Department for Culture, Media and Sport (DCMS) and Hugh Robertson, the sports minister, were not best pleased to find themselves wrong-footed, especially as they believed, right up until the official announcement, that the Scottish-led bid would win.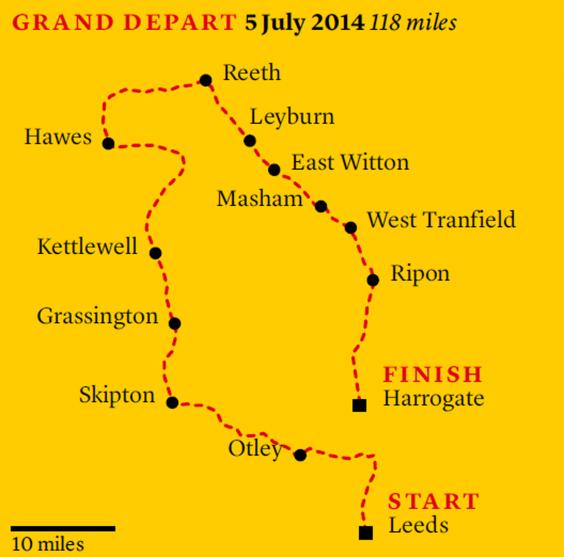 Even then, the funding issue looked as though it might put a spoke in Verity's wheel – it was even debated in the House of Commons. "It looks like UK Sport backed the wrong horse," said Nigel Adams, MP for Selby and Ainsty – and the impasse lasted almost a year. But with Yorkshire MPs lobbying hard, £10m was finally allocated by the DCMS.
There have been other hiccups, however, including inadequate provision for security, with Robertson noting that it was "pretty extraordinary to have bid for an event without working out how the security is going to be paid for".
Verity always knew it would be expensive, though he won't give exact costs. "You are given an idea of a ballpark figure," he says. "It's a bit like joining a golf club." And the fee – which goes into the coffers of ASO, whose total event revenues were €166.4m in 2012 – wasn't prohibitive? "No, not at all. I think it's incredible value for money."
There was a brief moment, says Julian Smith, MP for Skipton and Ripon, when the Yorkshire Grand Départ looked in doubt. "There was a major gap in the funding. It wasn't a given that the money would be there, but thankfully the government did step in. Now a structure has been put in place that wasn't there before to make sure the event is run effectively."
This structure saw Sir Rodney Walker appointed chairman of "Tour de France Hub 2014", with Nicky Roche becoming chief executive. But given Verity's relationship with the Tour, in particular with Prudhomme, he could hardly be ousted. It is still, as far as he and many others are concerned, his baby.
And while Verity has his detractors, he also has admirers. "I'm a big fan of Gary," says another Yorkshire MP, Jason McCartney. "His masterstroke was making the French fall in love with Yorkshire. There will be challenges, but the Tour coming to Yorkshire is the biggest thing to happen on my patch since the Industrial Revolution.
"After this," adds McCartney, "I look forward to Gary bidding for the World Cup."
The Grand Départ takes place on Saturday. For more information: letour.yorkshire.com
*  An earlier version of this piece referred to UK Sport having awarded the "official" bid £10m in lottery funding.  In fact, the correct figure was £1.75m.
Reuse content